A Peptide Inhibitor of NADPH Oxidase (NOX2) Activation Markedly Decreases Mouse Lung Injury and Mortality Following Administration of Lipopolysaccharide (LPS)
Institute for Environmental Medicine, Department of Physiology, University of Pennsylvania Perelman School of Medicine, Philadelphia, PA 19104, USA
*
Author to whom correspondence should be addressed.
Received: 28 March 2019 / Revised: 9 May 2019 / Accepted: 11 May 2019 / Published: 15 May 2019
Abstract
We have previously derived three related peptides, based on a nine-amino acid sequence in human or rat/mouse surfactant protein A, that inhibit the phospholipase A
2
activity of peroxiredoxin 6 (Prdx6) and prevent the activation of lung NADPH oxidase (type 2). The present study evaluated the effect of these Prdx6-inhibitory peptides (PIP) in a mouse (C57Bl/6) model of acute lung injury following lipopolysaccharide (LPS) administration. All three peptides (PIP-1, 2 and 3) similarly inhibited the production of reactive O
2
species (ROS) in isolated mouse lungs as detected by the oxidation of Amplex red. PIP-2 inhibited both the increased phospholipase A
2
activity of Prdx6 and lung reactive oxygen species (ROS) production following treatment of mice with intratracheal LPS (5 µg/g body wt.). Pre-treatment of mice with PIP-2 prevented LPS-mediated lung injury while treatment with PIP-2 at 12 or 16 h after LPS administration led to reversal of lung injury when evaluated 12 or 8 h later, respectively. With a higher dose of LPS (15 µg/g body wt.), mortality was 100% at 48 h in untreated mice but only 28% in mice that were treated at 12–24 h intervals, with PIP-2 beginning at 12 h after LPS administration. Treatment with PIP-2 also markedly decreased mortality after intraperitoneal LPS (15 µg/g body wt.), used as a model of sepsis. This study shows the dramatic effectiveness of a peptide inhibitor of Prdx6 against lung injury and mouse mortality in LPS models. We propose that the PIP nonapeptides may be a useful modality to prevent or to treat human ALI.
View Full-Text
►

▼

Figures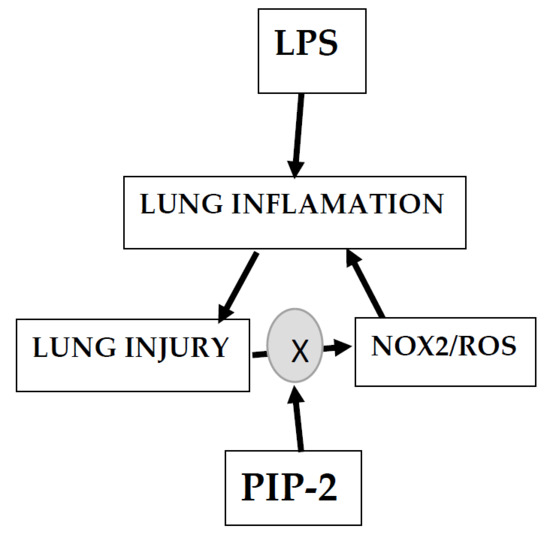 Graphical abstract
This is an open access article distributed under the
Creative Commons Attribution License
which permits unrestricted use, distribution, and reproduction in any medium, provided the original work is properly cited (CC BY 4.0).

Share & Cite This Article
MDPI and ACS Style
Fisher, A.B.; Dodia, C.; Chatterjee, S.; Feinstein, S.I. A Peptide Inhibitor of NADPH Oxidase (NOX2) Activation Markedly Decreases Mouse Lung Injury and Mortality Following Administration of Lipopolysaccharide (LPS). Int. J. Mol. Sci. 2019, 20, 2395.
Note that from the first issue of 2016, MDPI journals use article numbers instead of page numbers. See further details here.
Related Articles
Comments
[Return to top]