Expression and Functional Role of TRPV4 in Bone Marrow-Derived CD11c+ Cells
1
Laboratory of Ion Channel Research, Dept. of Cellular and Molecular Medicine, KU Leuven, 3000 Leuven, Belgium
2
VIB Center for Brain & Disease Research, 3000 Leuven, Belgium
*
Author to whom correspondence should be addressed.
†
Current affiliation: Ablynx, Technologiepark 21, 9052 Zwijnaarde, Belgium.
Received: 12 June 2019 / Revised: 7 July 2019 / Accepted: 8 July 2019 / Published: 10 July 2019
Abstract
The increase in cytosolic Ca
2+
is essential in key effector functions of dendritic cells (DCs), including differentiation, maturation, cytokine expression, and phagocytosis. Although several Ca
2+
-permeable ion channels have been described in DCs, the contribution of transient receptor potential (TRP) channels remains poorly understood. Here, we investigated whether TRPV4 plays a role in the differentiation, maturation, and phagocytosis of granulocyte-macrophage colony-stimulating factor (GM-CSF)-induced mouse bone marrow-derived cells (BMDCs). Using intracellular Ca
2+
imaging experiments, we found that TRPV4 was functionally expressed in the plasma membrane of immature CD11c
+
BMDCs and that its activity and expression were downregulated in CD11c
+
BMDCs matured with lipopolysaccharide (LPS). Comparative analysis of the GM-CSF-stimulated cells showed that
Trpv4
knockout and wild-type bone marrow cultures had a similar distribution of differentiated cells, generating a heterogenous culture population rich in CD11c
+
, CD11b
+
cells, and low levels of F4/80
+
cells. The lack of TRPV4 did not prevent the LPS-induced nuclear translocation of NF-κB, the upregulation of the proinflammatory cytokines IL-6 and IL-12, or the upregulation of the maturation markers CD40, CD80, and CD86. In contrast, TRPV4-deficient CD11c
+
BMDCs exhibited a significantly reduced endocytic capacity of IgG-coated beads, but the internalization of uncoated beads in the absence of TRPV4 was not affected. Taken together, our results demonstrate that TRPV4 was dispensable in the differentiation and maturation of mouse CD11c
+
BMDCs but contributed to the mechanism underlying Fc receptor-mediated phagocytosis. Overall, our results further strengthen the role of TRPV4 in immune-related processes.
View Full-Text
►

▼

Figures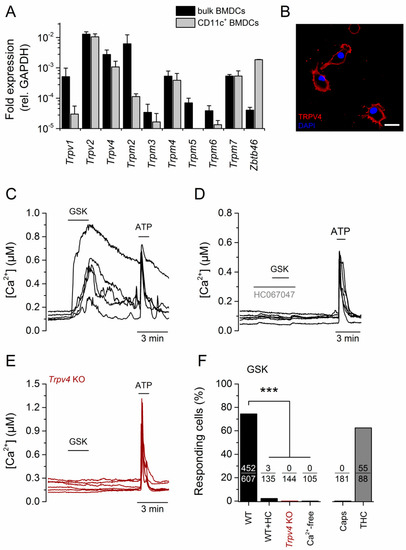 Figure 1
This is an open access article distributed under the
Creative Commons Attribution License
which permits unrestricted use, distribution, and reproduction in any medium, provided the original work is properly cited (CC BY 4.0).

Share & Cite This Article
MDPI and ACS Style
Naert, R.; López-Requena, A.; Voets, T.; Talavera, K.; Alpizar, Y.A. Expression and Functional Role of TRPV4 in Bone Marrow-Derived CD11c+ Cells. Int. J. Mol. Sci. 2019, 20, 3378.
Note that from the first issue of 2016, MDPI journals use article numbers instead of page numbers. See further details here.
Related Articles
Comments
[Return to top]