Methylation Density Pattern of
KEAP1

Gene in Lung Cancer Cell Lines Detected by Quantitative Methylation Specific PCR and Pyrosequencing

1

Laboratory of Oncology, Fondazione IRCCS Casa Sollievo della Sofferenza, 71013 San Giovanni Rotondo, Italy

2

Department of Biology, University of Bari "Aldo Moro", 70125 Bari, Italy

3

Unit of Pathology, Fondazione IRCCS Casa Sollievo della Sofferenza, 71013 San Giovanni Rotondo, Italy

4

Department of Onco-Haematology, Fondazione IRCCS Casa Sollievo della Sofferenza, 71013 San Giovanni Rotondo, Italy

5

Department of Medicine, Laboratory of Molecular Medicine and Biotechnology, University Campus Bio-Medico of Rome, 00128 Rome, Italy

*

Author to whom correspondence should be addressed.

Received: 8 May 2019 / Revised: 29 May 2019 / Accepted: 29 May 2019 / Published: 31 May 2019
Abstract
Background. The KEAP1/NRF2 pathway is the key regulator of antioxidants and cellular stress responses, and is implicated in neoplastic progression and resistance of tumors to treatment.
KEAP1
silencing by promoter methylation is widely reported in solid tumors as part of the complex regulation of the KEAP1/NRF2 axis, but its prognostic role remains to be addressed in lung cancer. Methods. We performed a detailed methylation density map of 13 CpGs located into the
KEAP1
promoter region by analyzing a set of 25 cell lines from different histologies of lung cancer. The methylation status was assessed using quantitative methylation specific PCR (QMSP) and pyrosequencing, and the performance of the two assays was compared. Results. Hypermethylation at the promoter region of the
KEAP1
was detected in one third of cell lines and its effect on the modulation
KEAP1
mRNA levels was also confirmed by in vitro 5-Azacytidine treatment on lung carcinoid, small lung cancer and adenocarcinoma cell lines. QMSP and pyrosequencing showed a high rate of concordant results, even if pyrosequencing revealed two different promoter CpGs sub-islands (P1a and P1b) with a different methylation density pattern. Conclusions. Our results confirm the effect of methylation on
KEAP1
transcription control across multiple histologies of lung cancer and suggest pyrosequencing as the best approach to investigate the pattern of CpGs methylation in the promoter region of
KEAP1.
The validation of this approach on lung cancer patient cohorts is mandatory to clarify the prognostic value of the epigenetic deregulation of
KEAP1
in lung tumors.
View Full-Text
►

▼

Figures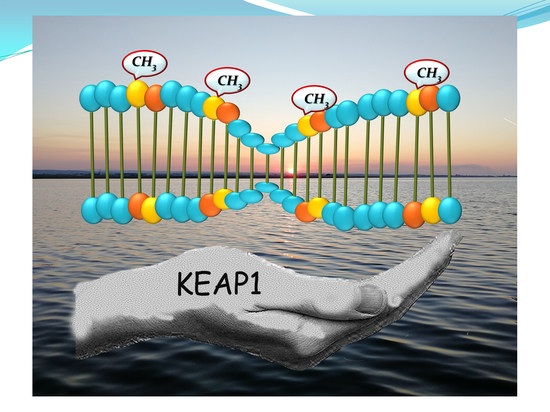 Graphical abstract
This is an open access article distributed under the
Creative Commons Attribution License
which permits unrestricted use, distribution, and reproduction in any medium, provided the original work is properly cited (CC BY 4.0).

Share & Cite This Article
MDPI and ACS Style
Fabrizio, F.P.; Sparaneo, A.; Centra, F.; Trombetta, D.; Storlazzi, C.T.; Graziano, P.; Maiello, E.; Fazio, V.M.; Muscarella, L.A. Methylation Density Pattern of KEAP1 Gene in Lung Cancer Cell Lines Detected by Quantitative Methylation Specific PCR and Pyrosequencing. Int. J. Mol. Sci. 2019, 20, 2697.
Note that from the first issue of 2016, MDPI journals use article numbers instead of page numbers. See further details here.
Related Articles
Comments
[Return to top]