Chitin Nanofibrils and Nanolignin as Functional Agents in Skin Regeneration
1
Department of Civil and Industrial Engineering, University of Pisa, 56122 Pisa, Italy
2
Consorzio Interuniversitario Nazionale per la Scienza e Tecnologia dei Materiali (INSTM), 50121 Florence, Italy
3
Department of Experimental Medicine, University of Campania "Luigi Vanvitelli", 80138 Naples, Italy
*
Author to whom correspondence should be addressed.
Received: 28 April 2019 / Revised: 22 May 2019 / Accepted: 28 May 2019 / Published: 30 May 2019
Abstract
Chitin and lignin, by-products of fishery and plant biomass, can be converted to innovative high value bio- and eco-compatible materials. On the nanoscale, high antibacterial, anti-inflammatory, cicatrizing and anti-aging activity is obtained by controlling their crystalline structure and purity. Moreover, electropositive chitin nanofibrlis (CN) can be combined with electronegative nanolignin (NL) leading to microcapsule-like systems suitable for entrapping both hydrophilic and lipophilic molecules. The aim of this study was to provide morphological, physico-chemical, thermogravimetric and biological characterization of CN, NL, and CN-NL complexes, which were also loaded with glycyrrhetinic acid (GA) as a model of a bioactive molecule. CN-NL and CN-NL/GA were thermally stable up to 114 °C and 127 °C, respectively. The compounds were administered to in vitro cultures of human keratinocytes (HaCaT cells) and human mesenchymal stromal cells (hMSCs) for potential use in skin contact applications. Cell viability, cytokine expression and effects on hMSC multipotency were studied. For each component, CN, NL, CN-NL and CN-NL/GA, non-toxic concentrations towards HaCaT cells were identified. In the keratinocyte model, the proinflammatory cytokines IL-1α, IL-1 β, IL-6, IL-8 and TNF-α that resulted were downregulated, whereas the antimicrobial peptide human β defensin-2 was upregulated by CN-LN. The hMSCs were viable, and the use of these complexes did not modify the osteo-differentiation capability of these cells. The obtained findings demonstrate that these biocomponents are cytocompatible, show anti-inflammatory activity and may serve for the delivery of biomolecules for skin care and regeneration.
View Full-Text
►

▼

Figures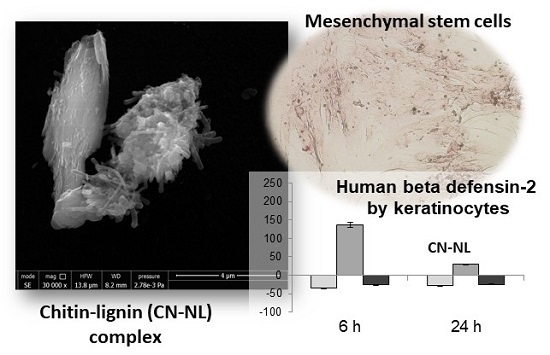 Graphical abstract
This is an open access article distributed under the
Creative Commons Attribution License
which permits unrestricted use, distribution, and reproduction in any medium, provided the original work is properly cited (CC BY 4.0).

Share & Cite This Article
MDPI and ACS Style
Danti, S.; Trombi, L.; Fusco, A.; Azimi, B.; Lazzeri, A.; Morganti, P.; Coltelli, M.-B.; Donnarumma, G. Chitin Nanofibrils and Nanolignin as Functional Agents in Skin Regeneration. Int. J. Mol. Sci. 2019, 20, 2669.
Note that from the first issue of 2016, MDPI journals use article numbers instead of page numbers. See further details here.
Related Articles
Comments
[Return to top]