Rapid Morphological and Cytoskeletal Response to Microgravity in Human Primary Macrophages
1
Institute of Anatomy, Faculty of Medicine, University of Zurich, Winterthurerstrasse 190, 8057 Zurich, Switzerland
2
Department of Machine Design, Engineering Design and Product Development, Institute of Mechanical Engineering, Otto-von-Guericke-University Magdeburg, Universitätsplatz 2, 39106 Magdeburg, Germany
3
TILL I.D. GmbH, Am Klopferspitz 19a, 82152 Martinsried, Germany
4
National Aeronautics and Space Administration (NASA), ISS Utilization and Life Sciences Division, Kennedy Space Center, Cape Canaveral, FL 32899, USA
5
Ernst-Abbe-Hochschule (EAH) Jena, Department of Industrial Engineering, Carl-Zeiss-Promenade 2, 07745 Jena, Germany
6
Zurich Center for Integrative Human Physiology (ZIHP), University of Zurich, Winterthurerstrasse 190, 8057 Zurich, Switzerland
7
Space Life Sciences Laboratory (SLSL), Kennedy Space Center, 505 Odyssey Way, Exploration Park, FL 32953, USA
*
Authors to whom correspondence should be addressed.
Received: 30 March 2019 / Revised: 30 April 2019 / Accepted: 14 May 2019 / Published: 15 May 2019
Abstract
The FLUMIAS (Fluorescence-Microscopic Analyses System for Life-Cell-Imaging in Space) confocal laser spinning disk fluorescence microscope represents a new imaging capability for live cell imaging experiments on suborbital ballistic rocket missions. During the second pioneer mission of this microscope system on the TEXUS-54 suborbital rocket flight, we developed and performed a live imaging experiment with primary human macrophages. We simultaneously imaged four different cellular structures (nucleus, cytoplasm, lysosomes, actin cytoskeleton) by using four different live cell dyes (Nuclear Violet, Calcein, LysoBrite, SiR-actin) and laser wavelengths (405, 488, 561, and 642 nm), and investigated the cellular morphology in microgravity (10
−4
to 10
−5
g) over a period of about six minutes compared to 1 g controls. For live imaging of the cytoskeleton during spaceflight, we combined confocal laser microscopy with the SiR-actin probe, a fluorogenic silicon-rhodamine (SiR) conjugated jasplakinolide probe that binds to F-actin and displays minimal toxicity. We determined changes in 3D cell volume and surface, nuclear volume and in the actin cytoskeleton, which responded rapidly to the microgravity environment with a significant reduction of SiR-actin fluorescence after 4–19 s microgravity, and adapted subsequently until 126–151 s microgravity. We conclude that microgravity induces geometric cellular changes and rapid response and adaptation of the potential gravity-transducing cytoskeleton in primary human macrophages.
View Full-Text
►

▼

Figures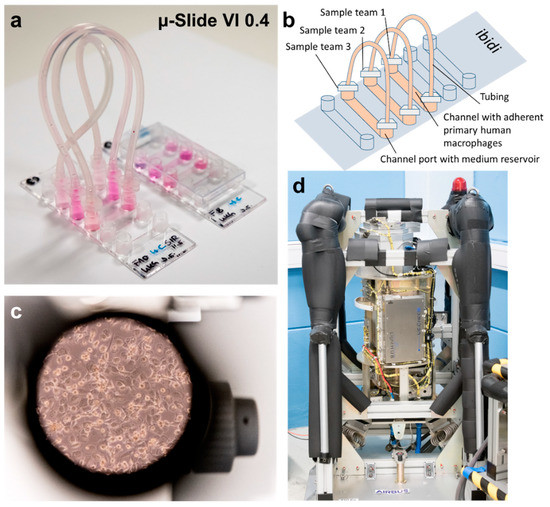 Figure 1
This is an open access article distributed under the
Creative Commons Attribution License
which permits unrestricted use, distribution, and reproduction in any medium, provided the original work is properly cited (CC BY 4.0).

Share & Cite This Article
MDPI and ACS Style
Thiel, C.S.; Tauber, S.; Lauber, B.; Polzer, J.; Seebacher, C.; Uhl, R.; Neelam, S.; Zhang, Y.; Levine, H.; Ullrich, O. Rapid Morphological and Cytoskeletal Response to Microgravity in Human Primary Macrophages. Int. J. Mol. Sci. 2019, 20, 2402.
Note that from the first issue of 2016, MDPI journals use article numbers instead of page numbers. See further details here.
Related Articles
Comments
[Return to top]