Vascular Cognitive Impairment: Information from Animal Models on the Pathogenic Mechanisms of Cognitive Deficits
1
Memory Clinic, Department of Neurology, 2nd Faculty of Medicine, Charles University and Motol University Hospital, 150 06 Prague, Czech Republic
2
International Clinical Research Centre, St. Anne's University Hospital, 656 91 Brno, Czech Republic
3
Department of Neurology, University Hospital Hradec Králové, Charles University in Prague, Faculty of Medicine in Hradec Králové, Sokolská Street 581, 500 05 Hradec Králové, Czech Republic
4
Department of Chemistry, Faculty of Science, University of Hradec Kralove, 500 05 Hradec Kralove, Czech Republic
*
Author to whom correspondence should be addressed.
Received: 12 March 2019 / Revised: 6 May 2019 / Accepted: 13 May 2019 / Published: 15 May 2019
Abstract
Vascular cognitive impairment (VCI) is the second most common cause of cognitive deficit after Alzheimer's disease. Since VCI patients represent an important target population for prevention, an ongoing effort has been made to elucidate the pathogenesis of this disorder. In this review, we summarize the information from animal models on the molecular changes that occur in the brain during a cerebral vascular insult and ultimately lead to cognitive deficits in VCI. Animal models cannot effectively represent the complex clinical picture of VCI in humans. Nonetheless, they allow some understanding of the important molecular mechanisms leading to cognitive deficits. VCI may be caused by various mechanisms and metabolic pathways. The pathological mechanisms, in terms of cognitive deficits, may span from oxidative stress to vascular clearance of toxic waste products (such as amyloid beta) and from neuroinflammation to impaired function of microglia, astrocytes, pericytes, and endothelial cells. Impaired production of elements of the immune response, such as cytokines, and vascular factors, such as insulin-like growth factor 1 (IGF-1), may also affect cognitive functions. No single event could be seen as being the unique cause of cognitive deficits in VCI. These events are interconnected, and may produce cascade effects resulting in cognitive impairment.
View Full-Text
►

▼

Figures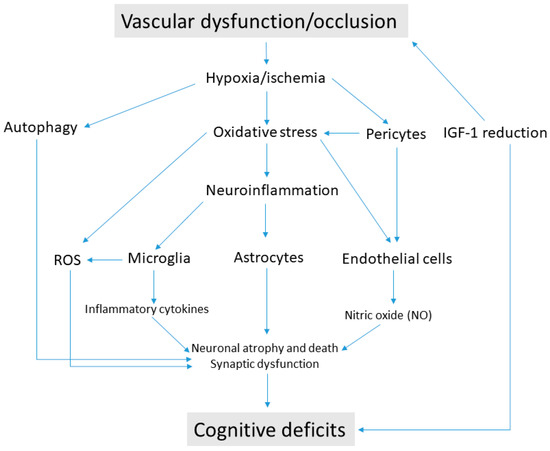 Figure 1
This is an open access article distributed under the
Creative Commons Attribution License
which permits unrestricted use, distribution, and reproduction in any medium, provided the original work is properly cited (CC BY 4.0).

Share & Cite This Article
MDPI and ACS Style
Hort, J.; Vališ, M.; Kuča, K.; Angelucci, F. Vascular Cognitive Impairment: Information from Animal Models on the Pathogenic Mechanisms of Cognitive Deficits. Int. J. Mol. Sci. 2019, 20, 2405.
Note that from the first issue of 2016, MDPI journals use article numbers instead of page numbers. See further details here.
Related Articles
Comments
[Return to top]