HDAC-Linked "Proliferative" miRNA Expression Pattern in Pancreatic Neuroendocrine Tumors
1
Institute of Pathology, Cancer Cluster Salzburg, Paracelsus Medical University/Salzburger Landeskliniken (PMU/SALK), Muellner Hauptstrasse 48, 5020 Salzburg, Austria
2
Department of Surgery, Paracelsus Medical University/Salzburger Landeskliniken (PMU/SALK), Muellner Hauptstrasse 48, 5020 Salzburg, Austria
3
Department of Visceral-, Transplant- and Thoracic Surgery, Medical University of Innsbruck, 6020 Innsbruck, Austria
4
Department of Internal Medicine I, Paracelsus Medical University/Salzburger Landeskliniken (PMU/SALK), Muellner Hauptstrasse 48, 5020 Salzburg, Austria
5
Laboratory for Tumor Biology and Experimental Therapies, Institute of Physiology and Pathophysiology, Paracelsus Medical University (PMU), Strubergasse 22, 5020 Salzburg, Austria
6
Department of Visceral, Thoracic and Vascular Surgery, Philipps University of Marburg, Baldingerstrasse 35043 Marburg, Germany
*
Author to whom correspondence should be addressed.
†
These authors contributed equally to this work.
Received: 31 July 2018 / Revised: 10 September 2018 / Accepted: 11 September 2018 / Published: 15 September 2018
Abstract
Epigenetic factors are essentially involved in carcinogenesis, tumor promotion, and chemoresistance. Two epigenetic key players are miRNAs and histone deacetylases (HDACs). As previously shown by own theoretical databank analysis, the crosstalk between miRNAs and HDACs is relevant in different human chronic diseases and cancerogenic pathways. We aimed to investigate a potential connection between the expression of a well-defined subset of "proliferation-associated" miRNAs and the expression of HDACs as well as clinical parameters in pancreatic neuroendocrine tumors (pNETs). Materials and Methods: Expression levels of miRNA132-3p, miRNA145-5p, miRNA183-5p, miRNA34a-5p, and miRNA449a in 57 pNETs resected between 1997 and 2015 were measured and linked to the immunohistochemical expression pattern of members of the four HDAC classes on human tissue microarrays. All pNET cases were clinically and pathologically characterized according to published guidelines. Correlation analysis revealed a significant association between expression of specific miRNAs and two members of the HDAC family (HDAC3 and HDAC4). Additionally, a linkage between miRNA expression and clinico-pathological parameters like grading, TNM-staging, and hormone activity was found. Moreover, overall and disease-free survival is statistically correlated with the expression of the investigated miRNAs. Overall, we demonstrated that specific miRNAs could be linked to HDAC expression in pNETs. Especially miRNA449a (associated with HDAC3/4) seems to play an important role in pNET proliferation and could be a potential prognostic factor for poor survival. These first data could help, to improve our knowledge of the complex interactions of the epigenetic drivers in pNETs for further therapeutic approaches.
View Full-Text
►

▼

Figures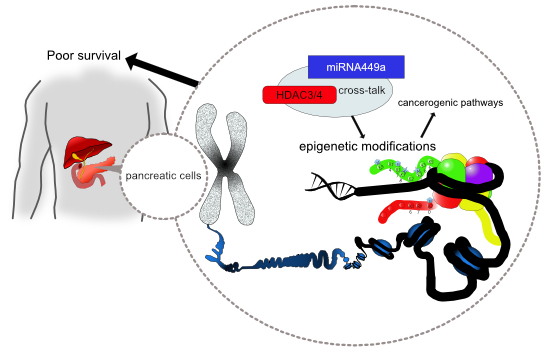 Graphical abstract
This is an open access article distributed under the
Creative Commons Attribution License
which permits unrestricted use, distribution, and reproduction in any medium, provided the original work is properly cited (CC BY 4.0).

Share & Cite This Article
MDPI and ACS Style
Klieser, E.; Urbas, R.; Swierczynski, S.; Stättner, S.; Primavesi, F.; Jäger, T.; Mayr, C.; Kiesslich, T.; Di Fazio, P.; Helm, K.; Neureiter, D. HDAC-Linked "Proliferative" miRNA Expression Pattern in Pancreatic Neuroendocrine Tumors. Int. J. Mol. Sci. 2018, 19, 2781.
Note that from the first issue of 2016, MDPI journals use article numbers instead of page numbers. See further details here.
Related Articles
Comments
[Return to top]