Combined Therapy with SS31 and Mitochondria Mitigates Myocardial Ischemia-Reperfusion Injury in Rats
1
Division of Thoracic and Cardiovascular Surgery, Department of Surgery, Kaohsiung Chang Gung Memorial Hospital and Chang Gung University College of Medicine, Kaohsiung 83301, Taiwan
2
Division of Cardiovascular Surgery, Department of Surgery, Tri-Service General Hospital, National Defense Medical Center, Taipei 11490, Taiwan
3
Department of Nursing, Asia University, Taichung 41354, Taiwan
4
Department of Plastic Surgery, University Hospital of South Manchester, Manchester M23 9LT, UK
5
Division of Cardiology, Department of Internal Medicine, Kaohsiung Chang Gung Memorial Hospital and Chang Gung University College of Medicine, Kaohsiung 83301, Taiwan
6
Department of Radiology, Kaohsiung Chang Gung Memorial Hospital and Chang Gung University College of Medicine, Kaohsiung 83301, Taiwan
7
Department of Anesthesiology, Kaohsiung Chang Gung Memorial Hospital and Chang Gung University College of Medicine, Kaohsiung 83301, Taiwan
8
Institute for Translational Research in Biomedicine, Kaohsiung Chang Gung Memorial Hospital, Kaohsiung 83301, Taiwan
9
Center for Shockwave Medicine and Tissue Engineering, Kaohsiung Chang Gung Memorial Hospital and Chang Gung University College of Medicine, Kaohsiung 83301, Taiwan
10
Department of Medical Research, China Medical University Hospital, China Medical University, Taichung 40402, Taiwan
*
Authors to whom correspondence should be addressed.
Received: 23 July 2018 / Revised: 9 September 2018 / Accepted: 13 September 2018 / Published: 15 September 2018
Abstract
Myocardial ischemia-reperfusion (IR) injury contributes to adverse cardiac outcomes after myocardial ischemia, cardiac surgery, or circulatory arrest. In this study, we evaluated the ability of combined SS31-mitochondria (Mito) therapy to protect heart cells from myocardial IR injury. Adult male SD rats (
n
= 8/each group) were randomized: group 1 (sham-operated control), group 2 (IR, 30-min ischemia/72 h reperfusion), group 3 (IR-SS31 (2 mg intra-peritoneal injection at 30 min/24 h/48 h after IR)), group 4 (IR-mitochondria (2 mg/derived from donor liver/intra-venous administration/30 min after IR procedure)), and group 5 (IR-SS31-mitochondria). In H9C2 cells, SS31 suppressed menadione-induced oxidative-stress markers (NOX-1, NOX-2, oxidized protein) while it increased SIRT1/SIRT3 expression and ATP levels. In adult male rats 72 h after IR, left ventricular ejection fraction (LVEF) was highest in sham-operated control animals and lowest in the IR group. LVEF was also higher in IR rats treated with SS31-Mito than untreated IR rats or those treated with Mito or SS31 alone. Areas of fibrosis/collagen-deposition showed the opposite pattern. Likewise, levels of oxidative-stress markers (NOX-1, NOX-2, oxidized protein), inflammatory markers (MMP-9, CD11, IL-1β, TNF-α), apoptotic markers (mitochondrial-Bax, cleaved-caspase-3, PARP), fibrosis markers (p-Smad3, TGF-β), DNA-damage (γ-H2AX), sarcomere-length, and pressure/volume overload markers (BNP, β-MHC) all showed a pattern opposite that of LVEF. Conversely, anti-apoptotic (BMP-2, Smad1/5) and energy integrity (PGC-1α/mitochondrial cytochrome-C) markers exhibited a pattern identical to that of LVEF. This study demonstrates that the combined SS31-Mito therapy is superior to either therapy alone for protecting myocardium from IR injury and indicates that the responsible mechanisms involved increased SIRT1/SIRT3 expression, which suppresses inflammation and oxidative stress and protects mitochondrial integrity.
View Full-Text
►

▼

Figures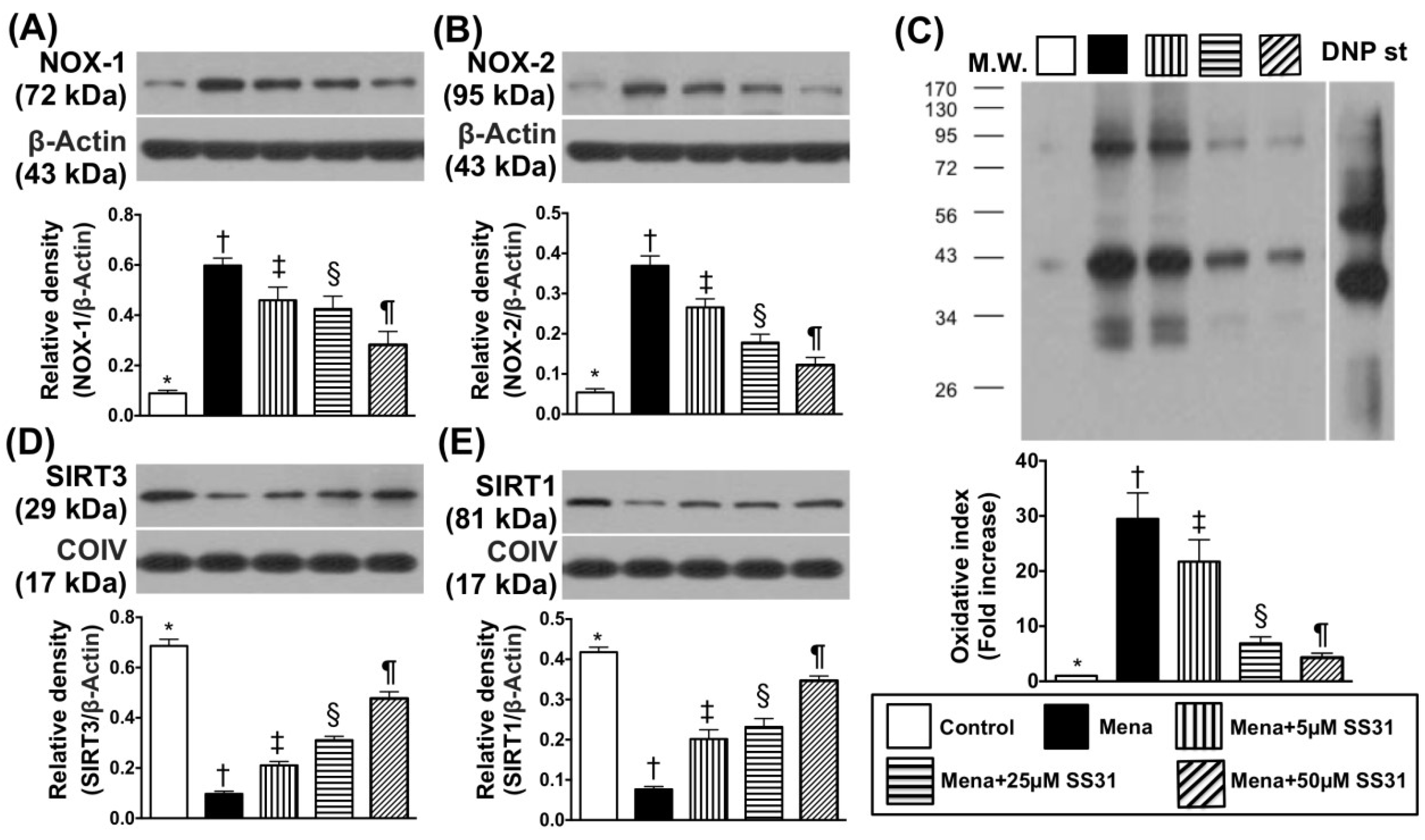 Figure 1
This is an open access article distributed under the
Creative Commons Attribution License
which permits unrestricted use, distribution, and reproduction in any medium, provided the original work is properly cited (CC BY 4.0).

Share & Cite This Article
MDPI and ACS Style
Lee, F.-Y.; Shao, P.-L.; Wallace, C.G.; Chua, S.; Sung, P.-H.; Ko, S.-F.; Chai, H.-T.; Chung, S.-Y.; Chen, K.-H.; Lu, H.-I.; Chen, Y.-L.; Huang, T.-H.; Sheu, J.-J.; Yip, H.-K. Combined Therapy with SS31 and Mitochondria Mitigates Myocardial Ischemia-Reperfusion Injury in Rats. Int. J. Mol. Sci. 2018, 19, 2782.
Note that from the first issue of 2016, MDPI journals use article numbers instead of page numbers. See further details here.
Related Articles
Comments
[Return to top]