Treatment of Periodontal Ligament Stem Cells with MOR and CBD Promotes Cell Survival and Neuronal Differentiation via the PI3K/Akt/mTOR Pathway
1
IRCCS Centro Neurolesi "Bonino-Pulejo", Via Provinciale Palermo, Contrada Casazza, 98124 Messina, Italy
2
Consiglio per la Ricerca in Agricoltura e L'analisi Dell'economia Agraria, Centro di Ricerca Agricoltura e Ambiente (CREA-AA), Via di Corticella 133, 40128 Bologna, Italy
3
Dipartimento di Scienze del Farmaco, Università del Piemonte Orientale, Largo Donegani 2, 28100 Novara, Italy
4
Department of Medical, Oral and Biotechnological Sciences, University "G. d'Annunzio" Chieti-Pescara, 66100 Chieti, Italy
*
Author to whom correspondence should be addressed.
Received: 11 July 2018 / Revised: 31 July 2018 / Accepted: 6 August 2018 / Published: 9 August 2018
Abstract
Periodontal ligament mesenchymal stem cells (hPDLSCs), as well as all mesenchymal stem cells, show self-renewal, clonogenicity, and multi-tissue differentiation proprieties and can represent a valid support for regenerative medicine. We treated hPDLSCs with a combination of Moringin (MOR) and Cannabidiol (CBD), in order to understand if treatment could improve their survival and their in vitro differentiation capacity. Stem cells survival is fundamental to achieve a successful therapy outcome in the re-implanted tissue of patients. Through NGS transcriptome analysis, we found that combined treatment increased hPDLSCs survival, by inhibition of apoptosis as demonstrated by enhanced expression of anti-apoptotic genes and reduction of pro-apoptotic ones. Moreover, we investigated the possible involvement of PI3K/Akt/mTOR pathway, emphasizing a differential gene expression between treated and untreated cells. Furthermore, hPDLSCs were cultured for 48 h in the presence or absence of CBD and MOR and, after confirming the cellular viability through MTT (3-(4,5-dimethylthiazolyl-2)-2,5-diphenyltetrazoliumbromide) assay, we examined the presence of neuronal markers, through immunofluorescence analysis. We found an increased expression of Nestin and GAP43 (growth associated protein 43) in treated cells. In conclusion, hPDLSCs treated with Moringin and Cannabidiol showed an improved survival capacity and neuronal differentiation potential.
View Full-Text
►

▼

Figures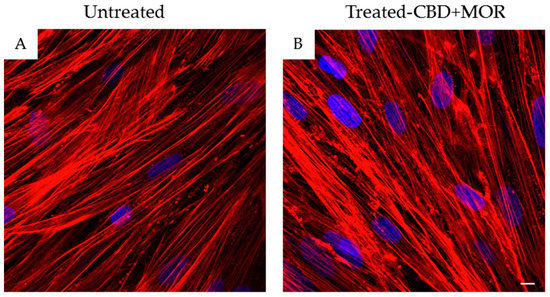 Figure 1
This is an open access article distributed under the
Creative Commons Attribution License
which permits unrestricted use, distribution, and reproduction in any medium, provided the original work is properly cited (CC BY 4.0).

Share & Cite This Article
MDPI and ACS Style
Lanza Cariccio, V.; Scionti, D.; Raffa, A.; Iori, R.; Pollastro, F.; Diomede, F.; Bramanti, P.; Trubiani, O.; Mazzon, E. Treatment of Periodontal Ligament Stem Cells with MOR and CBD Promotes Cell Survival and Neuronal Differentiation via the PI3K/Akt/mTOR Pathway. Int. J. Mol. Sci. 2018, 19, 2341.
Note that from the first issue of 2016, MDPI journals use article numbers instead of page numbers. See further details here.
Related Articles
Comments
[Return to top]