Phenolic Compounds Isolated from Olive Oil as Nutraceutical Tools for the Prevention and Management of Cancer and Cardiovascular Diseases
1
Dipartimento di Scienze Cliniche Specialistiche ed Odontostomatologiche (DISCO)-Sez. Biochimica, Facoltà di Medicina, Università Politecnica delle Marche, 60131 Ancona, Italy
2
Departamento de Química Analítica y Alimentaria, Grupo de Nutrición y Bromatología, Universidade de Vigo, 32004 Ourense, Spain
3
Dipartimento di Scienze Biomediche e Sanità Pubblica, Università Politecnica delle Marche, 60131 Ancona, Italy
4
Department of Physiology, Institute of Nutrition and Food Technology "José Mataix", Biomedical Research Center, University of Granada, Avda del Conocimiento sn., 18100 Armilla, Granada, Spain
*
Authors to whom correspondence should be addressed.
†
These authors have contributed equally to this work.
Received: 1 July 2018 / Revised: 25 July 2018 / Accepted: 4 August 2018 / Published: 6 August 2018
Abstract
Non-communicable diseases (NCDs) have become the largest contributor to worldwide morbidity and mortality. Among them, cancer and cardiovascular diseases (CVDs) are responsible for a 47% of worldwide mortality. In general, preventive approaches modifying lifestyle are more cost-effective than treatments after disease onset. In this sense, a healthy diet could help a range of NCDs, such as cancer and CVDs. Traditional Mediterranean Diet (MD) is associated by the low-prevalence of certain types of cancers and CVDs, where olive oil plays an important role. In fact, different epidemiological studies suggest that olive oil consumption prevents some cancers, as well as coronary heart diseases and stroke incidence and mortality. Historically, the beneficial health effects of virgin olive oil (VOO) intake were first attributed to the high concentration of monounsaturated fatty acids. Nowadays, many studies indicate that phenolic compounds contained in olive oil have positive effects on different biomarkers related to health. Among them, phenolic compounds would be partially responsible for health benefits. The present work aims to explore, in studies published during the last five years, the effects of the main phenolic compounds isolated from olive oil on different cancer or CVD aspects, in order to clarify which compounds have more potential to be used as nutraceuticals with preventive or even therapeutic properties.
View Full-Text
►

▼

Figures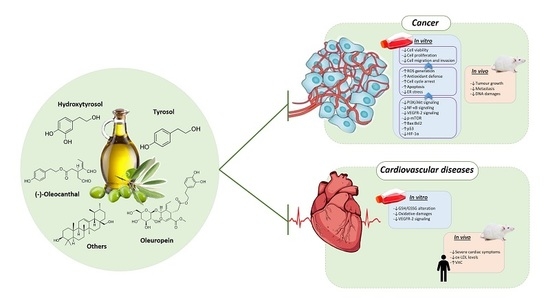 Graphical abstract
This is an open access article distributed under the
Creative Commons Attribution License
which permits unrestricted use, distribution, and reproduction in any medium, provided the original work is properly cited (CC BY 4.0).

Share & Cite This Article
MDPI and ACS Style
Reboredo-Rodríguez, P.; Varela-López, A.; Forbes-Hernández, T.Y.; Gasparrini, M.; Afrin, S.; Cianciosi, D.; Zhang, J.; Manna, P.P.; Bompadre, S.; Quiles, J.L.; Battino, M.; Giampieri, F. Phenolic Compounds Isolated from Olive Oil as Nutraceutical Tools for the Prevention and Management of Cancer and Cardiovascular Diseases. Int. J. Mol. Sci. 2018, 19, 2305.
Note that from the first issue of 2016, MDPI journals use article numbers instead of page numbers. See further details here.
Related Articles
Comments
[Return to top]