Mass Spectrometry-Based Proteomic Profiling of Thrombotic Material Obtained by Endovascular Thrombectomy in Patients with Ischemic Stroke
1
Department of Neurology, Complejo Hospitalario de Navarra, Pamplona 31008, Spain
2
Clinical Neuroproteomics Laboratory, Navarrabiomed, Departamento de Salud, Universidad Pública de Navarra, IDISNA, Navarra Institute for Health Research, Pamplona 31008, Spain
3
Proteored-ISCIII, Proteomics Unit, Navarrabiomed, Departamento de Salud, Universidad Pública de Navarra, IDISNA, Navarra Institute for Health Research, Pamplona 31008, Spain
4
Bioinformatics Laboratory, Navarrabiomed—Departamento de Salud, Universidad Pública de Navarra, IDISNA, Navarra Institute for Health Research, Pamplona 31008, Spain
5
Neuroepigenetics Laboratory, Navarrabiomed—Departamento de Salud, Universidad Pública de Navarra, IDISNA, Navarra Institute for Health Research, Pamplona 31008, Spain
6
Department of Interventional Neuroradiology, Complejo Hospitalario de Navarra, Pamplona 31008, Spain
*
Authors to whom correspondence should be addressed.
†
These authors contribute equally to this work.
‡
These authors share senior authorship.
Received: 21 December 2017 / Revised: 1 February 2018 / Accepted: 2 February 2018 / Published: 7 February 2018
Abstract
Thrombotic material retrieved from acute ischemic stroke (AIS) patients represents a valuable source of biological information. In this study, we have developed a clinical proteomics workflow to characterize the protein cargo of thrombi derived from AIS patients. To analyze the thrombus proteome in a large-scale format, we developed a workflow that combines the isolation of thrombus by endovascular thrombectomy and peptide chromatographic fractionation coupled to mass-spectrometry. Using this workflow, we have characterized a specific proteomic expression profile derived from four AIS patients included in this study. Around 1600 protein species were unambiguously identified in the analyzed material. Functional bioinformatics analyses were performed, emphasizing a clustering of proteins with immunological functions as well as cardiopathy-related proteins with blood-cell dependent functions and peripheral vascular processes. In addition, we established a reference proteomic fingerprint of 341 proteins commonly detected in all patients. Protein interactome network of this subproteome revealed protein clusters involved in the interaction of fibronectin with 14-3-3 proteins, TGFβ signaling, and TCP complex network. Taken together, our data contributes to the repertoire of the human thrombus proteome, serving as a reference library to increase our knowledge about the molecular basis of thrombus derived from AIS patients, paving the way toward the establishment of a quantitative approach necessary to detect and characterize potential novel biomarkers in the stroke field.
View Full-Text
►

▼

Figures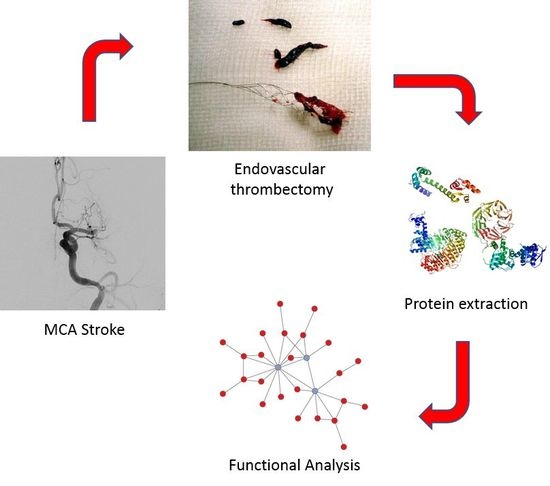 Graphical abstract
This is an open access article distributed under the
Creative Commons Attribution License
which permits unrestricted use, distribution, and reproduction in any medium, provided the original work is properly cited (CC BY 4.0).

Share & Cite This Article
MDPI and ACS Style
Muñoz, R.; Santamaría, E.; Rubio, I.; Ausín, K.; Ostolaza, A.; Labarga, A.; Roldán, M.; Zandio, B.; Mayor, S.; Bermejo, R.; Mendigaña, M.; Herrera, M.; Aymerich, N.; Olier, J.; Gállego, J.; Mendioroz, M.; Fernández-Irigoyen, J. Mass Spectrometry-Based Proteomic Profiling of Thrombotic Material Obtained by Endovascular Thrombectomy in Patients with Ischemic Stroke. Int. J. Mol. Sci. 2018, 19, 498.
Note that from the first issue of 2016, MDPI journals use article numbers instead of page numbers. See further details here.
Related Articles
Comments
[Return to top]