Complex Epigenetic Regulation of Chemotherapy Resistance and Biology in Esophageal Squamous Cell Carcinoma via MicroRNAs
1
Department of Endocrine Surgery, Schoen Kliniken, Dehnhaide 120, 22081 Hamburg, Germany
2
Department of General and Visceral Surgery, University Hospital of Münster, Waldeyerstrasse 1, 48149 Münster, Germany
3
University Cancer Centre Hamburg (UCCH), University Hospital of Hamburg-Eppendorf, Martinistr. 52 (O24), 20246 Hamburg, Germany
4
Department of Surgery, Flinders Medical Centre, Flinders University Adelaide, Flinders Drive, Bedford Park, Adelaide, SA 5042, Australia
5
The Nordakademie, Van-der-Smissen Str. 9, 22767 Hamburg, Germany
6
Department of Surgery, University Hospital of Schleswig-Holstein—Campus Lübeck, Ratzeburger Allee 160, 23538 Lübeck, Germany
*
Authors to whom correspondence should be addressed.
†
These authors contributed equally to this work.
Received: 23 January 2018 / Revised: 27 January 2018 / Accepted: 27 January 2018 / Published: 7 February 2018
Abstract
Background: Resistance towards chemotherapy is a major obstacle in the treatment of esophageal squamous cell carcinoma (ESCC). We investigated the role of specific microRNAs in chemotherapy resistance and tumor biology. Methods: We selected three microRNAs from characteristic microRNA signatures of resistant ESCC (hsa-miR-125a-5p, hsa-miR-130a-3p, hsa-miR-1226-3p), and hsa-miR-148a-3p. Effects on chemotherapy, adhesion, migration, apoptosis and cell cycle were assessed in six ESCC cell lines. Target analyses were performed using Western blotting and luciferase techniques. Results: MiR-130a-3p sensitized cells towards cisplatin in 100% of cell lines, miR-148a-3p in 83%, miR-125a-5p in 67%, miR-1226-3p in 50% (
p
≤ 0.04). MiR-130a-3p sensitized 83% of cell lines towards 5-FU, miR-148a-3p/miR-125a-5p/miR-1226-3p only 33% (
p
≤ 0.015). Several resistance-relevant pathways seem to be targeted on various levels. Bcl-2 was confirmed as a direct target of miR-130a-3p and miR-148a-3p, and p53 as a target of miR-125a-5p. All microRNAs decreased migration and adhesion, except miR-130a-3p, and increased apoptosis. Simultaneous manipulation of two microRNAs exhibited additive sensitizing effects towards cisplatin in 50% (miR-125a-5p/miR-148a-3p), and 75% (miR-148a-3p/miR-130a-3p) of cell lines (
p
≤ 0.006). Conclusion: Our data present strong evidence that specific microRNA signatures are responsible for drug resistance and aggressiveness of ESCC. Final functional readout of these complex processes appears to be more important than single microRNA-target interactions.
View Full-Text
►

▼

Figures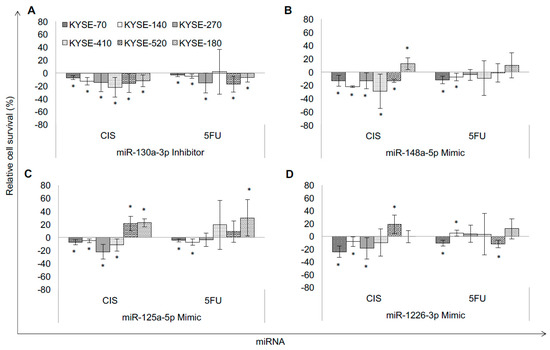 Figure 1
This is an open access article distributed under the
Creative Commons Attribution License
which permits unrestricted use, distribution, and reproduction in any medium, provided the original work is properly cited (CC BY 4.0).

Share & Cite This Article
MDPI and ACS Style
Lindner, K.; Eichelmann, A.-K.; Matuszcak, C.; Hussey, D.J.; Haier, J.; Hummel, R. Complex Epigenetic Regulation of Chemotherapy Resistance and Biology in Esophageal Squamous Cell Carcinoma via MicroRNAs. Int. J. Mol. Sci. 2018, 19, 499.
Note that from the first issue of 2016, MDPI journals use article numbers instead of page numbers. See further details here.
Related Articles
Comments
[Return to top]