Zerumbone, a Tropical Ginger Sesquiterpene of
Zingiber officinale

Roscoe, Attenuates α-MSH-Induced Melanogenesis in B16F10 Cells

1

Department of Biomedical Chemistry, College of Biomedical & Health Science, Konkuk University, Chungju 27478, Chungbuk, Korea

2

Department of Food Bioscience, College of Biomedical & Health Science, Konkuk University, Chungju 27478, Chungbuk, Korea

3

Department of Life Science, College of Science and Technology, Woosuk University, 66 Daehak-ro, Jincheon-eup, Chungcheongbuk-do 27841, Korea

4

Department of Research & Development Center, BSB korea Co., Ltd., 66 Daehak-ro, Jincheon-eup, Chungcheongbuk-do 27841, Korea

5

Diabetes and Bio-Research Center, Konkuk University, Chungju 27478, Korea

*

Author to whom correspondence should be addressed.

†

These authors contributed equally to this work.

Received: 6 August 2018 / Revised: 28 September 2018 / Accepted: 11 October 2018 / Published: 13 October 2018
Abstract
Zerumbone (ZER), an active constituent of the Zingiberaceae family, has been shown to exhibit several biological activities, such as anti-inflammatory, anti-allergic, anti-microbial, and anti-cancer; however, it has not been studied for anti-melanogenic properties. In the present study, we demonstrate that ZER and
Zingiber officinale
(ZO) extract significantly attenuate melanin accumulation in α-melanocyte-stimulating hormone (α-MSH)-stimulated mouse melanogenic B16F10 cells. Further, to elucidate the molecular mechanism by which ZER suppresses melanin accumulation, we analyzed the expression of melanogenesis-associated transcription factor, microphthalmia-associated transcription factor (MITF), and its target genes, such as
tyrosinase
,
tyrosinase-related protein 1
(
TYRP1
), and
tyrosinase-related protein 2
(
TYRP2
), in B16F10 cells that are stimulated by α-MSH. Here, we found that ZER inhibits the MITF-mediated expression of melanogenic genes upon α-MSH stimulation. Additionally, cells treated with different concentrations of zerumbone and ZO showed increased extracellular signal-regulated kinases 1 and 2 (ERK1/2) phosphorylation, which are involved in the degradation mechanism of MITF. Pharmacological inhibition of ERK1/2 using U0126 sufficiently reversed the anti-melanogenic effect of ZER, suggesting that increased phosphorylation of ERK1/2 is required for its anti-melanogenic activity. Taken together, these results suggest that ZER and ZO extract can be used as active ingredients in skin-whitening cosmetics because of their anti-melanogenic effect.
View Full-Text
►

▼

Figures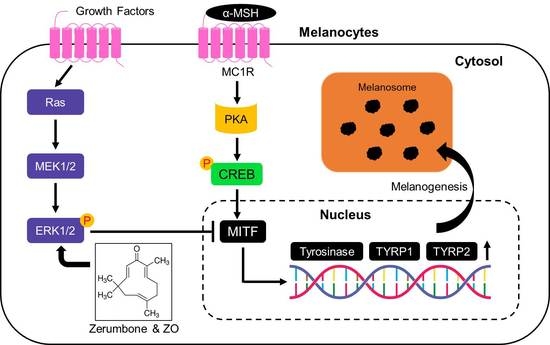 Graphical abstract
This is an open access article distributed under the
Creative Commons Attribution License
which permits unrestricted use, distribution, and reproduction in any medium, provided the original work is properly cited (CC BY 4.0).

Share & Cite This Article
MDPI and ACS Style
Oh, T.-I.; Jung, H.-J.; Lee, Y.-M.; Lee, S.; Kim, G.-H.; Kan, S.-Y.; Kang, H.; Oh, T.; Ko, H.M.; Kwak, K.-C.; Lim, J.-H. Zerumbone, a Tropical Ginger Sesquiterpene of Zingiber officinale Roscoe, Attenuates α-MSH-Induced Melanogenesis in B16F10 Cells. Int. J. Mol. Sci. 2018, 19, 3149.
Note that from the first issue of 2016, MDPI journals use article numbers instead of page numbers. See further details here.
Related Articles
Comments
[Return to top]