Antimelanogenic Effects of
Polygonum tinctorium

Flower Extract from Traditional Jeju Fermentation via Upregulation of Extracellular Signal-Regulated Kinase and Protein Kinase B Activation

1

Department of Chemistry and Cosmetics, Jeju National University, Jeju 63243, Korea

2

JejuIndi Inc., Seogwipo-si, Jeju 63635, Korea

3

R&D Center, CoSeedBioPham Co., Chungbuk 28161, Korea

*

Author to whom correspondence should be addressed.

Received: 30 June 2018 / Revised: 4 September 2018 / Accepted: 4 September 2018 / Published: 24 September 2018
Abstract
This study was carried out to investigate the antimelanogenic effects of a
Polygonum tinctorium
flower extract obtained using red nuruk, a traditional Jeju barley-based fermentation starter. We also studied the mechanism of action of the
P. tinctorium
fermented flower extract (PTFFE) in mouse melanoma cells (B16F10). Cells were treated with various concentrations (62.5, 125 and 250 μg/mL) of PTFFE and the results showed that PTFFE significantly decreased the melanin content and tyrosinase activity without being cytotoxic. In addition, PTFFE strongly inhibited the expression of tyrosinase and tyrosinase-related protein 2 by decreasing the expression of the microphthalmia-associated transcription factor, as shown by a western blot assay. Furthermore, PTFFE inhibited melanogenesis via upregulation of the phosphorylation of extracellular signal-regulated kinase (ERK) and protein kinase B, also known as AKT. We also used inhibitors such as PD98059 (a specific ERK inhibitor) or LY294002 (an AKT inhibitor) to determine whether the signaling pathways are involved. High-performance liquid chromatography fingerprinting showed the presence of a quercetin glucoside (isoquercitrin) and quercetin in PTFFE. To test the potential for PTFFE application as a cosmetic material, we also performed a primary skin irritation test on human skin. In this assay, PTFFE did not induce any adverse reactions at the treatment dose. Based on these results, we suggest that PTFFE may be considered a potential antimelanogenesis candidate for topical applications.
View Full-Text
►

▼

Figures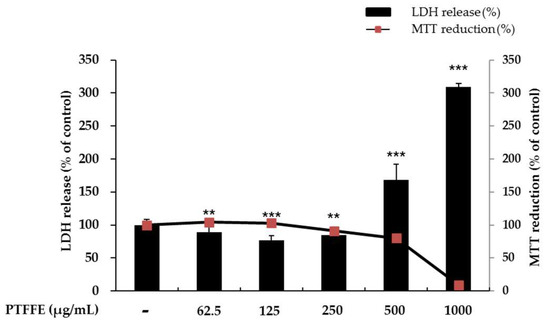 Figure 1
This is an open access article distributed under the
Creative Commons Attribution License
which permits unrestricted use, distribution, and reproduction in any medium, provided the original work is properly cited (CC BY 4.0).

Share & Cite This Article
MDPI and ACS Style
Chung, Y.C.; Ko, J.-H.; Kang, H.-K.; Kim, S.; Kang, C.I.; Lee, J.N.; Park, S.-M.; Hyun, C.-G. Antimelanogenic Effects of Polygonum tinctorium Flower Extract from Traditional Jeju Fermentation via Upregulation of Extracellular Signal-Regulated Kinase and Protein Kinase B Activation. Int. J. Mol. Sci. 2018, 19, 2895.
Note that from the first issue of 2016, MDPI journals use article numbers instead of page numbers. See further details here.
Related Articles
Comments
[Return to top]