Open Access This article is
freely available
re-usable
Review
ω-3 Long Chain Polyunsaturated Fatty Acids as Sensitizing Agents and Multidrug Resistance Revertants in Cancer Therapy
1
Department of Pharmacological and Biomolecular Sciences, Università degli Studi di Milano, Via D. Trentacoste 2, Milano 20134, Italy
2
Department of Oncology, Università degli Studi di Torino, Via Santena 5/bis, Torino 10126, Italy
*
Author to whom correspondence should be addressed.
Received: 4 October 2017 / Accepted: 16 December 2017 / Published: 20 December 2017
Abstract
:
Chemotherapy efficacy is strictly limited by the resistance of cancer cells. The ω-3 long chain polyunsaturated fatty acids (ω-3 LCPUFAs) are considered chemosensitizing agents and revertants of multidrug resistance by pleiotropic, but not still well elucidated, mechanisms. Nowadays, it is accepted that alteration in gene expression, modulation of cellular proliferation and differentiation, induction of apoptosis, generation of reactive oxygen species, and lipid peroxidation are involved in ω-3 LCPUFA chemosensitizing effects. A crucial mechanism in the control of cell drug uptake and efflux is related to ω-3 LCPUFA influence on membrane lipid composition. The incorporation of docosahexaenoic acid in the lipid rafts produces significant changes in their physical-chemical properties affecting content and functions of transmembrane proteins, such as growth factors, receptors and ATP-binding cassette transporters. Of note, ω-3 LCPUFAs often alter the lipid compositions more in chemoresistant cells than in chemosensitive cells, suggesting a potential adjuvant role in the treatment of drug resistant cancers.
Keywords:
ω-3; PUFA; chemoresistance; membrane; DHA; EPA
1. Introduction
Several epidemiological studies have highlighted an association between long chain ω-3 polyunsaturated fatty acids (ω-3 LCPUFAs) and incidence of cancers of the breast [
1
], colon [
2
], prostate [
3
], liver [
4
], and pancreas [
5
]. Moreover, the ω-3 PUFAs have been shown to improve the efficacy of chemotherapy and radiation against cancer. For example, the efficacy of doxorubicin [
6
], epirubicin [
7
], 5-fluorouracil [
8
], mitomycin C [
9
], arabinosylcytosine [
10
], tamoxifen [
11
], and irinotecan/CPT-11 [
12
] and of radiation therapy [
13
] has been shown to be enhanced by ω-3 PUFA association.
Recently, the results of randomized controlled clinical trials supplementing cancer patients with eicosapentaenoic acid (EPA) and docosahexaenoic acid (DHA) during chemotherapy and radiotherapy have been summarized by de Aguiar Pastore Silva et al. [
14
]. Overall, those studies demonstrated that patients benefit from the combination of ω-3 LCPUFAs and chemotherapy; for instance, fish oils induce weight maintenance or gain and immunomodulation; these achievements reduce inflammation, even when associated with cellular immunosuppression caused by radiotherapy and chemotherapy.
The success of chemotherapy always depends on intrinsic or acquired drug resistance of cancer cells. Tumors are able to tune drug uptake and efflux, acquire qualitative and quantitative alterations of the drug target, increase the efficiency of DNA damage repair systems, and enhance cell death evasion mechanisms, contributing to drug resistance with pleiotropic mechanisms [
15
].
This review will summarize the evidences sustaining the role of ω-3 LCPUFAs as agents inducing chemosensitization and/or reversing multidrug chemoresistance. The key mechanisms proposed for these effects, with particular attention paid to the impact of ω-3 LCPUFAs on membrane architecture and consequences on drug uptake/efflux and transporter activity, will be discussed.
2. In Vitro Evidences of ω-3 LCPUFA's Positive Effects on Chemosensitization
3. Mechanisms Proposed for Chemosensitizing Effects of ω-3 LCPUFAs
4. ω-3 LCPUFA Impact on Cell Membrane Function and Lipid Raft Organization
Cancer cells might acquire fatty acids, not only through de novo synthesis, but also through uptake of exogenous fatty acids obtained by diet or released by cancer-associated adipocytes. Exogenous fatty acids may alter membrane organization if they are integrated in the membrane either as free fatty acids (FFAs) or as constituents of PLs.
Furthermore, the specificity of PUFA incorporation within PL moieties might influence the synthesis of PUFA-derived mediators (such as prostaglandins, prostacyclins, leukotrienes, resolvines, and protectines) and signal transduction depending on these metabolites.
By altering membrane organization, ω-3 PUFAs, in particular DHA, affect anticancer drug uptake, either by increasing sensitization of cancer cells or by modulating chemoresistance.
5. ω-3 LCPUFAs as Revertants of Multidrug Resistance: In Vitro Evidences
Although contrasting in mechanisms, these studies suggest that ω-3 LCPUFAs share the properties of reversing drug resistance in vivo through concurrent mechanisms targeting both either tumor cells or tumor microenvironment.
6. ω-3 LCPUFAs as Revertants of Multidrug Resistance: Preclinical and Clinical Studies
Compared with the administration of a single ω-3 LCPUFA, the supplementation with a mixture alters the balance between SFAs and LCPUFAs more deeply within tumor tissues. The changes in the membrane lipid environment, the increase of lipid peroxidation products, and the modifications of eicosanoids produced in tumor stroma—three possible mechanisms of chemosensitization—are more pronounced after ω-3 LCPUFA mixture than a single ω-3 LCPUFA administration. This difference may explain why the dietary supplementation with fish oil improved the efficacy towards many different chemotherapeutic drugs, whereas the supplementation with single ω-3 LCPUFA had doubtful efficacy.
7. Concluding Remarks
On the other hand, although in vitro and in vivo studies highlighting the therapeutic benefits of ω-3 LCPUFAs have been abundant in the last two decades, several issues must still be clarified, before their extensive use in clinical practice is proposed. First, most attention has been focused on the effects of ω-3 LCPUFAs on the lipid plasma membrane and plasma-membrane-associated proteins. LCPUFAs can be theoretically incorporated in all cell membranes, thus affecting the lipidomic/proteomic profile of the endoplasmic reticulum, the Golgi apparatus, endosome/exosome vesicles, mitochondria, and the nucleus. In all these organelles, transmembrane proteins regulate crucial biological functions; the extent of LCPUFA incorporation in these intracellular membranes and the impact on the physiological organelle activity are a subject largely unexplored. Specific investigations in the field may unveil new mechanisms at the basis of antitumor and MDR reversing efficacy of ω-3 LCPUFAs.
A third issue poorly known is represented by the inter-individual differences in LCPUFA absorption, by the genetic polymorphisms in the enzymes involved in fatty acid uptake, transport, and metabolism, and by the amount and types of other fatty acids present in the patient diet. In light of these factors, a careful optimization of the ω-3 LCPUFA supplementation protocol, tailored to single patients, might be required. At present, how such inter-individual differences affect ω-3 LCPUFA efficacy is not known; only large population studies will likely clarify these points. The safety and the low cost of ω-3 LCPUFA supplementation may be advantageous in realizing such studies, increasing the confidence that most of the open questions concerning mechanisms and benefits of LCPUFAs as chemosensitizing agents will be solved soon.
Acknowledgments
This work was supported by the Annual Institutional Award (Line 2—Action A), by Università degli studi di Milano, Italy. The Authors would like to thank the concept artist Alice Pisoni for her graphical contribution.
Author Contributions
Paola Antonia Corsetto and Chiara Riganti analyzed the literature. Paola Antonia Corsetto, Chiara Riganti and Angela Maria Rizzo interpreted it and then drafted the manuscript. Irma Colombo performed multiple revisions. Joanna Kopecka assisted in the revision. All authors had full access to the final version of the manuscript and gave their approval before publishing.
Conflicts of Interest
The authors declare no conflict of interest.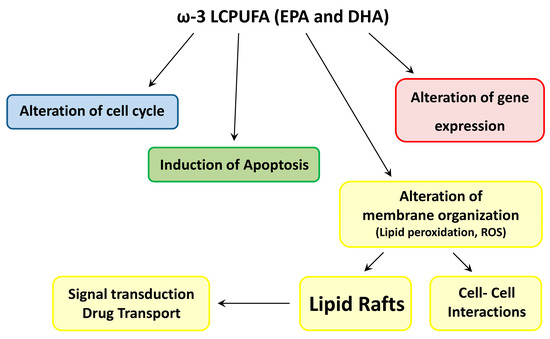 Figure 1. Proposed mechanisms for ω-3 LCPUFA anticancer effects. LCPUFA—long chain polyunsaturated fatty acids; EPA—eicosapentaenoic acid; DHA—docosahexaenoic acid.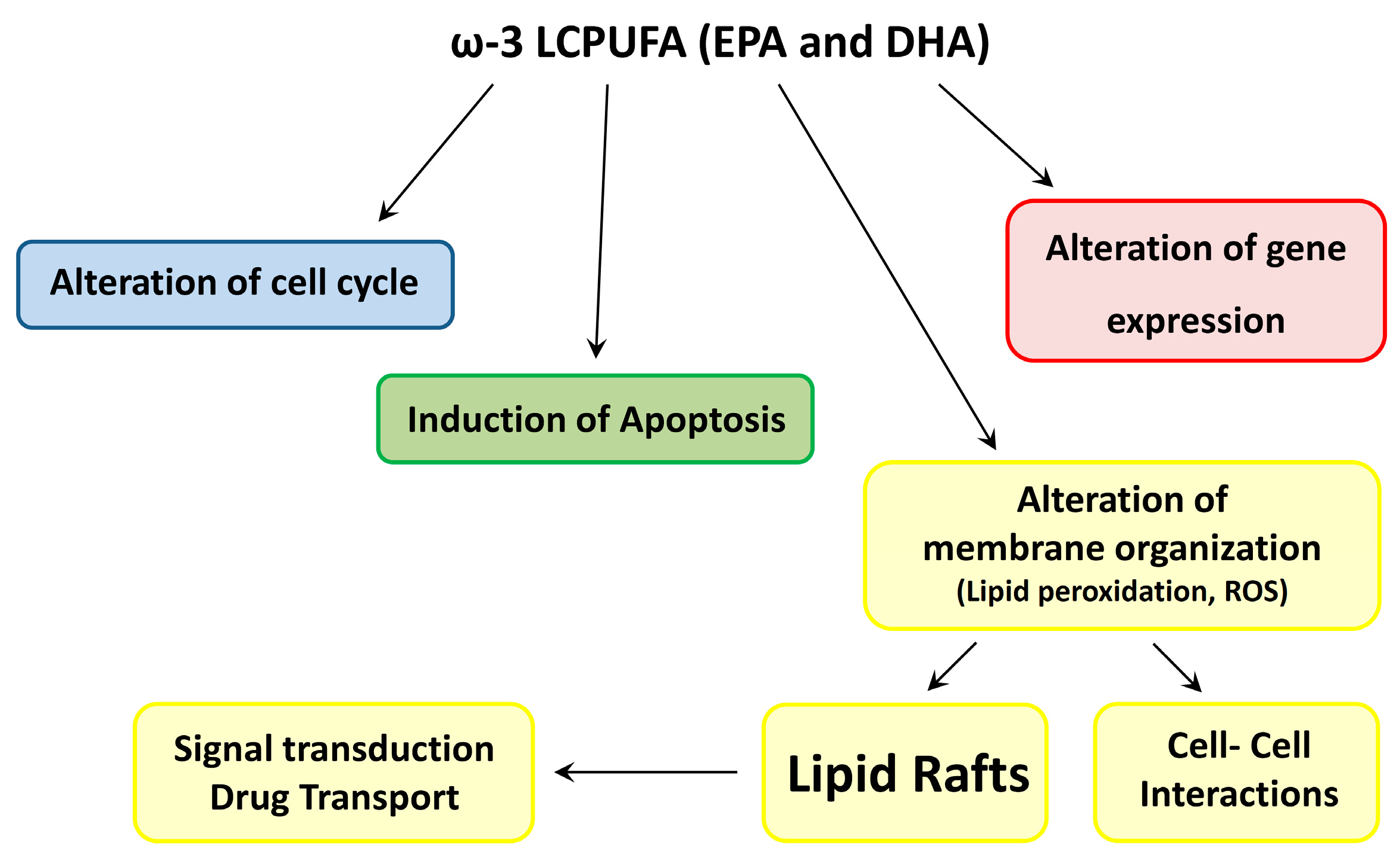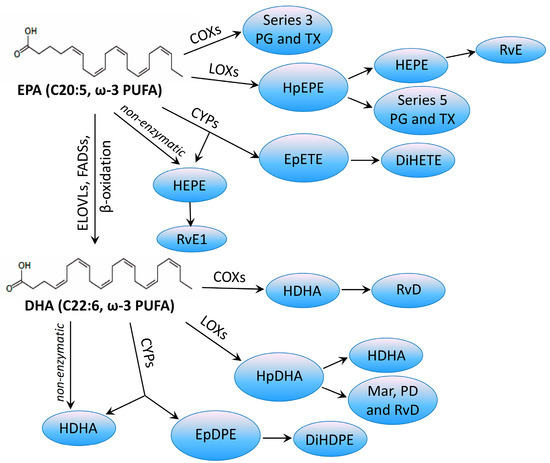 Figure 2. Overview of the key COX, LOX, and CYP-derived metabolites from EPA and DHA. COX—cyclooxygenases; LOX—lipoxygenases; CYP—cytochrome P450; PG—prostaglandin; Tx—thromboxane; HpETE—hydroperoxy eicosatetraenoic acid; HpEPE—hydroperoxy eicosapentaenoic acid; EpETE—epoxy eicosatetraenoic acid; DiHETE—dihydroxy eicosatetraenoic acid; HEPE—hydroxy eicosapentaenoic acid; HpDHA—hydroperoxy docosahexaenoic acid; HDHA—hydroxy docosahexaenoic acid; EpDPE—epoxy docosapentaenoic acid; DiHDPE—dihydroxy docosapentaenoic acid; Lx—lipoxin; LT—leukotriene; Mar—maresin, PD—protectin; RvD—D series resolvins; RvE—E series resolvins.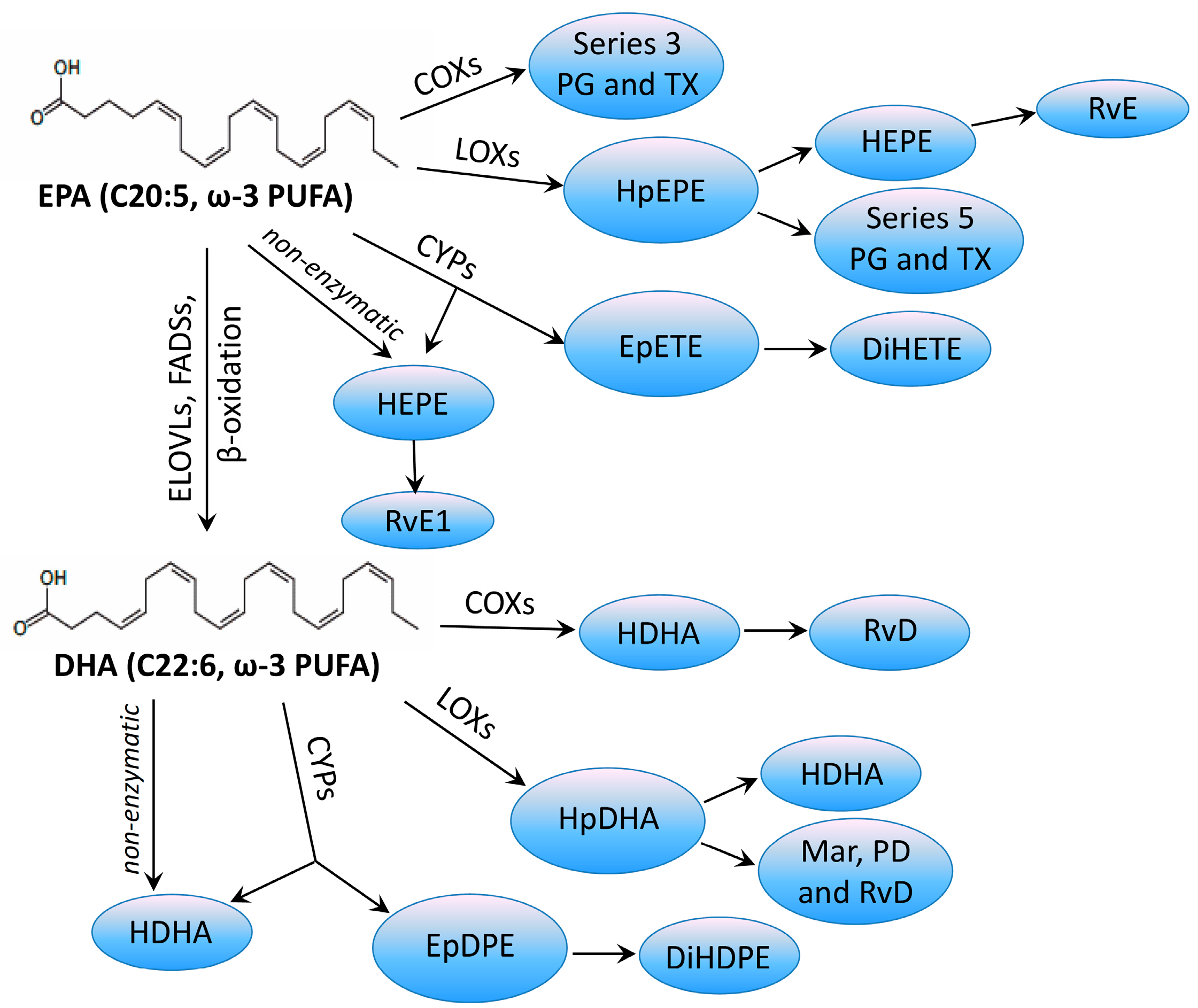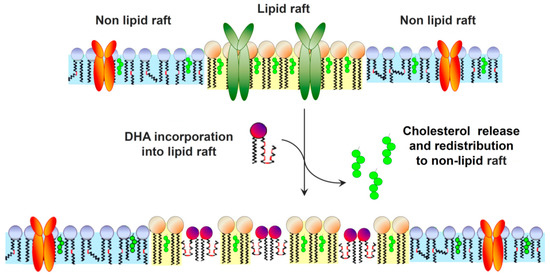 Figure 3. DHA impact on lipid raft structure. DHA incorporation in membrane affects lipid raft organization inducing a shift from cholesterol/saturated fatty acid-rich domains to ω-3 LCPUFA-rich/cholesterol-poor domains, which exhibit different height ranges.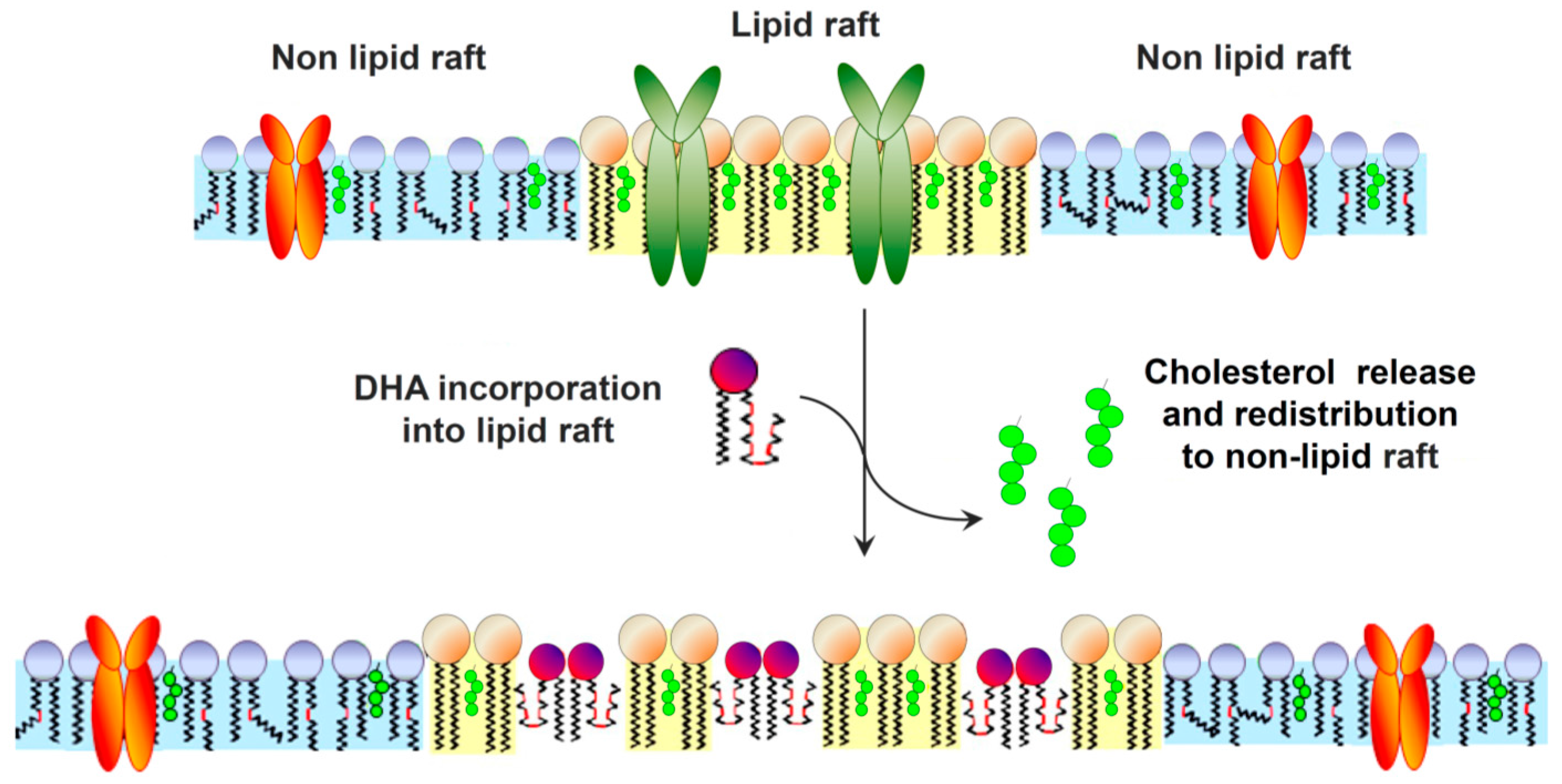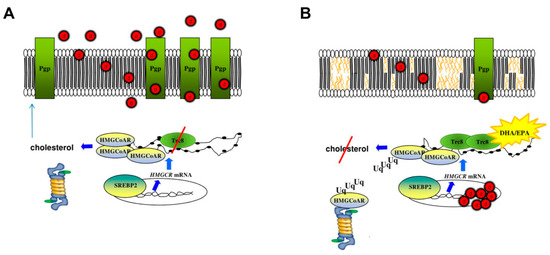 Figure 4. ω-3 LCPUFAs reverse chemoresistance induced by P-glycoprotein by modulating cholesterol synthesis and altering membrane lipid microenvironment. (A) MDR cells have a high synthesis of cholesterol, owing to the constitutive over-expression of the enzyme 3-hydroxy-3-methlyglutaryl coenzyme A reductase (HMGCoAR). This is independent of the activation of the transcription factor sterol regulatory binding protein-2 (SREBP2) but is due to the lower activity of the E3-ubiquitin ligase Trc8. A high cholesterol content in the plasma membrane sustains the activity of P-glycoprotein (Pgp), which effluxes several chemotherapeutic drugs (d); (B) DHA and EPA are allosteric activators of Trc8 and increase the Trc8-mediated ubiquitination (Uq) of HMGCoAR, reducing cholesterol synthesis. Such cholesterol depletion, together with the incorporation of DHA/EPA in plasma membrane, alters the cholesterol rich/saturated fatty acids rich lipid micro-domains such as lipid rafts, reduces Pgp surface level and activity. As a result, ω-3 LCPUFAs increase the intracellular retention of Pgp substrates, chemosensitizing resistant cells.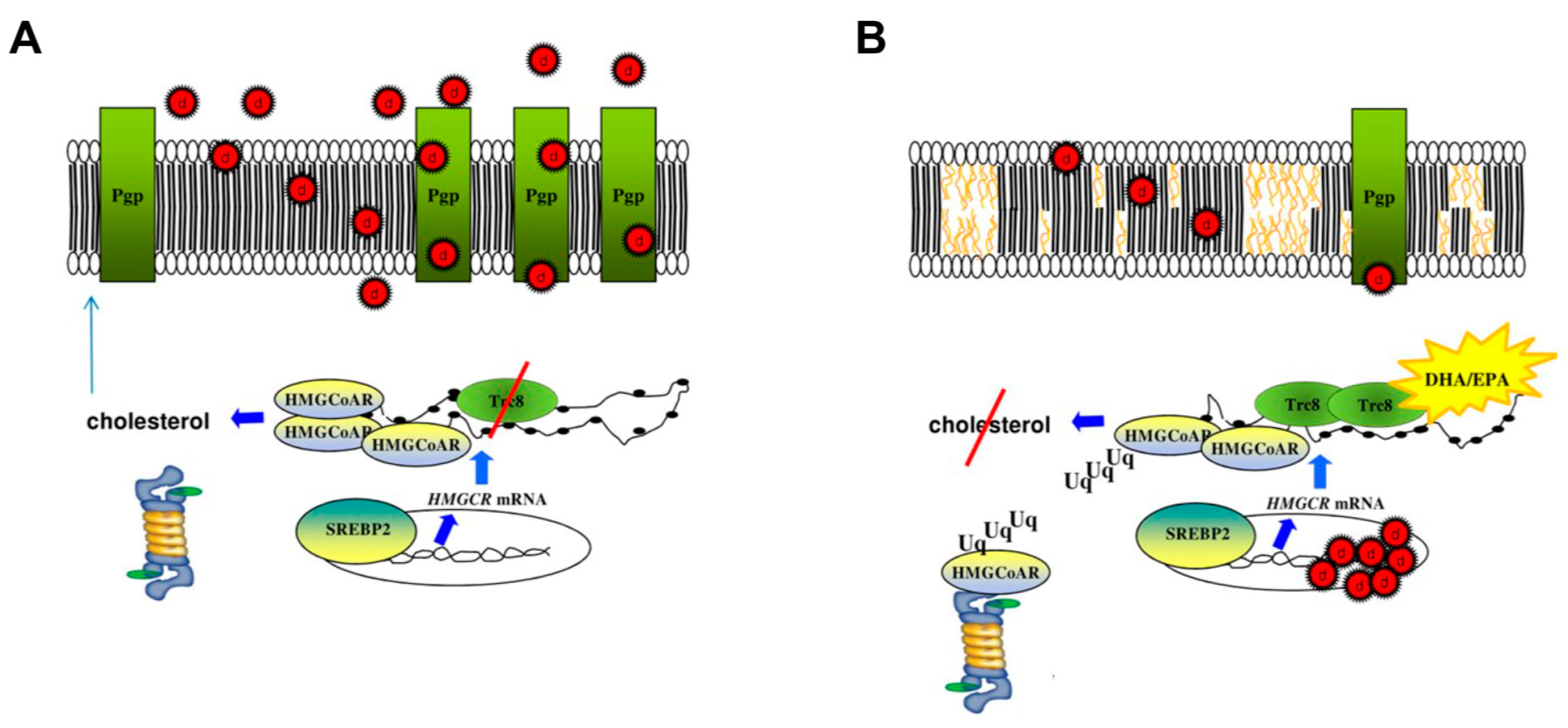 © 2017 by the authors. Licensee MDPI, Basel, Switzerland. This article is an open access article distributed under the terms and conditions of the Creative Commons Attribution (CC BY) license (http://creativecommons.org/licenses/by/4.0/).