Modulation of the Senescence-Associated Inflammatory Phenotype in Human Fibroblasts by Olive Phenols
1
Department of Biomedical, Experimental and Clinical Science Mario Serio, Experimental Pathology and Oncology Section, University of Florence, Viale Morgagni 50, 50134 Florence, Italy
2
Department of Medical Biotechnologies, University of Siena, 53100 Siena, Italy
3
NEUROFARBA Department, Pharmacology and Toxicology Section, University of Florence, Viale Pieraccini 6, 50139 Florence, Italy
*
Author to whom correspondence should be addressed.
Received: 27 September 2017 / Revised: 19 October 2017 / Accepted: 25 October 2017 / Published: 30 October 2017
Abstract
Senescent cells display an increase in the secretion of growth factors, inflammatory cytokines and proteolytic enzymes, termed the "senescence-associated-secretory-phenotype" (SASP), playing a major role in many age-related diseases. The phenolic compounds present in extra-virgin olive oil are inhibitors of oxidative damage and have been reported to play a protective role in inflammation-related diseases. Particularly, hydroxytyrosol and oleuropein are the most abundant and more extensively studied. Pre-senescent human lung (MRC5) and neonatal human dermal (NHDF) fibroblasts were used as cellular model to evaluate the effect of chronic (4–6 weeks) treatment with 1 μM hydroxytyrosol (HT) or 10 μM oleuropein aglycone (OLE) on senescence/inflammation markers. Both phenols were effective in reducing β-galactosidase-positive cell number and p16 protein expression. In addition, senescence/inflammation markers such as IL-6 and metalloprotease secretion, and Ciclooxigenase type 2 (COX-2) and α-smooth-actin levels were reduced by phenol treatments. In NHDF, COX-2 expression, Nuclear Factor κ-light-chain-enhancer of activated B cells (NFκB) protein level and nuclear localization were augmented with culture senescence and decreased by OLE and HT treatment. Furthermore, the inflammatory effect of Tumor Necrosis Factor α (TNFα) exposure was almost completely abolished in OLE- and HT-pre-treated NHDF. Thus, the modulation of the senescence-associated inflammatory phenotype might be an important mechanism underlying the beneficial effects of olive oil phenols.
View Full-Text
►

▼

Figures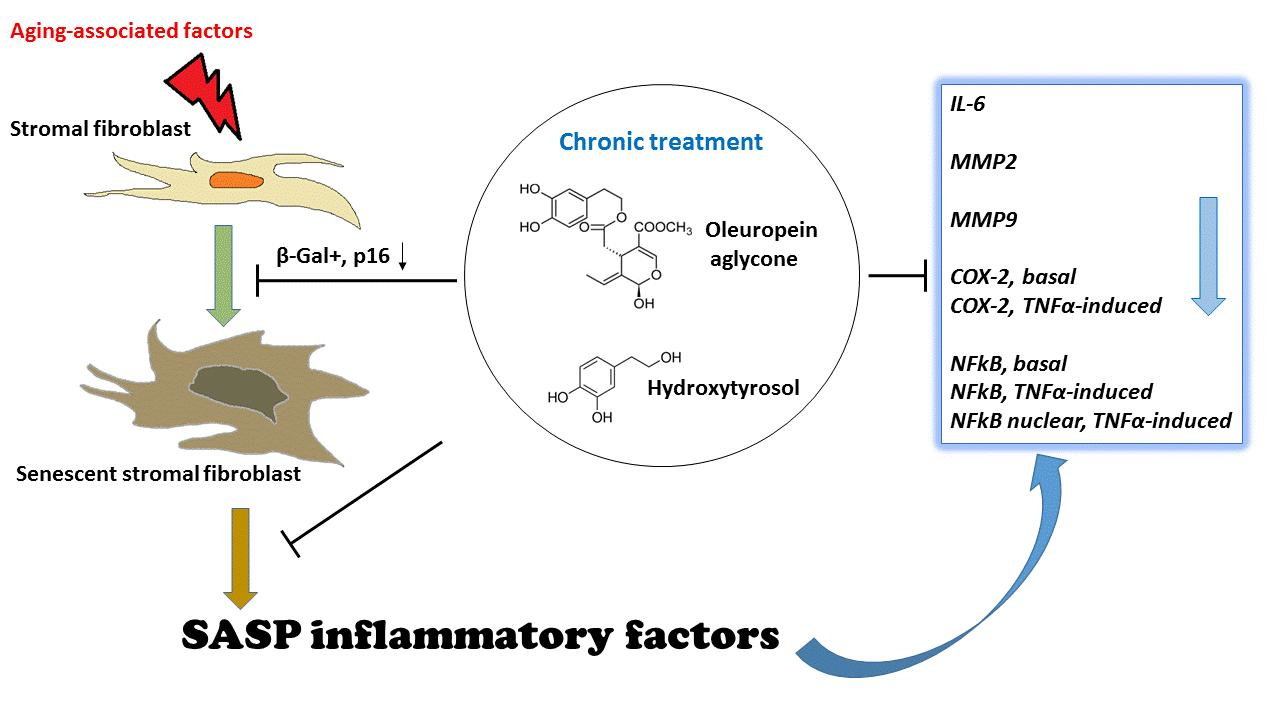 Graphical abstract
This is an open access article distributed under the
Creative Commons Attribution License
which permits unrestricted use, distribution, and reproduction in any medium, provided the original work is properly cited (CC BY 4.0).

Share & Cite This Article
MDPI and ACS Style
Menicacci, B.; Cipriani, C.; Margheri, F.; Mocali, A.; Giovannelli, L. Modulation of the Senescence-Associated Inflammatory Phenotype in Human Fibroblasts by Olive Phenols. Int. J. Mol. Sci. 2017, 18, 2275.
Note that from the first issue of 2016, MDPI journals use article numbers instead of page numbers. See further details here.
Related Articles
Comments
[Return to top]