Influence of Long-Distance Bicycle Riding on Serum/Urinary Biomarkers of Prostate Cancer
1
Department of Chemistry and Biochemistry, Mendel University in Brno, Zemedelska 1, CZ-613 00 Brno, Czech Republic
2
Central European Institute of Technology, Brno University of Technology, Technicka 3058/10, CZ-616 00 Brno, Czech Republic
3
Department of Physiology, Faculty of Medicine, Masaryk University, Kamenice 5, CZ-625 00 Brno, Czech Republic
4
Faculty of Sports Studies, University Sports Centre, Masaryk University, Komenskeho namesti 2, CZ-662 43 Brno, Czech Republic
*
Author to whom correspondence should be addressed.
Academic Editor: William Chi-shing Cho
Received: 18 January 2016 / Revised: 17 February 2016 / Accepted: 3 March 2016 / Published: 17 March 2016
Abstract
Herein, we present a study focused on the determination of the influence of long-distance (53 km) bicycle riding on levels of chosen biochemical urinary and serum prostate cancer (PCa) biomarkers total prostate-specific antigen (tPSA), free PSA (fPSA) and sarcosine. Fourteen healthy participants with no evidence of prostate diseases, in the age range from 49–57 years with a median of 52 years, underwent physical exercise (mean race time of 150 ± 20 min, elevation increase of 472 m) and pre- and post-ride blood/urine sampling. It was found that bicycle riding resulted in elevated serum uric acid (
p
= 0.001, median 271.76
vs.
308.44 µmol/L pre- and post-ride, respectively), lactate (
p
= 0.01, median 2.98
vs.
4.8 mmol/L) and C-reactive protein (
p
= 0.01, 0.0–0.01 mg/L). It is noteworthy that our work supports the studies demonstrating an increased PSA after mechanical manipulation of the prostate. The subjects exhibited either significantly higher post-ride tPSA (
p
= 0.002, median 0.69
vs.
1.1 ng/mL pre- and post-ride, respectively) and fPSA (
p
= 0.028, median 0.25
vs.
0.35 ng/mL). Contrary to that, sarcosine levels were not significantly affected by physical exercise (
p
= 0.20, median 1.64
vs.
1.92 µmol/mL for serum sarcosine, and
p
= 0.15, median 0.02 µmol/mmol of creatinine
vs.
0.01 µmol/mmol of creatinine for urinary sarcosine). Taken together, our pilot study provides the first evidence that the potential biomarker of PCa—sarcosine does not have a drawback by means of a bicycle riding-induced false positivity, as was shown in the case of PSA.
View Full-Text
►

▼

Figures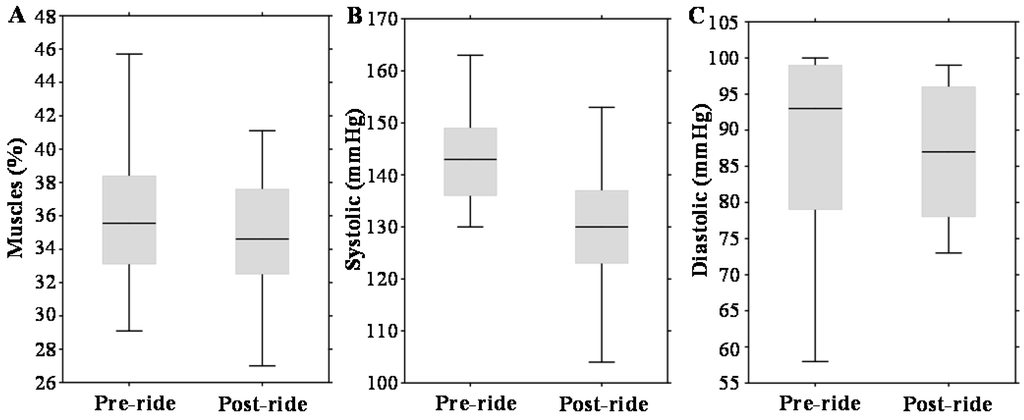 Figure 1
This is an open access article distributed under the
Creative Commons Attribution License
which permits unrestricted use, distribution, and reproduction in any medium, provided the original work is properly cited (CC BY 4.0).

Share & Cite This Article
MDPI and ACS Style
Heger, Z.; Gumulec, J.; Ondrak, A.; Skoda, J.; Zitka, Z.; Cernei, N.; Masarik, M.; Zitka, O.; Adam, V. Influence of Long-Distance Bicycle Riding on Serum/Urinary Biomarkers of Prostate Cancer. Int. J. Mol. Sci. 2016, 17, 377.
Note that from the first issue of 2016, MDPI journals use article numbers instead of page numbers. See further details here.
Related Articles
Comments
[Return to top]