Open Access This article is
freely available
re-usable
Review
Xylose Fermentation by
Saccharomyces cerevisiae
: Challenges and Prospects
1
Departamento de Biologia Celular, Universidade de Brasília, Brasília, DF 70910-900, Brazil
2
Petrobras Research and Development Center, Biotechnology Management, Rio de Janeiro, RJ 21941-915, Brazil
3
Embrapa Agroenergia, Laboratório de Genética e Biotecnologia, Parque Estação Biológica s/n, Av. W3 Norte, Brasília, DF 70770-901, Brazil
*
Author to whom correspondence should be addressed.
Academic Editor: ChulHee Kang
Received: 30 November 2015 / Accepted: 27 January 2016 / Published: 25 February 2016
Abstract
:
Many years have passed since the first genetically modified
Saccharomyces cerevisiae
strains capable of fermenting xylose were obtained with the promise of an environmentally sustainable solution for the conversion of the abundant lignocellulosic biomass to ethanol. Several challenges emerged from these first experiences, most of them related to solving redox imbalances, discovering new pathways for xylose utilization, modulation of the expression of genes of the non-oxidative pentose phosphate pathway, and reduction of xylitol formation. Strategies on evolutionary engineering were used to improve fermentation kinetics, but the resulting strains were still far from industrial application. Lignocellulosic hydrolysates proved to have different inhibitors derived from lignin and sugar degradation, along with significant amounts of acetic acid, intrinsically related with biomass deconstruction. This, associated with pH, temperature, high ethanol, and other stress fluctuations presented on large scale fermentations led the search for yeasts with more robust backgrounds, like industrial strains, as engineering targets. Some promising yeasts were obtained both from studies of stress tolerance genes and adaptation on hydrolysates. Since fermentation times on mixed-substrate hydrolysates were still not cost-effective, the more selective search for new or engineered sugar transporters for xylose are still the focus of many recent studies. These challenges, as well as under-appreciated process strategies, will be discussed in this review.
Keywords:
xylose; lignocellulosic ethanol; fermentation;
Saccharomyces cerevisiae
1. Introduction
The rapid depletion of fossil fuel reserves, global warming, and geopolitical issues has triggered a worldwide quest for sustainable renewable energy sources. Several biofuels have been considered but bioethanol remains as the most widely used alternative to conventional fuels for several reasons, including its high octane value and efficient combustion.
Although some bacteria, such as
Zymomonas mobilis
and genetically-modified
Escherichia coli
, are capable of fermenting sugars [
1
], the yeast
Saccharomyces cerevisiae
is still the organism of choice for industrial production of ethanol. This is essentially due to its high ethanol tolerance and the ability to ferment under strictly anaerobic conditions. Additionally, unlike its prokaryotic counterparts,
S. cerevisiae
withstands low pH and is insensitive to bacteriophage infection, which is particularly relevant in large industrial processes.
Currently, bioethanol is produced either from starch or from the sucrose fraction of some edible agricultural crops, such as corn, sugar cane, and sugar beet. For economic and environmental reasons agricultural residues and other low-value sources of carbohydrates are highly considered for bioethanol production [
2
]. These include corn stover, sugar cane bagasse, wheat straw, non-recyclable paper, and switchgrass. Lignocellulosic biomass is essentially composed of cellulose, hemicellulose, pectin, and lignin [
3
], with glucose being the main sugar constituent, but pentose sugars, such as
d
-xylose and
l
-arabinose, may represent up to 20% [
4
]. Despite its immense potential, the use of lignocellulosic substrates for bioethanol production faces three main challenges:
Although pentose fermentation is accomplished by non-
Saccharomyces
yeasts, such as
Kluyveromyces marxianus
,
Scheffersomyces
(
Pichia
)
stipitis
,
Pachysolen tannophilus
, and
Candida shehatae
, [
10
,
11
] they have not been considered for large-scale processes. Hence, most work involving pentose fermentation in yeast is focused on generating genetically-modified
S. cerevisiae
strains with heterologous xylose metabolic pathways. The challenges are innumerous and will be discussed in this review.
2. Xylose Metabolic Pathways
Xylose catabolism occurs through three different pathways in microorganisms, but only two have been introduced into
S. cerevisiae
(
Figure 1
) [
12
,
13
]. Filamentous fungi and some yeasts use an oxidoredutive pathway which involves two reactions. First, xylose is reduced to xylitol by a NAD(P)H-dependent xylose reductase (XR) encoded by
XYL1
[
14
]. Then, xylitol is oxidized to 5-xylulose by a NADP
+
-dependent xylitol dehydrogenase (XDH) encoded by
XYL2
[
15
]. Bacteria use a xylose isomerase pathway (XI) to convert xylose directly to 5-xylulose (reviewed in [
16
]). In both pathways, 5-xylulose is phosphorylated to 5P-xylulose, which is further metabolized through the pentose phosphate pathway (PPP) and glycolysis.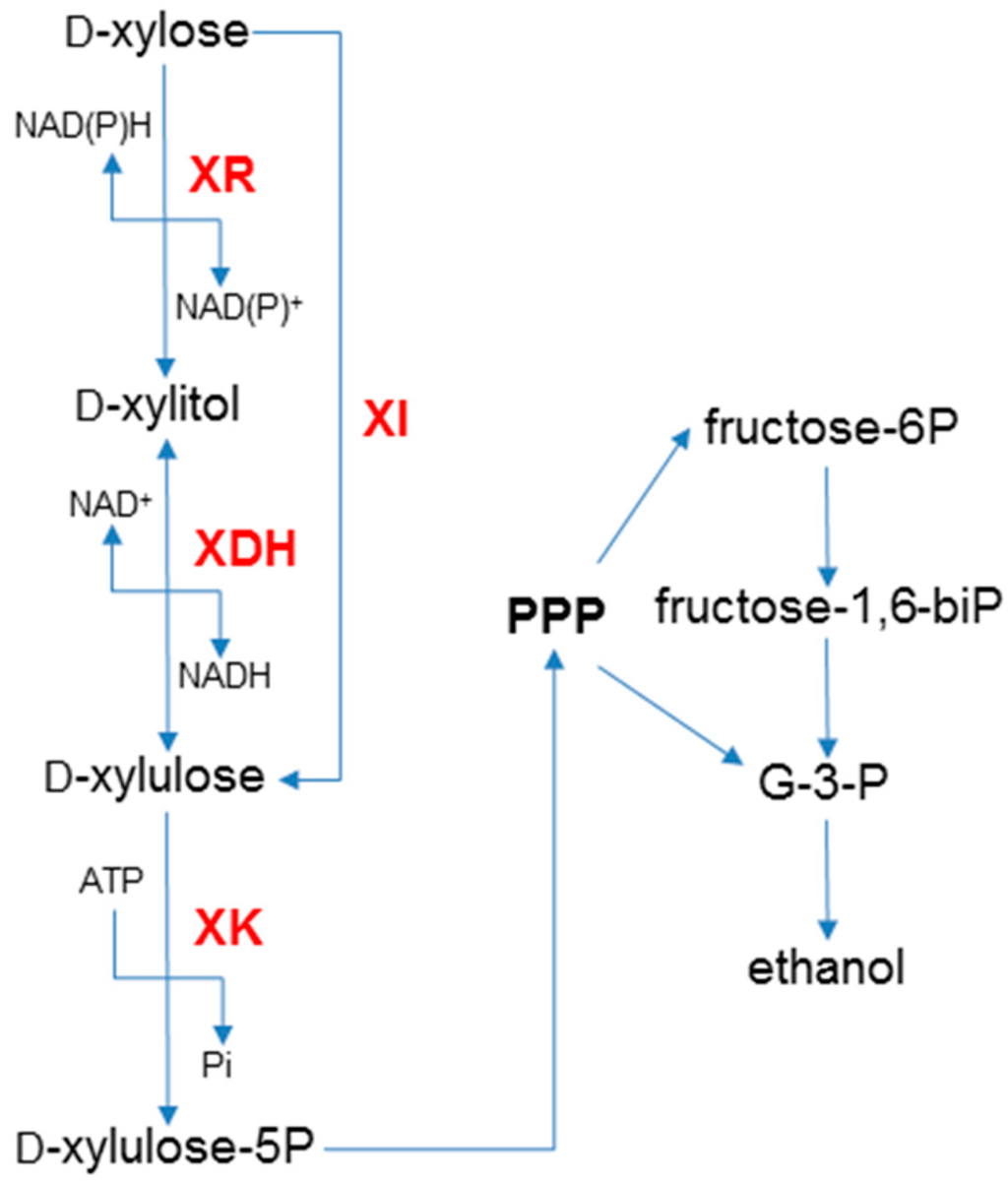 Figure 1.
Xylose fermentation in
S. cerevisiae
. The fungal pathway uses xylose reductase (XR) and xylitol dehydrogenase (XDH,) whereas the bacterial pathway uses xylose isomerase (XI). Both pathways produce
d
-xylulose which is converted to
d
-xylulose-5P by endogenous xylulokinase (XK).
d
-Xylulose-5P then enters the pentose phosphate pathway (PPP) where it is further metabolized to form ethanol under appropriate conditions. Arrows indicate the direction of the chemical reactions.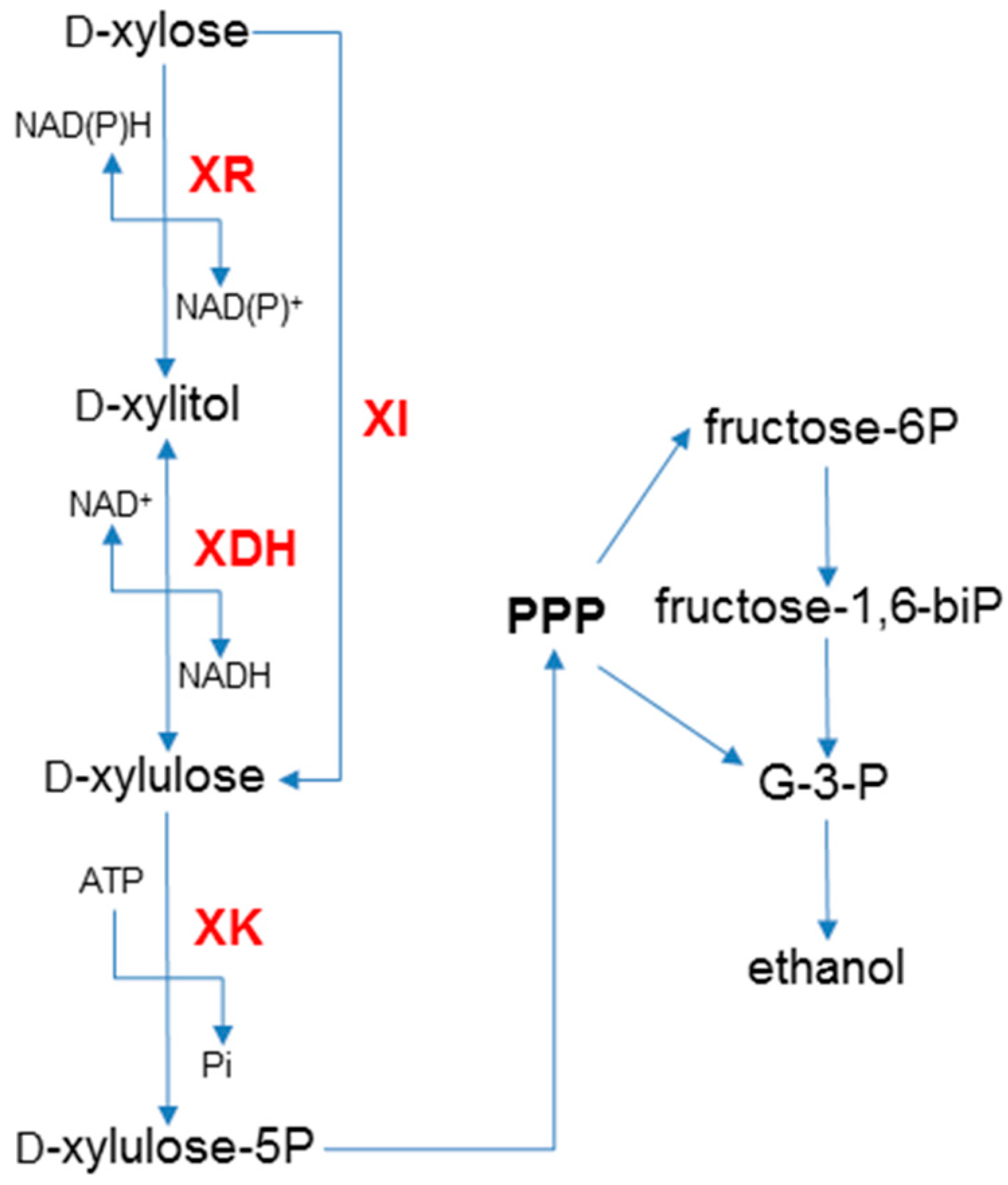 Unlike fungi and bacteria, Archae possess an oxidative xylose catabolic pathway. In this pathway, xylose is oxidized exclusively to the tricarboxylic acid cycle intermediate α-ketoglutarate through upon the action of xylose dehydrogenase, xylonate dehydratase, 2-keto-3-deoxyxylonate dehydratase, and α-ketoglutarate semialdehyde dehydrogenase [
17
]. This pathway shows similarities to proposed oxidative pentose degradation pathways to α-ketoglutarate found in few bacteria, e.g.,
Azospirillum brasilense
and
Caulobacter crescentus
, and in the Archaeon
Sulfolobus solfataricus
[
13
]. Since this pathway involves many genes it has not been used yet to engineer
S. cerevisiae
. On the other hand, as will be discussed below, both XR/XDH and XI pathways have been extensively employed to construct
S. cerevisiae
strains capable of fermenting xylose with different rates of success.
3. Engineering
Saccharomyces

with the XR/XDH Pathway

Despite orthologous genes encoding functional XR and XDH have been identified in

S. cerevisiae

, this yeast is not able to grow solely on xylose [

18

,

19

]. Overexpression of native aldose reductase and xylitol dehydrogenase genes allowed growth on xylose, albeit with limited growth rates [

20

]. Even before this native pathway for xylose consumption was identified, heterologous pathways from naturally xylose-assimilating yeasts were used to engineer

S. cerevisiae

. The

S. stipitis

XR/XDH pathway is the most frequently used to engineer yeast for xylose fermentation, although an important limitation was identified; while XR preferentially uses NADPH as a cofactor, XDH exclusively uses NAD

+

[

16

] (

Figure 1

). This leads to xylitol excretion due to cofactor imbalance, reducing carbon assimilation and ethanol production in the engineered strains. Several strategies have been employed to solve this problem, the redirection of carbon fluxes from NADPH to NADH consuming reactions being the most common denominator. This includes an adding external electron acceptor to the fermentation media [

21

,

22

], connecting furaldehyde reduction with xylose metabolism [

23

], altering the ammonium assimilation pathway [

24

], channeling carbon fluxes through a recombinant phosphoketolase pathway in a xylose-consuming strain [

25

], and altering cofactor preference of XR and XDH [

26

]. These strategies normally result in engineered strains with lower yields of xylitol production.
4. Engineering
Saccharomyces

with the XI Pathway
5. Additional Genetic Modifications
6. Evolutionary Engineering
8. Effects of Lignocellulosic Hydrolysate Inhibitors on Xylose Fermentation
Monosaccharides from cellulose and hemicellulose fibers of biomass must be released before yeast fermentation. For this, a pre-treatment step, which involves the use of extreme physicochemical conditions and an enzymatic hydrolysis step, is applied. In addition to monomeric sugars, several other compounds are released and formed during liquefaction of biomass in the pre-treatment and hydrolysis steps. Indeed, lignocellulosic hydrolysates contain several other compounds and several of them inhibit yeast metabolism. The common groups are organic acids (most usual is acetic acid, derived from hemicellulose deacetylation); furaldehydes (furfural and 5-hydroxymethyl-furfural, formed by dehydration of pentoses and hexoses, respectively); and phenolic derivatives (generated from lignin breakdown) (reviewed in [
103
]). The presence and concentration of these compounds will vary according to the biomass used, pre-treatment, and hydrolysis conditions [
103
]. However, even in lower concentrations, these compounds can inhibit yeast metabolism, prolonging the lag phase, damaging cellular membranes, and leading to cytoplasm acidification, thus reducing ethanol yield and productivity [
6
].
Yeast tolerance to lignocellulosic derived inhibitors is not only strain-dependent, but also dependent of the carbon source to be fermented, once yeast is much more affected when fermenting xylose than glucose [
104
,
105
,
106
,
107
]. Yeast shows much slower sugar consumption rate for xylose and this may lead to depletion of key metabolites and cofactors that might be especially important in stressful conditions imposed by lignocellulosic hydrolysates [
108
]. Thus, a number of strategies to improve xylose fermentation performance and concurrently reduce the influence of lignocellulosic hydrolysate inhibitors on recombinant strains have been developed, including construction of recombinant strains expressing detoxifying enzymes [
23
], transcription factors [
106
], mutagenesis and breeding [
105
,
109
], and evolutionary engineering strategies to increase tolerance to single inhibitors or to the hydrolysate [
105
,
110
]. In addition, strategies to improve yeast tolerance by propagation on hydrolysate media before hydrolysate fermentations have been shown to improve yeast performance [
111
,
112
]. Despite the success of some strategies, few of the improvements towards lignocellulosic hydrolysate inhibitors were performed in industrial strains. Thus, further studies are needed to elucidate the interactions of xylose metabolism with inhibitor tolerance, and are especially important to generate new, robust industrial strains.
9. Insights on Industrial Application
Certainly, there will be no single solution for the development of a yeast (or yeast strains) suitable to all xylose industrial fermentation processes since the challenges discussed above are more or less critical depending on process configurations. For example, xylose uptake is still a challenge only if xylose is co-fermented with glucose; however, adaptation or genetic modification to improve tolerance to inhibitors presented in the hydrolysate would be a greater challenge. The hydrolysate contains inhibitors, such as furaldehydes, phenolic compounds, and weak acids, e.g. acetic acid. This acid is intrinsically related with biomass deconstruction, the advances in pre-treatment process technologies could avoid high levels of the first two inhibitors; however, acetic acid concentration would increase with the improved biomass deconstruction [
26
]. Under large scale fermentations conditions, there are still more desirable adaptations to tolerate (pH, temperature, high ethanol, and other stress fluctuations), which lead the search for yeasts with more robust backgrounds, like industrial strains, as engineering targets. As presented above, a good fermentation productivity on hydrolysate was achieved by using a genetically-modified industrial strain submitted to evolutionary engineering on hydrolysate, and, additionally, genes that are related to stress tolerance were identified [
68
]. Recently, the influence of addition of hydrolysate during yeast propagation using an industrial xylose consuming
S. cerevisiae
was shown [
112
]. This strategy had a huge effect on yeast performance, increasing the final ethanol production yields by 80%.
Although there are plenty of studies on the development of new strains for xylose fermentation, few works have focused on process strategies using these yeasts. A process strategy largely used in first generation ethanol production from sugar cane for cost reduction is cell recycling. A study using immobilized recombinant yeast cells for fermentation of corn stover hemicellulosic hydrolysate showed the possibility of recycling cells for five batches with no significant reduction in ethanol yield [
113
]. In a process with cell recycling, it would be expected that the diauxic fermentation of mixed sugars could be, to some extent, desirable to control the replacement of a developed and adapted xylose-consuming strain from some derived population less efficient for xylose fermentation. This could lead to the selection of a more robust xylose fermenting population.
10. Conclusions
With the global interest in sustainable development with the use of lignocellulosic residues to produce biofuels and other value-added products in the context of biorefineries, it is of utmost importance to improve the ability of
S. cerevisiae
to metabolize xylose. There are still many metabolic bottlenecks that need to be addressed, such as xylose uptake, improvement of catalytic efficiency of xylose isomerases, xylitol formation, and increased specific growth in xylose. In addition to genetic modification by the introduction/modification of native or exogenous metabolic pathways, it is clear that adaptive engineering plays a crucial role in this process. Due to the metabolic complexity involved in the development of xylose-fermenting yeast it is important to use metabolic engineering associated with other modern techniques, such as gTME to accelerate physiological adaptation in xylose. The careful optimization of the engineered yeast by the use of a combination of different approaches should represent a forthcoming challenge. Finally, studies on process strategies with a large variety of newly-developed xylose-fermenting strains should be encouraged in order to establish an economically viable industrial process for ethanol production from xylose-containing lignocellulosic hydrolysates.
Acknowledgments
This work was supported by CNPq (Conselho Nacional de Desenvolvimento Científico e Tecnológico, Brazil), CAPES (Coordenação de Aperfeiçoamento de Pessoal de Nível Superior, Brazil) and Petrobras.
Author Contributions
All authors contributed equality in writing this review.
Conflicts of Interest
The authors declare no conflict of interest.
© 2016 by the authors; licensee MDPI, Basel, Switzerland. This article is an open access article distributed under the terms and conditions of the Creative Commons by Attribution (CC-BY) license (http://creativecommons.org/licenses/by/4.0/).