Chemical Constituents of
Anacardium occidentale

as Inhibitors of

Trypanosoma cruzi

Sirtuins

1

Instituto Gonçalo Moniz, FIOCRUZ, Salvador, BA 40296-710, Brazil

2

School of Pharmaceutical Sciences, EPGL, University of Geneva, University of Lausanne, CMU, 1, Rue Michel Servet, 1211 Geneva, Switzerland

3

Departmento de Microbiologia, Imunologia e Parasitologia, UNIFESP, São Paulo, SP 04039-032, Brazil

4

Center for Pharmacognostic Research on Panamanian Flora (CIFLORPAN), College of Pharmacy, University of Panama, Panama 0824-00172, Panama

*

Author to whom correspondence should be addressed.

Academic Editor: Thomas J. Schmidt

Received: 23 January 2019 / Revised: 23 February 2019 / Accepted: 26 February 2019 / Published: 3 April 2019
Abstract
Benznidazole and nifurtimox, the only drugs available for the treatment of Chagas disease, have limited efficacy and have been associated with severe adverse side effects. Thus, there is an urgent need to find new biotargets for the identification of novel bioactive compounds against the parasite and with low toxicity. Silent information regulator 2 (Sir2) enzymes, or sirtuins, have emerged as attractive targets for the development of novel antitrypanosomatid agents. In the present work, we evaluated the inhibitory effect of natural compounds isolated from cashew nut (
Anacardium occidentale
, L. Anacardiaceae) against the target enzymes TcSir2rp1 and TcSir2rp3 as well as the parasite. Two derivates of cardol (
1
,
2
), cardanol (
3
,
4
), and anacardic acid (
5
,
6
) were investigated. The two anacardic acids (
5
,
6
) inhibited both TcSir2rp1 and TcSir2rp3, while the cardol compound (
2
) inhibited only TcSir2rp1. The most potent sirtuin inhibitor active against the parasite was the cardol compound (
2
), with an EC
50
value of 12.25 µM, similar to that of benznidazole. Additionally, compounds (
1
,
4
), which were inactive against the sirtuin targets, presented anti-
T. cruzi
effects. In conclusion, our results showed the potential of
Anacardium occidentale
compounds for the development of potential sirtuin inhibitors and anti-
Trypanosoma cruzi
agents.
View Full-Text
►

▼

Figures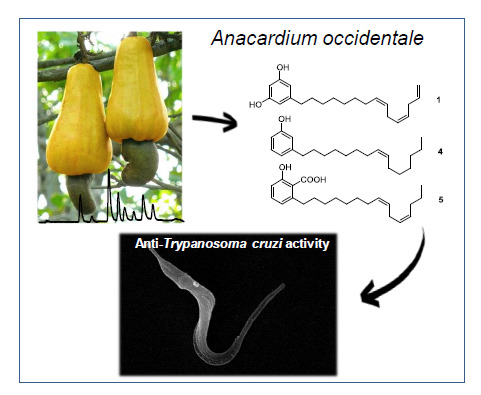 Graphical abstract
This is an open access article distributed under the
Creative Commons Attribution License
which permits unrestricted use, distribution, and reproduction in any medium, provided the original work is properly cited (CC BY 4.0).

Share & Cite This Article
MDPI and ACS Style
Matutino Bastos, T.; Mannochio Russo, H.; Silvio Moretti, N.; Schenkman, S.; Marcourt, L.; Gupta, M.P.; Wolfender, J.-L.; Ferreira Queiroz, E.; Botelho Pereira Soares, M. Chemical Constituents of Anacardium occidentale as Inhibitors of Trypanosoma cruzi Sirtuins. Molecules 2019, 24, 1299.
Note that from the first issue of 2016, MDPI journals use article numbers instead of page numbers. See further details here.
Related Articles
Comments
[Return to top]