Quantitative Characterization of Olaparib in Nanodelivery System and Target Cell Compartments by LC-MS/MS
1
Dipartimento di Scienze Biomediche e Cliniche "Luigi Sacco", Università degli Studi di Milano, Via G.B. Grassi 74, 20157 Milano, Italy
2
Dipartimento di Scienze Biomediche, Chirurgiche ed Odontoiatriche, Sezione di Tossicologia Forense, Università degli Studi di Milano, Via Mangiagalli 37, 20133 Milano, Italy
*
Author to whom correspondence should be addressed.
Received: 25 January 2019 / Revised: 7 March 2019 / Accepted: 8 March 2019 / Published: 11 March 2019
Abstract
Olaparib, an orally active inhibitor of poly(ADP-ribose)polymerase(PARP), is the drug of choice in the treatment of gBRCA1/2+ metastatic breast cancers. Unfortunately, Olaparib is poorly soluble with low bioavailability and tumor accumulation; nano-delivery could be a good choice to overcome these disadvantages. Here, a rapid and robust HPLC-ESI–MS/MS method for the quantification of Olaparib in ferritin nano-carriers led to the development of cells compartments, different tissues, plasma and urines and were validated to assess the effects of nano-delivery on cell compartment distribution of the drug. This method allows the quantification of Olaparib within the linear range of 0.1–10ng/mL in cells culture medium and cell cytoplasm, of 0.5–10ng/mL in nuclei, of 0.5–100ng/mL in plasma and urine and of 10–500ng/mL in tissue samples (kidney and liver). The limit of quantification was found to be 1.54 ng/mL for liver, 2.87 ng/mL for kidney, and lower than 0.48 ng/mL for all matrices. The method has been applied to quantify Ola encapsulated in ferritin-nano-carriers during the nano-drug development. The application of the method to human BRCA-mutated cell model to quantify the Olaparib distribution after incubation of free or ferritin-encapsulated Olaparib is also reported. This sensitive method allows the quantification of low concentrations of Olaparib released from nano-carriers in different cell compartments, leading to the determination of the drug release and kinetic profile of an essential parameter to validate nano-carriers.
View Full-Text
►

▼

Figures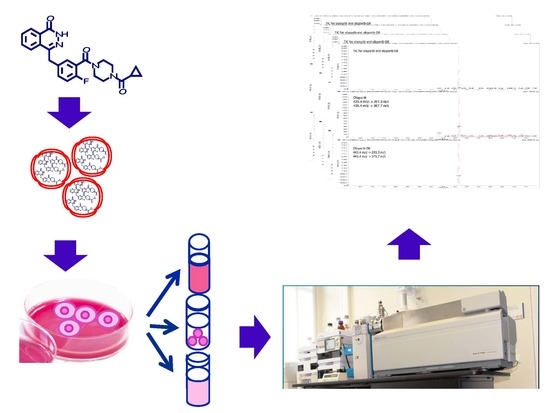 Graphical abstract
This is an open access article distributed under the
Creative Commons Attribution License
which permits unrestricted use, distribution, and reproduction in any medium, provided the original work is properly cited (CC BY 4.0).

Share & Cite This Article
MDPI and ACS Style
Ottria, R.; Ravelli, A.; Miceli, M.; Casati, S.; Orioli, M.; Ciuffreda, P. Quantitative Characterization of Olaparib in Nanodelivery System and Target Cell Compartments by LC-MS/MS. Molecules 2019, 24, 989.
Note that from the first issue of 2016, MDPI journals use article numbers instead of page numbers. See further details here.
Related Articles
Comments
[Return to top]