Further Probing of Cu2+-Dependent PNAzymes Acting as Artificial RNA Restriction Enzymes
1
Department of Biosciences and Nutrition, Karolinska Institutet, Neo, 141 83 Huddinge, Stockholm, Sweden
2
Department of Chemistry, University of Turku, FI-20014 Turku, Finland
3
Institut für Pharmazeutische Wissenschaften (IPW), Eidgenössische Technische Hochschule Vladimir-Prelog-Weg 1-5/10, 8093 Zürich, Switzerland
*
Author to whom correspondence should be addressed.
Academic Editor: Derek J. McPhee
Received: 30 January 2019 / Revised: 11 February 2019 / Accepted: 13 February 2019 / Published: 14 February 2019
Abstract
Peptide nucleic acid (PNA)-neocuproine conjugates have been shown to efficiently catalyse the cleavage of RNA target sequences in the presence of Cu
2+
ions in a site-specific manner. These artificial enzymes are designed to force the formation of a bulge in the RNA target, the sequence of which has been shown to be key to the catalytic activity. Here, we present a further investigation into the action of Cu
2+
-dependent PNAzymes with respect to the dependence on bulge composition in 3- and 4-nucleotide bulge systems. Cu
2+
-dependent PNAzymes were shown to have a clear preference for 4-nucleotide bulges, as the cleavage of 3-nucleotide bulge-forming RNA sequences was significantly slower, which is illustrated by a shift in the half-lives from approximately 30 min to 24 h. Nonetheless, the nucleotide preferences at different positions in the bulge displayed similar trends in both systems. Moreover, the cleavage site was probed by introducing critical chemical modifications to one of the cleavage site nucleotides of the fastest cleaved 4-nucleotide RNA bulge. Namely, the exclusion of the exocyclic amine of the central adenine and the replacement of the 2′-hydroxyl nucleophile with 2′-H or 2′-OMe substituents in the RNA severely diminished the rate of RNA cleavage by the Cu
2+
-dependent PNAzyme, giving insight into the mechanism of cleavage. Moreover, the shorter recognition arm of the RNA/PNAzyme complex was modified by extending the PNAzyme by two additional nucleobases. The new PNAzyme was able to efficiently promote the cleavage of RNA when fully hybridised to a longer RNA target and even outperform the previous fastest PNAzyme. The improvement was demonstrated in cleavage studies with stoichiometric amounts of either PNAzyme present, and the extended PNAzyme was also shown to give turnover with a 10-fold excess of the RNA target.
View Full-Text
►

▼

Figures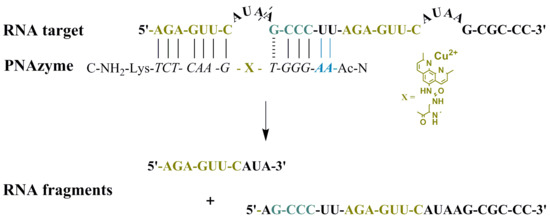 Graphical abstract
This is an open access article distributed under the
Creative Commons Attribution License
which permits unrestricted use, distribution, and reproduction in any medium, provided the original work is properly cited (CC BY 4.0).

Share & Cite This Article
MDPI and ACS Style
Luige, O.; Murtola, M.; Ghidini, A.; Strömberg, R. Further Probing of Cu2+-Dependent PNAzymes Acting as Artificial RNA Restriction Enzymes. Molecules 2019, 24, 672.
Note that from the first issue of 2016, MDPI journals use article numbers instead of page numbers. See further details here.
Related Articles
Comments
[Return to top]