Study on Speciation of As, Cr, and Sb in Bottled Flavored Drinking Water Samples Using Advanced Analytical Techniques IEC/SEC-HPLC/ICP-DRC-MS and ESI-MS/MS
1
Department of Trace Element Analysis by Spectroscopy Method, Faculty of Chemistry, Adam Mickiewicz University in Poznan, 89b Umultowska Street, 61-614 Poznan, Poland
2
Institute of Plant Genetics, Polish Academy of Sciences, 34 Strzeszyńska street, 60-479 Poznan, Poland
*
Author to whom correspondence should be addressed.
Received: 15 January 2019 / Revised: 11 February 2019 / Accepted: 12 February 2019 / Published: 14 February 2019
Abstract
The main aim of the research was to develop a complementary analytical approach consisting of bespoke speciation analysis and non-targeted speciation analysis of As, Sb, and Cr in flavored bottled drinking water samples using HPLC/ICP-DRC-MS and ESI-MS/MS. The scope of two previously developed analytical procedures, (1) multielemental speciation procedure for As
III
, As
V
, Cr
VI
, Sb
III
, and Sb
V
analysis and (2) arsenic speciation procedure for AsB, As
III
, DMA, MMA, and As
V
quantification, was extended to the analysis of a new sample type in terms of bespoke speciation analysis. As for the non-targeted speciation, analysis size exclusion chromatography was used with ICP-MS and a complementary technique, ESI-MS/MS, was used for the organic species of As, Sb, and Cr screening. Full validation of procedures 1 and 2 was conducted. Procedure 1 and 2 were characterized with precision values in the range from 2.5% to 5.5% and from 3.6% to 7.2%, respectively. Obtained recoveries ranged from 97% to 106% and from 99% to 106% for procedures 1 and 2, respectively. Expanded uncertainties calculated for procedures 1 and 2 ranged from 6.1% to 9.4% and from 7.4% to 9.9%, respectively. The applicability of the proposed procedures was tested on bottled drinking water samples. Results for the real samples in procedure 1 were in the range from 0.286 ± 0.027 [μg L
−1
] to 0.414 ± 0.039 [μg L
−1
] for As
III
, from 0.900 ± 0.083 [μg L
−1
] to 3.26 ± 0.30 [μg L
−1
] for As
V
, and from 0.201 ± 0.012 [μg L
−1
] to 0.524 ± 0.032 [μg L
−1
] for Sb
V
. Cr
VI
and Sb
III
were not detected in any sample. As for procedure 2, results were in the range from 0.0541 ± 0.0053 [μg L
−1
] to 0.554 ± 0.054 [μg L
−1
] for AsB. Results for As
III
and As
V
obtained with procedure 2 were in good accordance with results obtained with procedure 1. DMA and MMA were not detected in any sample.
View Full-Text
►

▼

Figures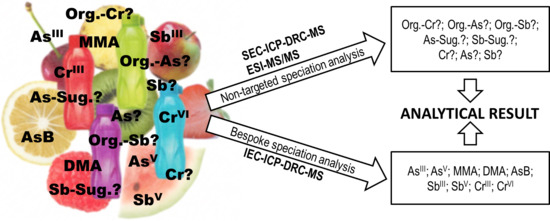 Graphical abstract
This is an open access article distributed under the
Creative Commons Attribution License
which permits unrestricted use, distribution, and reproduction in any medium, provided the original work is properly cited (CC BY 4.0).

Share & Cite This Article
MDPI and ACS Style
Lorenc, W.; Markiewicz, B.; Kruszka, D.; Kachlicki, P.; Barałkiewicz, D. Study on Speciation of As, Cr, and Sb in Bottled Flavored Drinking Water Samples Using Advanced Analytical Techniques IEC/SEC-HPLC/ICP-DRC-MS and ESI-MS/MS. Molecules 2019, 24, 668.
Note that from the first issue of 2016, MDPI journals use article numbers instead of page numbers. See further details here.
Related Articles
Comments
[Return to top]