Complementary Untargeted and Targeted Metabolomics for Differentiation of Extra Virgin Olive Oils of Different Origin of Purchase Based on Volatile and Phenolic Composition and Sensory Quality
1
Fondazione Edmund Mach, Research and Innovation Centre, Via E. Mach, 1 38010 San Michele all'Adige, Trento, Italy
2
Institute of Agriculture and Tourism, Karla Huguesa 8, 52440 Poreč, Croatia
3
NEUROFARBA, Pharmaceutical and Nutraceutical Division, University of Florence, Via Ugo Schiff 6, 50019 Sesto Fiorentino, FI, Italy
4
Department of Physics, University of Trento, Via Sommarive 14, 38123 Povo, TN, Italy
*
Authors to whom correspondence should be addressed.
Academic Editor: Derek J. McPhee
Received: 8 July 2019 / Revised: 30 July 2019 / Accepted: 8 August 2019 / Published: 9 August 2019
Abstract
In order to differentiate the extra virgin olive oils (EVOO) of different origin of purchase, such as monovarietal Italian EVOO with protected denomination of origin (PDO) and commercial-blended EVOO purchased in supermarkets, a number of samples was subjected to the analysis of volatile aroma compounds by both targeted gas chromatography/mass spectrometry (GC-MS) and untargeted profiling by comprehensive two-dimensional gas chromatography/mass spectrometry (GC×GC-TOF-MS), analysis of phenols by targeted high-performance liquid chromatography/mass spectrometry (HPLC-DAD-ESI/MS), and quantitative descriptive sensory analysis. Monovarietal PDO EVOOs were characterized by notably higher amounts of positive LOX-derived C6 and C5 volatile compounds, which corresponded to the higher intensities of all the assessed positive fruity and green odor sensory attributes. Commercial-blended EVOOs had larger quantities of generally undesirable esters, alcohols, acids, and aldehydes, which coincided with the occurrence of sensory defects in many samples. Many minor volatile compounds that were identified by GC×GC-TOF-MS were found to differentiate each of the two investigated groups. The differences between the groups with respect to phenols and taste characteristics were evident, but less pronounced. The results that were obtained in this study have undoubtedly confirmed the existence of the large heterogeneity of oils that are sold declared as EVOO. It was shown that GC-MS, GC×GC-TOF-MS, and HPLC-DAD-ESI/MS analyses have complementary outputs, and that their use in combination has advantages in supporting the results of sensory analysis and objectively differentiating these groups of EVOO.
View Full-Text
►

▼

Figures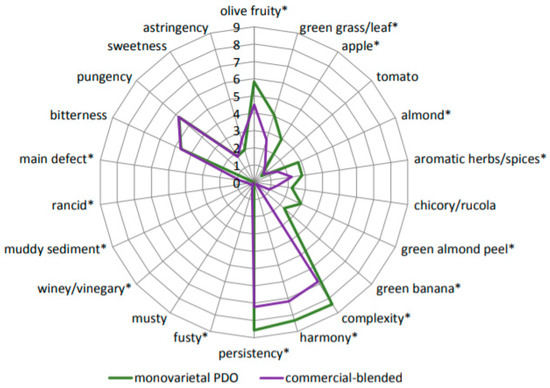 Figure 1
This is an open access article distributed under the
Creative Commons Attribution License
which permits unrestricted use, distribution, and reproduction in any medium, provided the original work is properly cited (CC BY 4.0).

Share & Cite This Article
MDPI and ACS Style
Da Ros, A.; Masuero, D.; Riccadonna, S.; Brkić Bubola, K.; Mulinacci, N.; Mattivi, F.; Lukić, I.; Vrhovsek, U. Complementary Untargeted and Targeted Metabolomics for Differentiation of Extra Virgin Olive Oils of Different Origin of Purchase Based on Volatile and Phenolic Composition and Sensory Quality. Molecules 2019, 24, 2896.
Note that from the first issue of 2016, MDPI journals use article numbers instead of page numbers. See further details here.
Related Articles
Comments
[Return to top]