Mechanochemical Synthesis of CuO/MgAl2O4 and MgFe2O4 Spinels for Vanillin Production from Isoeugenol and Vanillyl Alcohol
1
Esfarayen University of Technology, Esfarayen 96619-98195, Iran
2
Departamento de Química Orgánica, Facultad de Ciencias, Universidad de Córdoba, Campus de Rabanales, Edificio Marie Curie (C-3), Ctra Nnal IV-A, Km 396, E14014 Córdoba, Spain
3
Chemical Engineering Faculty, Sahand University of Technology, P.O. Box 51335-1996, Sahand New Town, Tabriz 53318-11111, Iran
4
Peoples Friendship University of Russia (RUDN University), 6 Miklukho Maklaya str., 117198 Moscow, Russia
*
Author to whom correspondence should be addressed.
Academic Editors: Vjekoslav Štrukil and Matej Baláž
Received: 4 June 2019 / Revised: 8 July 2019 / Accepted: 15 July 2019 / Published: 17 July 2019
Abstract
CuO/MgAl
2
O
4
and CuO/MgFe
2
O
4
catalysts were successfully synthesized with the use of spinel supports by a very simple and low-cost mechanochemical method. High-speed ball-milling was used to synthesize these catalyst supports for the first time. Materials were subsequently characterized by using XRD, FESEM, TEM, EDS-Dot mapping, XPS, BET-BJH, and Magnetic Susceptibility to investigate the physical-chemical characteristics of the catalysts. Acidity evaluation results indicated that the catalyst with the Mg-Al spinel support had more acid sites. XRD results showed a successful synthesis of the catalysts with large crystal sizes. Both catalysts were used in isoeugenol oxidation and vanillyl alcohol to vanillin reactions, with the CuO/MgAl
2
O
4
showing optimum results. This catalyst provided 67% conversion (74% selectivity) after 2 h and this value improved to 81% (selectivity 100%) with the second reaction after 8 h. The CuO/MgFe
2
O
4
catalyst in the first reaction after five hours revealed 53% conversion (47% selectivity) and after eight hours with the second reaction, the conversion value improved to 64% (100% selectivity). In terms of reusability, CuO/MgAl
2
O
4
showed better results than the CuO/MgFe
2
O
4
catalyst, for both reactions.
View Full-Text
►

▼

Figures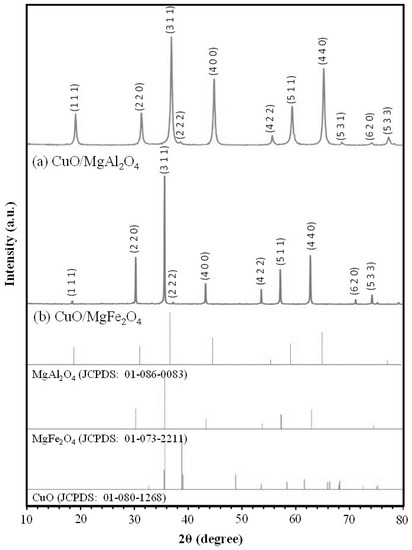 Figure 1
This is an open access article distributed under the
Creative Commons Attribution License
which permits unrestricted use, distribution, and reproduction in any medium, provided the original work is properly cited (CC BY 4.0).

Share & Cite This Article
MDPI and ACS Style
Rahmanivahid, B.; Pinilla-de Dios, M.; Haghighi, M.; Luque, R. Mechanochemical Synthesis of CuO/MgAl2O4 and MgFe2O4 Spinels for Vanillin Production from Isoeugenol and Vanillyl Alcohol. Molecules 2019, 24, 2597.
Note that from the first issue of 2016, MDPI journals use article numbers instead of page numbers. See further details here.
Related Articles
Comments
[Return to top]