Comprehensive Chemical Profiling and Multidirectional Biological Investigation of Two Wild
Anthemis

Species (

Anthemis tinctoria

var.

Pallida

and

A. cretica

subsp.

tenuiloba)

: Focus on Neuroprotective Effects

1

Department of Pharmacy, University "G. d'Annunzio" of Chieti-Pescara, 66100 Chieti, Italy

2

Department of Biology, Faculty of Science, Selcuk University, Konya 42130, Turkey

3

Department of Medical, Oral and Biotechnological Sciences, University "G. d'Annunzio" of Chieti-Pescara, 66100 Chieti, Italy

4

Department of Pharmaceutical Botany, Faculty of Pharmacy, Marmara University, Istanbul 34668, Turkey

5

Department of Pharmacognosy, Faculty of Pharmacy, Medical University of Sofia, 1431 Sofia, Bulgaria

6

Department of Health Sciences, Faculty of Science, University of Mauritius, Réduit 80837, Mauritius

*

Author to whom correspondence should be addressed.

†

These authors contributed equally to this work.

Academic Editors: Raffaele Capasso and Lorenzo Di Cesare Mannelli

Received: 1 July 2019 / Revised: 13 July 2019 / Accepted: 14 July 2019 / Published: 16 July 2019
Abstract
Ethyl acetate (EA), methanol (MeOH), and aqueous extracts of aerial parts of
Anthemis tinctoria
var.
pallida
(ATP) and
A. cretica
subsp.
tenuiloba
(ACT) were investigated for their phenol and flavonoid content, antioxidant, and key enzyme inhibitory potentials. All extracts displayed antiradical effects, with MeOH and aqueous extracts being a superior source of antioxidants. On the other hand, EA and MeOH extracts were potent against AChE and BChE. Enzyme inhibitory effects against tyrosinase and α-glucosidase were observed, as well. We also studied
Anthemis
extracts in an ex vivo experimental neurotoxicity paradigm. We assayed extract influence on oxidative stress and neurotransmission biomarkers, including lactate dehydrogenase (LDH) and serotonin (5-HT), in isolated rat cortex challenged with K
+
60 mM Krebs-Ringer buffer (excitotoxicity stimulus). An untargeted proteomic analysis was finally performed in order to explore the putative mechanism in the brain. The pharmacological study highlighted the capability of ACT water extract to blunt K
+
60 mM increase in LDH level and 5-HT turnover, and restore physiological activity of specific proteins involved in neuron morphology and neurotransmission, including NEFMs, VAMP-2, and PKCγ, thus further supporting the neuroprotective role of ACT water extract.
View Full-Text
►

▼

Figures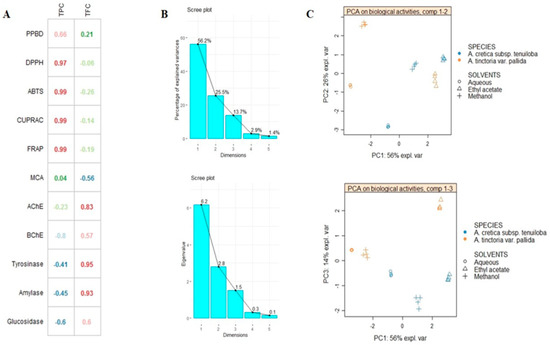 Figure 1
This is an open access article distributed under the
Creative Commons Attribution License
which permits unrestricted use, distribution, and reproduction in any medium, provided the original work is properly cited (CC BY 4.0).

Share & Cite This Article
MDPI and ACS Style
Orlando, G.; Zengin, G.; Ferrante, C.; Ronci, M.; Recinella, L.; Senkardes, I.; Gevrenova, R.; Zheleva-Dimitrova, D.; Chiavaroli, A.; Leone, S.; Di Simone, S.; Brunetti, L.; Picot-Allain, C.M.N.; Mahomoodally, M.F.; Sinan, K.I.; Menghini, L. Comprehensive Chemical Profiling and Multidirectional Biological Investigation of Two Wild Anthemis Species (Anthemis tinctoria var. Pallida and A. cretica subsp. tenuiloba): Focus on Neuroprotective Effects. Molecules 2019, 24, 2582.
Note that from the first issue of 2016, MDPI journals use article numbers instead of page numbers. See further details here.
Related Articles
Comments
[Return to top]