Zerumbone Induces Apoptosis in Breast Cancer Cells by Targeting αvβ3 Integrin upon Co-Administration with TP5-iRGD Peptide
1
Department of Pharmaceutical Chemistry and Pharmacognosy, Unaizah College of Pharmacy, Qassim University, 51911 Unaizah, Saudi Arabia
2
College of Pharmacy, Hail University, Hail, Saudi Arabia
3
Department of Pharmacology, Faculty of Medicine, University of Malaya, 50603 Kuala Lumpur, Malaysia
4
School of Biosciences, Cardiff University, Cardiff CF10 3AT, UK
5
Institute of Bioscience, University Putra Malaysia, 43400 UPM Serdang, Malaysia
*
Authors to whom correspondence should be addressed.
Academic Editor: Yasuyoshi Miyata
Received: 3 May 2019 / Revised: 5 July 2019 / Accepted: 6 July 2019 / Published: 13 July 2019
Abstract
Cell-penetrating peptides (CPPs) are highly promising tools to deliver therapeutic molecules into tumours. αVβ3 integrins are cell–matrix adhesion receptors, and are considered as an attractive target for anticancer therapies owing to their roles in the process of metastasis and angiogenesis. Therefore, this study aims to assess the effect of co-administration of zerumbone (ZER) and ZERencapsulated in hydroxypropyl-β-cyclodextrin with TP5-iRGD peptide towards cell cytotoxicity, apoptosis induction, and proliferation of normal and cancerous breast cells utilizing in vitro assays, as well as to study the molecular docking of ZER in complex with TP5-iRGD peptide. Cell viability assay findings indicated that ZER and ZERencapsulated in hydroxypropyl-β-cyclodextrin (ZER-HPβCD) inhibited the growth of estrogen receptor positivebreast cancer cells (ER
+
MCF-7) at 72 h treatment with an inhibitory concentration (IC)
50
of 7.51 ± 0.2 and 5.08 ± 0.2 µg/mL, respectively, and inhibited the growth of triple negative breast cancer cells (MDA-MB-231) with an IC
50
of 14.96 ± 1.52 µg/mL and 12.18 ± 0.7 µg/mL, respectively. On the other hand, TP5-iRGD peptide showed no significant cytotoxicity on both cancer and normal cells. Interestingly, co-administration of TP5-iRGD peptide in MCF-7 cells reduced the IC
50
of ZER from 7.51 ± 0.2 µg/mL to 3.13 ± 0.7 µg/mL and reduced the IC
50
of ZER-HPβCD from 5.08 ± 0.2 µg/mL to 0.49 ± 0.004 µg/mL, indicating that the co-administration enhances the potency and increases the efficacy of ZER and ZER-HPβCD compounds. Acridine orange (AO)/propidium iodide (PI) staining under fluorescence microscopy showed evidence of early apoptosis after 72 h from the co-administration of ZER or ZER-HPβCD with TP5-iRGD peptide in MCF-7 breast cancer cells. The findings of the computational modelling experiment provide novel insights into the ZER interaction with integrin αvβ3 in the presence of TP5-iRGD, and this could explain why ZER has better antitumor activities when co-administered with TP5-iRGD peptide.
View Full-Text
►

▼

Figures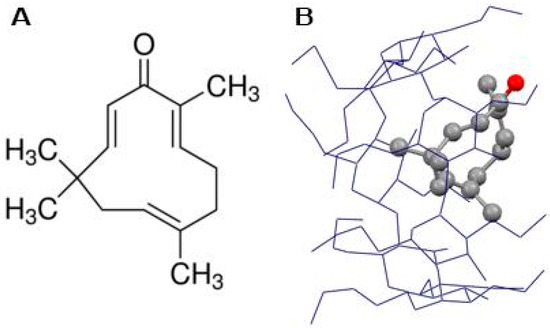 Figure 1
This is an open access article distributed under the
Creative Commons Attribution License
which permits unrestricted use, distribution, and reproduction in any medium, provided the original work is properly cited (CC BY 4.0).

Share & Cite This Article
MDPI and ACS Style
E. M. Eid, E.; S. Alanazi, A.; Koosha, S.; A. Alrasheedy, A.; Azam, F.; M. Taban, I.; Khalilullah, H.; Sadiq Al-Qubaisi, M.; A. Alshawsh, M. Zerumbone Induces Apoptosis in Breast Cancer Cells by Targeting αvβ3 Integrin upon Co-Administration with TP5-iRGD Peptide. Molecules 2019, 24, 2554.
Note that from the first issue of 2016, MDPI journals use article numbers instead of page numbers. See further details here.
Related Articles
Comments
[Return to top]