Fabrication and Characterization of Zein Composite Particles Coated by Caseinate-Pectin Electrostatic Complexes with Improved Structural Stability in Acidic Aqueous Environments
1
Department of Food Science & Engineering, School of Agriculture and Biology, Shanghai Jiao Tong University, Shanghai 200240, China
2
Department of Nutrition and Food Science, University of Maryland, College Park, MD 20742, USA
*
Author to whom correspondence should be addressed.
Academic Editor: Yangchao Luo
Received: 8 May 2019 / Revised: 8 July 2019 / Accepted: 10 July 2019 / Published: 11 July 2019
Abstract
Zein composite particles coated with caseinate-pectin electrostatic complexes (zein-caseinate-pectin particles) were fabricated using an electrostatic deposition and liquid-liquid dispersion method without heating treatment. Compared to zein particles coated only with caseinate, the acidic stability of zein-caseinate-pectin particles was greatly improved, and the particle aggregation was suppressed at pH 3–6, especially at pH values near the isoelectric point of caseinate (pH 4–5). Besides, desirable long-term storage stability and re-dispersibility were observed. Under different zein to curcumin (Cur) feeding ratios (10:1, 20:1, 30:1 and 40:1,
w
/
w
), the Cur-loaded zein-caseinate-pectin particles had a spherical shape with an average diameter ranging from 358.37 to 369.20 nm, a narrow size distribution (polydispersity index < 0.2) and a negative surface charge ranging from −18.87 to −19.53 mV. The relatively high encapsulation efficiencies of Cur (81.27% to 94.00%) and desirable re-dispersibility were also achieved. Fluorescence spectroscopy indicated that the encapsulated Cur interacted with carrier materials mainly through hydrophobic interactions. The
in-vitro
release profile showed a sustained release of Cur from zein-caseinate-pectin particles in acidic aqueous environment (pH 4) up to 24 h, without any burst effect. In addition, the encapsulation retained more ABTS
•+
radical scavenging capacity of Cur during 4 weeks of storage. These results suggest that zein-caseinate-pectin particles may be used as a potential delivery system for lipophilic nutrients in acidic beverages.
View Full-Text
►

▼

Figures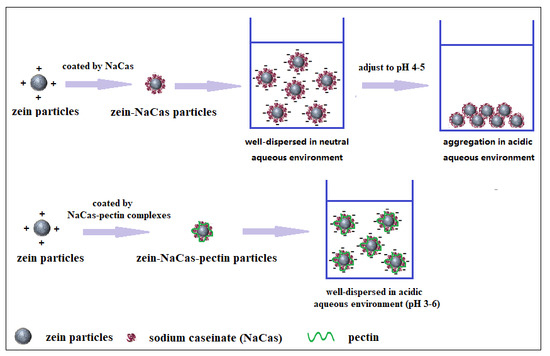 Graphical abstract
This is an open access article distributed under the
Creative Commons Attribution License
which permits unrestricted use, distribution, and reproduction in any medium, provided the original work is properly cited (CC BY 4.0).

Share & Cite This Article
MDPI and ACS Style
Zhang, Y.; Wang, B.; Wu, Y.; Gao, B.; Yu, L.L. Fabrication and Characterization of Zein Composite Particles Coated by Caseinate-Pectin Electrostatic Complexes with Improved Structural Stability in Acidic Aqueous Environments. Molecules 2019, 24, 2535.
Note that from the first issue of 2016, MDPI journals use article numbers instead of page numbers. See further details here.
Related Articles
Comments
[Return to top]