Preparation and Physicochemical Characterization of Softgels Cross-Linked with Cactus Mucilage Extracted from Cladodes of
Opuntia Ficus-Indica
1
Grupo Química-Física Molecular y Modelamiento Computacional (QUIMOL), Facultad de Ciencias, Universidad Pedagógica y Tecnológica de Colombia (UPTC), Avenida Central del Norte, Tunja 150001, Boyacá, Colombia
2
Grupo de Investigación en Ciencias Básicas (NÚCLEO), Facultad de Ciencias e Ingeniería, Universidad de Boyacá, Tunja 150001, Boyacá, Colombia
*
Author to whom correspondence should be addressed.
Academic Editor: Silvia Panzavolta
Received: 3 May 2019 / Revised: 2 July 2019 / Accepted: 5 July 2019 / Published: 11 July 2019
Abstract
A new crosslinking formulation using gelatin (G) and cactus mucilage (CM) biopolymers was developed, physicochemically characterized and proposed as an alternative wall material to traditional gelatin capsules (softgels). The effect of G concentration at different G/CM ratios (3:1, 1:1 and 1:3) was analyzed. Transparency, moisture content (MC), solubility in water (SW), morphology (scanning electron microscopy, SEM), vibrational characterization (Fourier transform infrared, FTIR), color parameters (CIELab) and thermal (differential scanning calorimetry/thermogravimetric analysis, DSC/TGA) properties of the prepared composite (CMC) capsules were estimated and compared with control (CC) capsules containing only G and glycerol. In addition, the dietary fiber (DF) content was also evaluated. Our results showed that the transparency of composite samples decreased gradually with the presence of CM, the G/CM ratio of 3:1 being suitable to form the softgels. The addition of CM decreased the MC, the SW and the lightness of the capsules. Furthermore, the presence of polysaccharide had significant effects on the morphology and thermal behavior of CMC in contrast to CC. FTIR spectra confirmed the CMC formation by crosslinking between CM and G biopolymers. The addition of CM to the softgels formulation influenced the DF content. Our findings support the feasibility of developing softgels using a formulation of CM and G as wall material with nutritional properties.
View Full-Text
►

▼

Figures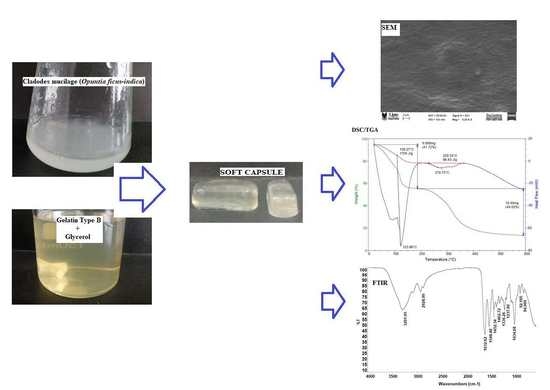 Graphical abstract
This is an open access article distributed under the
Creative Commons Attribution License
which permits unrestricted use, distribution, and reproduction in any medium, provided the original work is properly cited (CC BY 4.0).

Share & Cite This Article
MDPI and ACS Style
Camelo Caballero, L.R.; Wilches-Torres, A.; Cárdenas-Chaparro, A.; Gómez Castaño, J.A.; Otálora, M.C. Preparation and Physicochemical Characterization of Softgels Cross-Linked with Cactus Mucilage Extracted from Cladodes of Opuntia Ficus-Indica. Molecules 2019, 24, 2531.
Note that from the first issue of 2016, MDPI journals use article numbers instead of page numbers. See further details here.
Related Articles
Comments
[Return to top]