Imaging Flow Cytometric Analysis of Stilbene-Dependent Apoptosis in Drug Resistant Human Leukemic Cell Lines
1
Clinical Genetics Department, Medical University of Lublin, 11 Radziwillowska Str., 20-080 Lublin, Poland
2
Chair and Department of Biology and Genetics, Medical University of Lublin, 4a Chodzki Str., 20-093 Lublin, Poland
3
Department of Biochemistry and General Chemistry, University of Rzeszów, 2a Kopisto Al., 35-959 Rzeszów, Poland
4
Department of Pharmacology, Medical University of Lublin, 4a Chodzki Str., 20-093 Lublin, Poland
5
Department of Pathology and Laboratory Medicine, Rutgers Robert Wood Johnson Medical School, Medical Education Building – 212, One Robert Wood Johnson Place, New Brunswick, NJ 08903-0019, USA
6
Chair and Department of Experimental and Clinical Pharmacology, Medical University of Lublin, 8b Jaczewskiego Str, 20-093 Lublin, Poland
*
Author to whom correspondence should be addressed.
Academic Editor: Gary D. Stoner
Received: 28 March 2019 / Revised: 3 May 2019 / Accepted: 16 May 2019 / Published: 17 May 2019
Abstract
Background:
The natural compounds have been researched extensively as an alternative to the conventional chemotherapy and radiation. Stilbene derivatives appear as a group of therapeutics which deserves special attention. The present study was designed to analyze the effects of stilbene derivatives on drug resistant human leukemic cells. The aim of this work was to evaluate the apoptotic effect of stilbene derivatives in various concentrations on leukemic cells (LC) with and without resistant phenotype.
Methods:
Human acute promyelocytic leukemia (APL) cell lines (HL60, HL60/MX1, HL60/MX2) and acute lymphoblastic leukemia (ALL) cell lines (CEM/C1, CCRF-CEM) were studied. T-resveratrol, piceatannol, rhaponticin, deoxyrhaponticin, pterostilbene were used to stimulate apoptosis. Mitoxantrone (MIT) was applied to induce drug resistance.
Results:
t
-Resveratrol (RES), deoxyrhaponticin (D-RHAP), rhaponticin (RHAP), pterostilbene (PTER), and piceatannol (PIC) influenced viability and induced apoptosis in all investigated cell lines.
Conclusions:
Our results confirmed that RES, PIC, RHAP, D-RHAP, and PTER are essential therapeutic compounds with anticancer activity exhibited by induction of apoptosis in leukemic cells with and without resistant phenotype. Stilbene-induced apoptosis in HL60/MX1, HL60/MX2, CEM/C1, and CCRF-CEM leukemia cell lines have been presented in very few studies so far and our research is an important contribution to the investigation of these substances.
View Full-Text
►

▼

Figures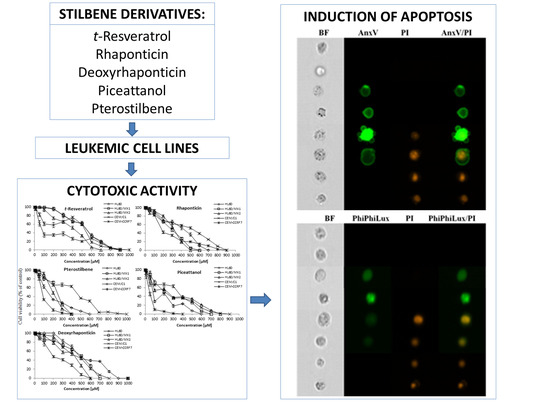 Graphical abstract
This is an open access article distributed under the
Creative Commons Attribution License
which permits unrestricted use, distribution, and reproduction in any medium, provided the original work is properly cited (CC BY 4.0).

Share & Cite This Article
MDPI and ACS Style
Czop, M.; Bogucka-Kocka, A.; Kubrak, T.; Knap-Czop, K.; Makuch-Kocka, A.; Galkowski, D.; Wawer, J.; Kocki, T.; Kocki, J. Imaging Flow Cytometric Analysis of Stilbene-Dependent Apoptosis in Drug Resistant Human Leukemic Cell Lines. Molecules 2019, 24, 1896.
Note that from the first issue of 2016, MDPI journals use article numbers instead of page numbers. See further details here.
Related Articles
Comments
[Return to top]