Open Access This article is
freely available
re-usable
Review
Application of Plant Viruses as a Biotemplate for Nanomaterial Fabrication
1
College of Chemical Engineering, Jiangsu Provincial Key Lab for the Chemistry and Utilization of Agro-Forest Biomass, Nanjing Forestry University, Nanjing 210037, China
2
Jiangsu Co-Innovation Center of Efficient Processing and Utilization of Forest Resources, Nanjing Forestry University, Nanjing 210037, China
*
Author to whom correspondence should be addressed.
Received: 31 July 2018 / Accepted: 4 September 2018 / Published: 11 September 2018
Abstract
:
Viruses are widely used to fabricate nanomaterials in the field of nanotechnology. Plant viruses are of great interest to the nanotechnology field because of their symmetry, polyvalency, homogeneous size distribution, and ability to self-assemble. This homogeneity can be used to obtain the high uniformity of the templated material and its related properties. In this paper, the variety of nanomaterials generated in rod-like and spherical plant viruses is highlighted for the cowpea chlorotic mottle virus (CCMV), cowpea mosaic virus (CPMV), brome mosaic virus (BMV), and tobacco mosaic virus (TMV). Their recent studies on developing nanomaterials in a wide range of applications from biomedicine and catalysts to biosensors are reviewed.
Keywords:
nanotechnology; plant virus; biotemplate; plant virus nanoparticles; nanomaterials
1. Introduction
Bionanoscience is a combination of biology and nanotechnology that is used to develop biomaterials, devices, and methodologies at the nanoscale. According to its tremendous applications, nanobiotechnology has become a rapidly developing area of science research [
1
]. Nanosystems can be fabricated by micromachining to create ever-smaller features (top-down) and/or to incorporate modified smaller features into the macromaterial (bottom-up) using assembly and/or supramolecular chemistry techniques. Biomaterials such as viruses, DNA, proteins, and RNA that exhibit an amazing diversity of highly superior structures are suitable nanostructures for the creation of new material [
2
,
3
,
4
,
5
]. Viruses have great deal of interest in the field of nanotechnology due to their small size, structural symmetry, ease of functionalization, monodispersity, and ability to self-assemble. Taking advantages of their prescribed shape together with the physiochemical functionality, viruses offer endless benefits over organic and inorganic chemistry.
Viruses are protein cages that are used for the production of novel nanomaterials in a very precise and controlled fashion. Viruses have a variety of distinct shapes, most commonly icosahedrons and rod-shaped. Genetic and chemical modification enables the insertion or replacement of selected amino acids on virus capsids for uses ranging from bioconjugation to mineralization.
In recent years there has been increased interest in the development of plant viruses as biotemplates for beneficial uses. The applications have been diverse, ranging from biomedicine to sensors. Characteristics that make many plant viruses attractive for these studies are their relative simplicity, including ease of purification, the lack of membranes, and simple one or two protein capsid assemblies that are structurally defined. In addition, as plant viruses are phytophages that utilize plants as hosts, they are mostly non-infectious to animals and humans. Furthermore, plant viruses often have wide range of stabilities to temperature, pH, salt, chemicals, and protease degradation. They also differ in terms of structural plasticity assembly and disassembly parameters and electrostatic interactions. The icosahedral (sphere-like) viruses include cowpea chlorotic mottle virus (CCMV), cowpea mosaic virus (CPMV), brome mosaic virus (BMV), and the rod-shaped tobacco mosaic virus (TMV) have been investigated as ideal platform in variety of applications in nanotechnology (
Figure 1
). Three distinct surfaces in viruses can be explored: the interior, the exterior, and the interface between subunits. Through genetic or chemical modification, each of the surfaces has potential plasticity for the design of novel functional nanomaterials (
Figure 2
).
2. Plant Viruses as Biotemplates
3. Chemical Modification and Genetic Engineering of Plant Viruses
Viruses offer three different surfaces that can be exploited: the exterior, the interior, and the interface between the subunits. These interfaces can be used to conduct chemical and genetic modifications for a variety of purposes. The external capsid surfaces possess a large number of selectively addressable amino acids allowing decoration with a large number of molecules. The functional groups on the capsid surface, amine groups from lysine, and carboxylate groups from aspartic and glutamic acids offer precise sites for chemical modification using various techniques such as covalent coupling [
29
,
30
,
31
], click chemistry, and the copper (I)-catalyzed azide-alkyne [3 + 2] cycloaddition reaction [
32
]. As the thiol-derived cysteine side chain is the most popular group for conjugation, various viruses are subjected to site directed mutagenesis to cysteine [
33
,
34
,
35
,
36
]. Insertion of unnatural amino acids is also feasible, allowing for more diverse chemical modifications [
37
,
38
].
Small molecules have access to the viral inner cavity with imperceptibility to large molecules. Based on this property, it is possible to allow the internal cavity of virus-like particles (VLPs) to be used as a nanotemplate and nanoreactor. In addition, the virus exterior surface is a powerful platform not only for chemical modification and genetic modification, but also for multivalent ligand display. A key component of assembly is the virus architecture interface, which provides additional ways to manipulate the capsid architecture.
A series of amino acid side chains (e.g., lysine, cysteine, tyrosine, and histidine) are located on the protein shell of the viral particles and these amino acid side chains are applicable to fluorescent and medical imaging dyes, proteins, or small molecule therapeutics and sensors or cell-penetrating peptides of the desired reagents for chemical-conjugated reactive sites. Targeting the conjugation site at a particular location on the inner or outer surface can be accomplished by genetic engineering of new residues. For example, through this method, a three dimensional (3D) array of Au nanoparticles (1.4–5 nm) can be produced on the CPMV surface [
39
,
40
]. The addition of unique cysteine residues on the surface of the CPMV resulted in the successful attachment of Au nanoparticles to defined spatial positions [
41
]. CPMV scaffolded Au particles are then interconnected via thiol conjugations to produce conductive nanowires and blocks. It is a novel method to produce nanoscale electrical circuits by using the uniform and repeating patterns of plant virus nanoparticle (PVN) reactive sites to design and control the contacts between 3D arrayed PVNs.
The CCMV has a positive inner surface, which hinders iron nanoparticle synthesis. However, protein engineering can change the charge of the inner surface through mutagenesis. After that, iron compound nanoparticle synthesis is possible inside the CCMV [
42
]. In conclusion, proteins can be good templates for nanoparticle synthesis and have the advantage of yielding uniformly sized nanoparticles. Protein engineering can expand the application of the biotemplates. Discovering more biotemplates and modifying the functions of proteins are the focus of future endeavors in this area.
4. PVN Assembly
Accurately patterning and integrating biotemplates into devices to take advantage of the nanosize and enhanced functionality is a great challenge in nanoscience applications. Here are some methods to enhance the applications of several functionalized PVN surfaces.
4.1. Two-Dimensional Surface Assemblies
Using evaporation methods with drop-and-dry or solvent impregnation, the surface alignments of the icosahedral and filamentous plant-based PVNs have been accomplished. The PVN concentration and the intensity of the surface attractive force affect the formation of the PVN film [
43
,
44
]. The effect of PVN-coated surfaces on cellular responses and differentiation is based on their homogeneity and multivalent properties [
45
,
46
]. The coated surfaces of the TMV particles play a facilitating role in the differentiation of mesenchymal stem cells into bone producing osteogenic cells. Additionally, this effect is also present for 24 h where the stem cells exhibit significant bone morphogenetic protein-2 (BMP-2) induction and coalescence to form bone-like nodules [
47
]. In a subsequent study, surface-specific TMV PVNs chemically cross-linked with RGD adhesion peptides that also enhanced differentiation into osteoblasts [
48
]. Based on these studies, we understand that plant-based PVNs providing multivalent display scaffolds can exhibit nanotopographical features that promote cell adhesion and differentiation. Advincula et al. reported the formation of hierarchical CPMV nanoparticle assemblies on colloidal-patterned, conducting polymer arrays [
49
] where the electrostatic interaction between the CPMV and the pyrrole-based copolymers drove the site-specific assembly on the nanopatterned conduction polymer array.
Surface displayed metal nanoparticles exhibit unique material properties and an increased surface area of the nanoscale catalysts present enhanced activities. An important way to control the catalytic reactions is reflected by the ability to adjust the position, size, and spatial density of the catalyst. PVN provides a unique backbone for the production, anchoring, and display of key nanocatalytic materials. For instance, Yang et al. studied the production and display of Pd nanoparticles of a defined size with a diameter of 5–15 nm; their distribution can be controlled by TMV PVN [
35
]. The TMV templated Pd nanocatalysts in the catalysis reactions of the toxic environment pollutant hexavalent chromium have a higher catalytic activity per unit Pd mass than commercial Pd/C catalysts [
50
].
5. Applications of Plant Viruses Based Nanomaterials
5.1. Biomedical Applications
Virus-based nanoparticles (VNPs) have received great attention in recent years; plant viruses have been used in materials science research and have the potential for application in nanomedicine [
4
,
64
]. As viruses possess the property of self-assembling around the cargo (the genome) and delivering this cargo to specific cells and tissues, they are ideal candidates for specific delivery sites for therapeutic or contrast agents. In fact, several VNP technologies for clinical trials of gene delivery and oncolytic virus therapy are being developed and applied. Due to their high degree of symmetry, multivalency, monodispersity, and genetic or chemical programmability, VNPs have become promising materials. Most VNP structures have been resolved to allow a high degree of spatial control of the tailored atomic resolution. VNPs can be modified by imaging contrast agents, therapeutic moieties, or targeting ligands (e.g., peptides or antibodies) in a chemical selective bioconjugation reaction.
5.1.1. Magnetic Resonance Imaging
Magnetic resonance imaging (MRI) is a technique that visualizes the structure and metabolites within the capsid and therefore has the potential to detect physiological processes in vivo. Among them, the contrast agent and macromolecular platform can further enhance imaging sensitivity. Paramagnetic gadolinium (Gd
3+
) is frequently applied as a MRI contrast agent, however, it has to be used in a chelated form to reduce the toxicity, usually with DOTA tetraazacyclododecane tetraacetic acid (DOTA) or diethylenetriamine pentaacetic acid (DTPA) [
65
]. After conjugation with such nanoparticles, a decrease in the molecular tumbling rate of gadolinium ions results in an increase in the longitudinal relaxation rate [
66
]. Finn and Manchester group modified azide-displaying viruses with an alkyne-modified DOTA ligand [
67
] that showed an increased
T
1
relaxivity relative to free Gd (DOTA) complexes after loading with gadolinium. These reagents, determined as nontoxic in vivo, were used for the MRI imaging of live mice [
68
]. The increase in local concentration can be caused by the multivalent display, and both of these events can increase the sensitivity. Since Gd
3+
or other lanthanides can increase the relaxation rate, differences in MRI signals can be detected regardless of where they are present, and the contrast level by many factors can be finally obtained. A multifunctional MRI contrast and photodynamic therapy agent (chelated Gd
3+
and Zn
2+
phthalocyanine dye) has been incorporated inside capsids of the CCMV protein which represent the first step towards the consecution of fully self-assembled protein cage nanoparticles for multimodal imaging and therapy [
69
].
The covalent attachment of chelated gadolinium ions to the TMV leads to the enhanced ionic relaxivity of the Gd ions based on reduced tumbling rates. Multivalent display leads to a relaxivity per nanoparticle that is four times higher than other VNP contrast agents [
70
]. Steinmetz et al. developed a high contrast-to-noise ratio, molecularly targeted MRI contrast agent using TMV nanoparticles [
71
,
72
]. To achieve dual optical and MRI, the TMV was modified to carry near-infrared dyes and chelated Gd ions. The probe targeted atherosclerotic plaques. On the basis of the multivalency and multifunctionality, the TMV-based MR probe showed an enhanced detection limit, 400 times lower than the typical clinical dose [
73
].
5.1.2. Therapeutic Delivery System
5.2. Enzymatic Nanoreactors and Catalysts
5.3. Light-Harvesting System Based on the TMV
Viral capsids provide a means to precisely position chromophores with spatial control at the sub-nanometer level. The tobacco mosaic virus coat protein can serve as a convenient template for the synthesis of chromophores into light-harvesting arrays [
112
,
113
,
114
]. An interesting aspect of this virus is that when the ionic strength and pH of a solution changes [
20
], the monomers can self-assemble into different nanoscale structures and can form a double-layer disk composition comprising of 17 monomers per layer or an extended helical rod comprised of 16.33 monomers per turn. The disk and rod structure can provide a rigid frame for establishing and maintaining an accurate distance relationship between several microns of monomer (for rods), which is a very challenging technique for protein without capsid synthesis methods. TMV coat proteins were covalently labeled with either a donor or an acceptor from a Förster resonance energy transfer (FRET) pair and then assembled into disk or rod structures at a controlled ratio of donors to acceptors. During the assembly process, it is possible to adjust the TMV capsid by simply adjusting the ratio of monomers tagged for each component [
112
,
115
]. For instance, the TMV virus was covalently modified at both the
N
-terminus and at an introduced cysteine residue with two different chromophores that undergo FRET to produce a "light harvesting rod" [
116
] (
Figure 8
).
Although TMV is the first structurally characterized virus, research on the preparation of new materials for covalent modification has not been reported since 2005. In the first report on the subject, Francis described the use of diazotization chemistry to link tyrosine residues on the outer surface of a native capsid with carbodiimide chemistry to link an amine to an internal channel surface. According to this method, many different chromophores, ion chelators, and polymer chains have been added to the viral capsid surface [
117
]. Through the use of cysteine modification chemistry, porphyrins have been attached to individual capsid monomers to yield conjugates that self-assemble into efficient light harvesting systems containing thousands of interacting groups [
118
].
5.4. Sensor Applications of Biomimetic Nanostructures
6. Conclusions
Plant virus-based nanoparticles that are nanocages or nanorods assembled from viral capsid proteins have been widely used as templates to guide the preparation of complex nanostructures. In this review, we described the structural and unique biochemical properties of several plant viruses such as the cowpea chlorotic mottle virus (CCMV), cowpea mosaic virus (CPMV), brome mosaic virus (BMV), and tobacco mosaic virus (TMV). The advantages of plant virus nanoparticles as biological templates in chemical modification and genetic engineering were also analyzed. Nanomaterials developed using viral nanoparticles have superior properties over traditional materials and their potential has been integrated into traditional manufacturing processes that are reflected in microfabrication processes without disrupting their structure or activity. There are many exciting opportunities for potential applications of VNPs or VLPs in biotechnology. Further studies are required to explore the unique self-assembly architectures of more plant viruses to produce new materials for application in the nano biotechnology. In addition, de novo protein engineering and in silico techniques have been rapidly developing in recent years and can play an important role in engineering supermolecular nanomaterials for specific applications.
Author Contributions
Y.Z. and Y.D. drafted the manuscript. J.Z. drafted the introduction. X.L. and F.W. contributed to acquisition of literature data. All authors read and approved the final version of the manuscript.
Funding
The work was supported by the Natural Science Foundation of Jiangsu Higher Education of China (16KJB180009) and the Top-notch Academic Programs Project of Jiangsu Higher Education Institutions (TAPP) as well as the Priority Academic Program Development of Jiangsu Higher Education Institutions (PAPD).
Conflicts of Interest
The authors declare no conflict of interest.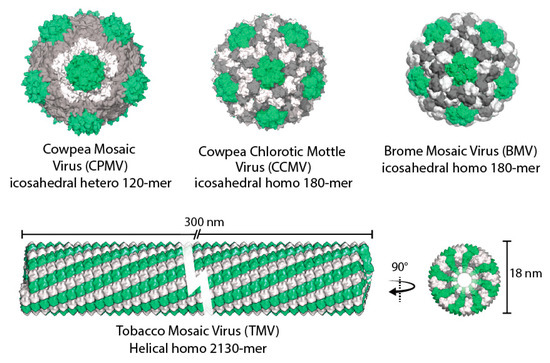 Figure 1. Structural comparison of some plant viruses used to build nanoscale materials. The colors are added to highlight the morphological units and are not necessarily indicative of different protein sequences. All the structures are generated using UCSF Chimera.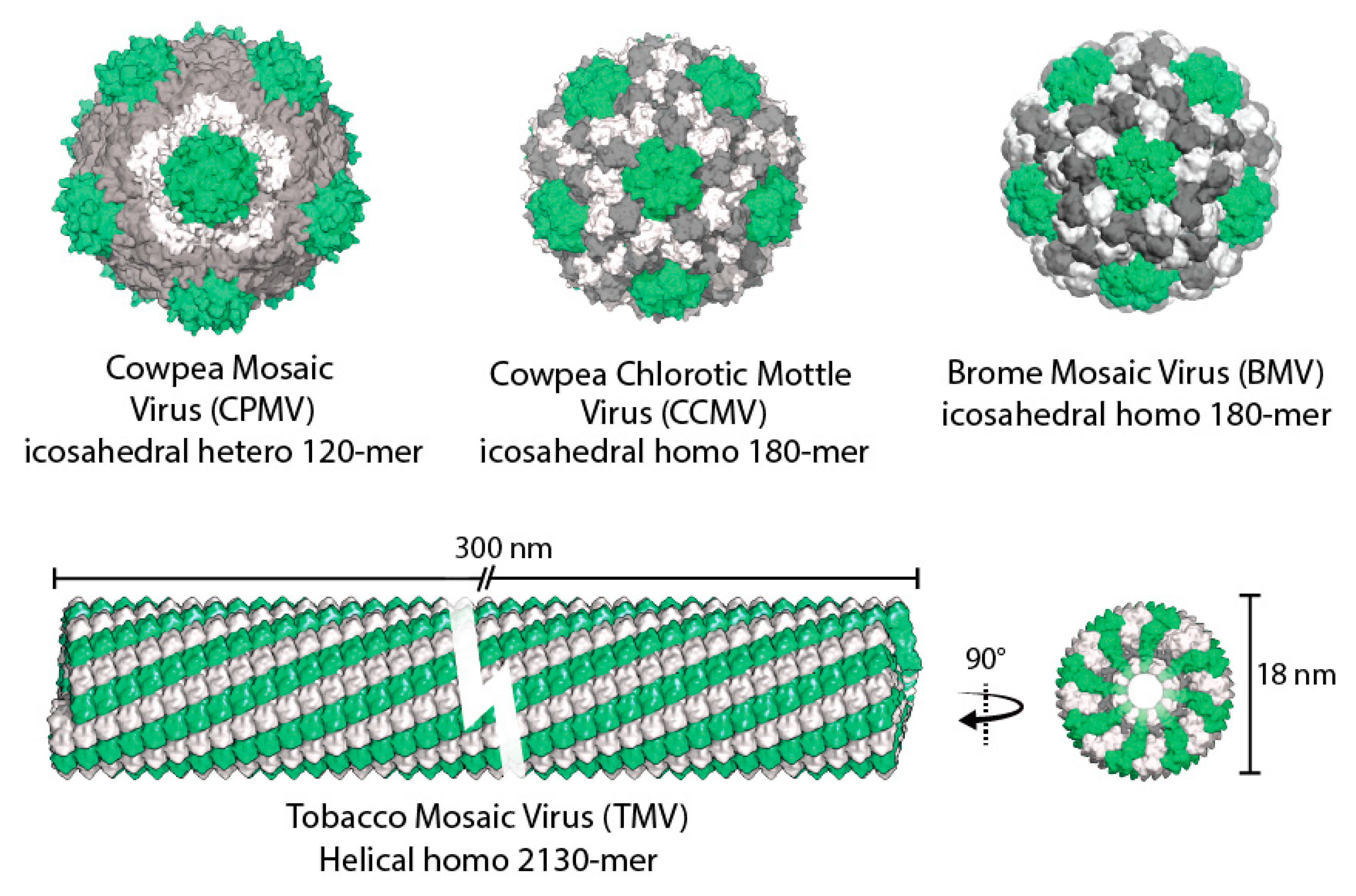 Figure 3.
Cryo-TEM images of superlattices of CCMV with encapsulated gold nanoparticles viewed along [100], [110], and [111] zone axes (scale bar 50 nm, inset is image Fourier transform). Reprinted from a past study [
56
]. Copyright 2012 Nature Publishing Group.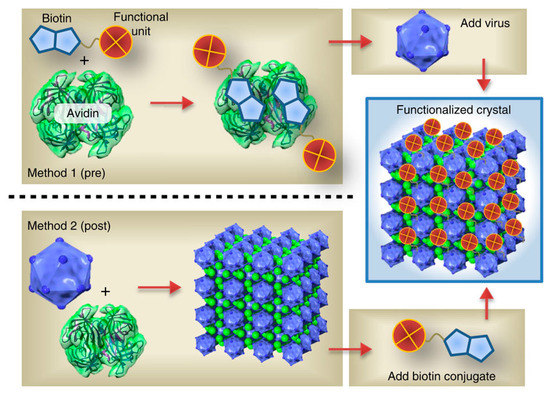 Figure 4. Pre- and postfunctionalization approaches of CCMV-avidin crystals. Electrostatically assembled CCMV (acidic)/avidin (basic) co-crystals can be functionalized selectively with biotin-tagged functional units. Method 1: Prefunctionalization of avidin with the biotinylated functional unit followed by addition of the virus particles. Method 2: Assembly of the crystals followed by postfunctionalization with the biotinylated agent. Copyright 2014 Nature Publishing Group.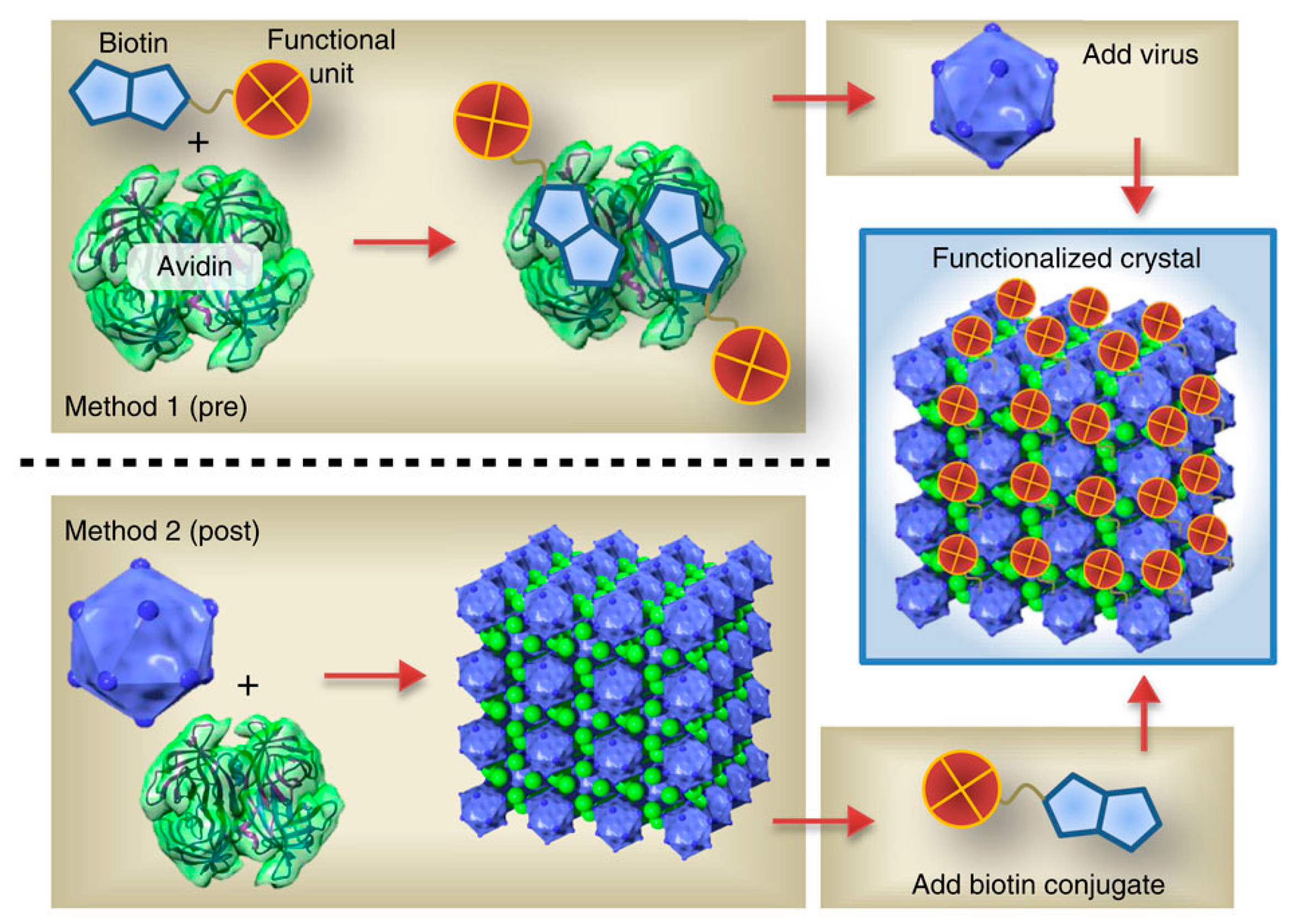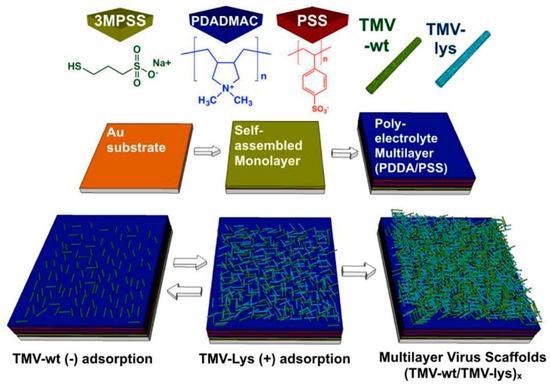 Figure 5. Sequential formation of multilayer virus scaffolds via layer-by-layer deposition of tobacco mosaic virus (TMV-wt) nanoparticles and mutant TMV particles with lysine residues (TMV-lys). Copyright 2016 Royal Society of Chemistry.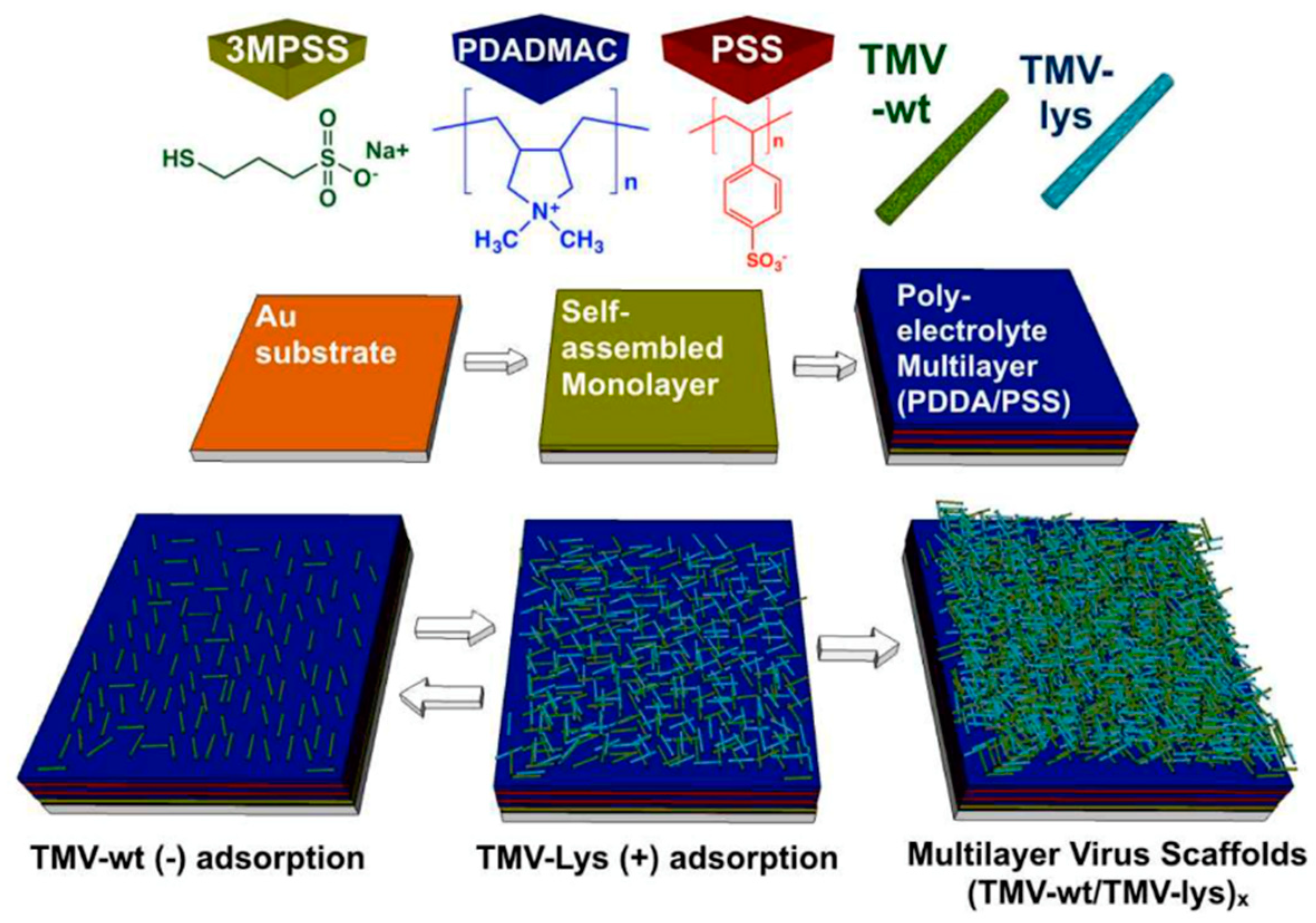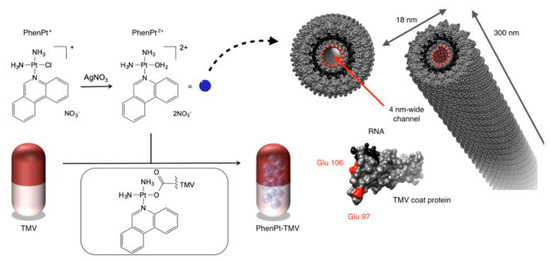 Figure 6.
Schematic for loading of phenanthriplatin into TMV. Reprinted from a past paper [
102
]. Copyright 2016 American Chemical Society.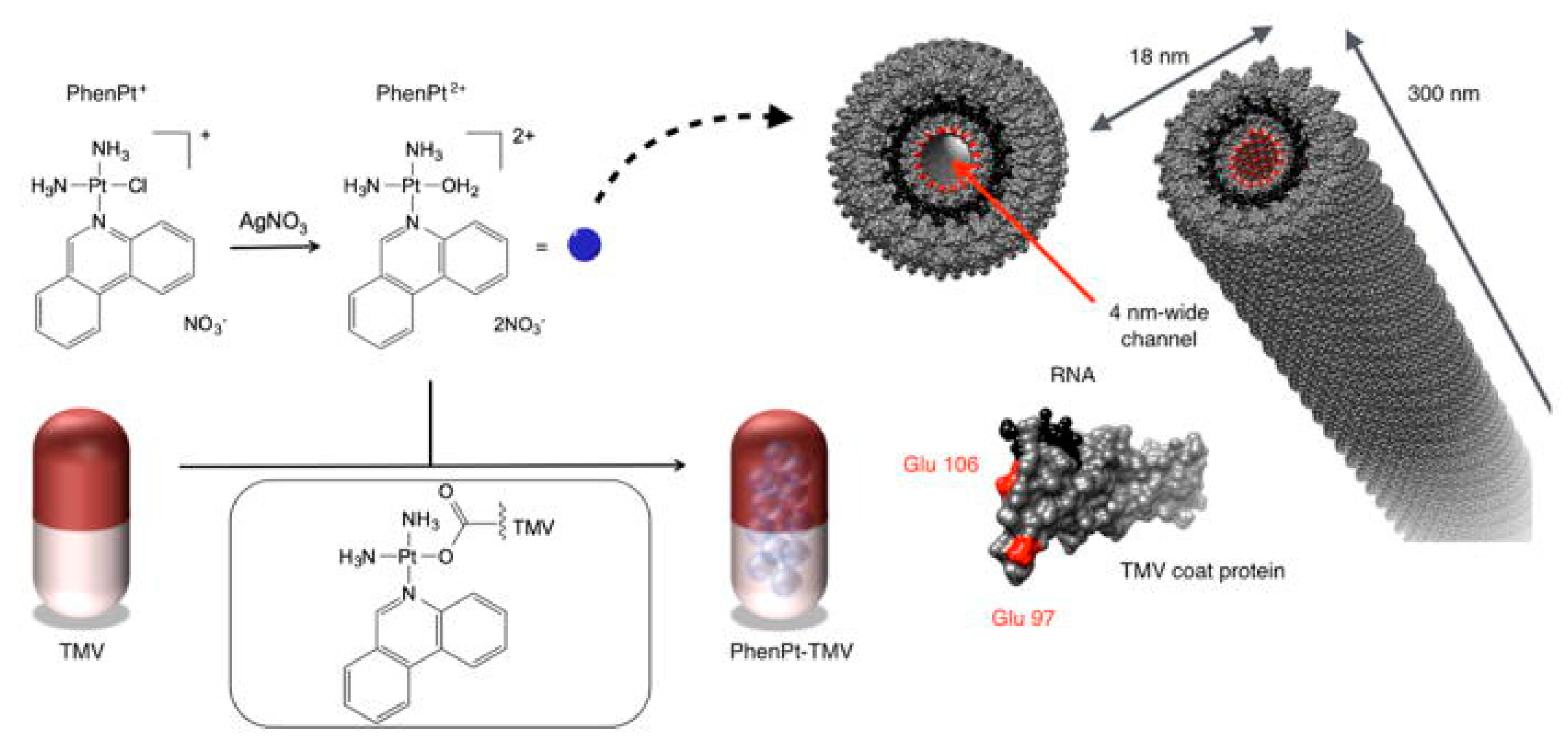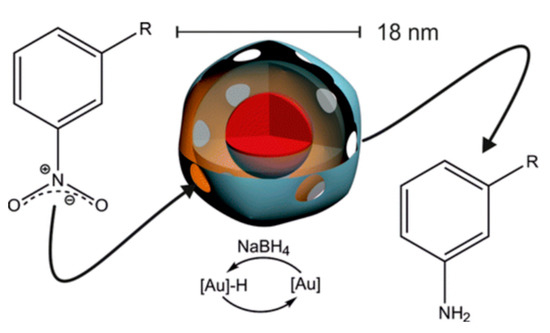 Figure 7. Colloidal gold nanoparticles were encapsulated in cowpea chlorotic mottle virus cages which catalyzed the reduction of nitroarenes with different substituents. Copyright 2016 American Chemical Society.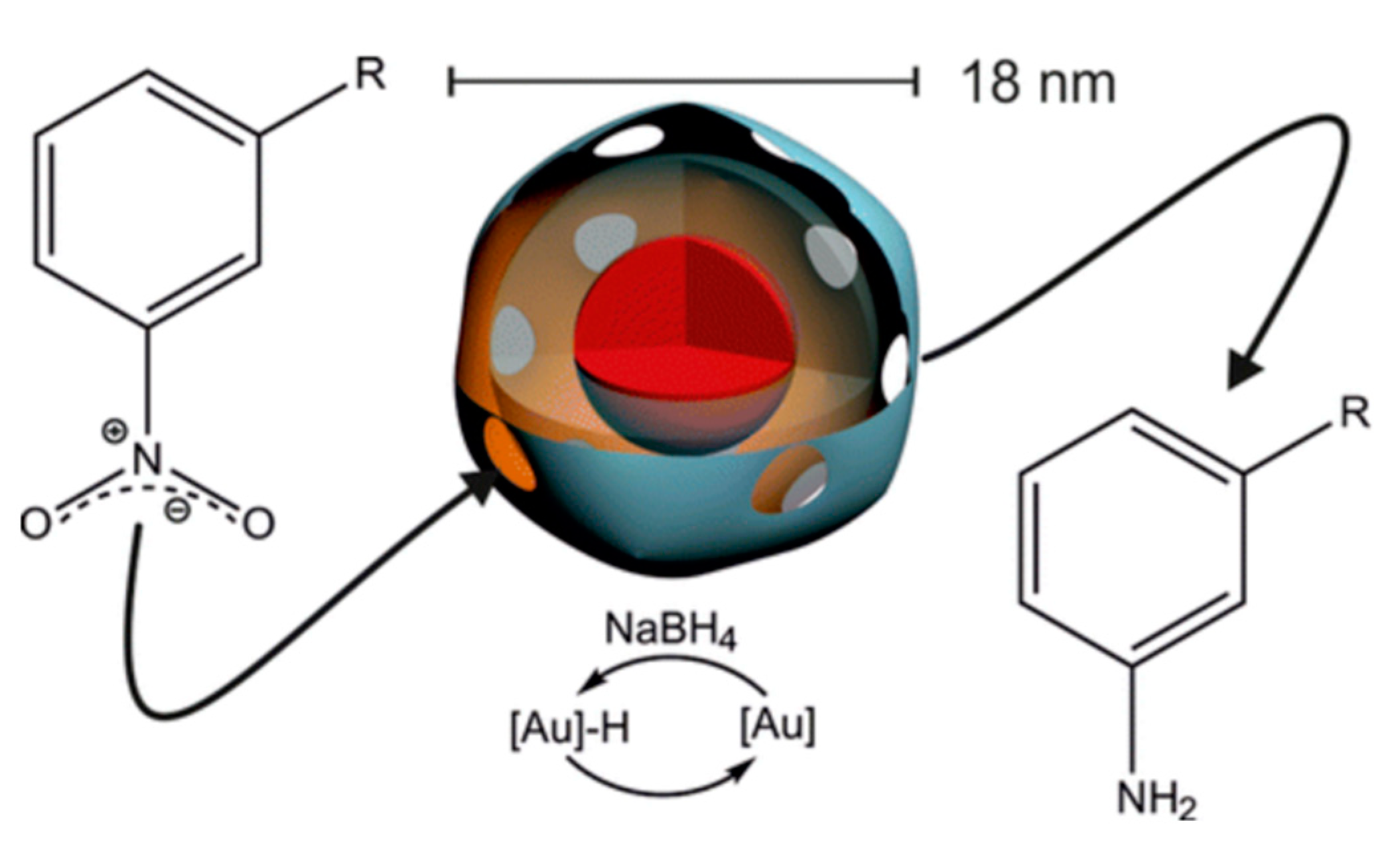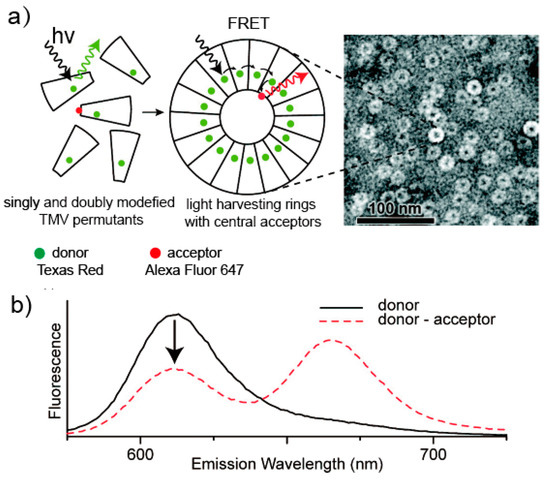 Figure 8.
Site-specific labeling of cpTMVP with donor (Texas Red) and acceptor (Alexa Fluor 647) chromophores to measure assembly. (
a
) A cartoon representation of a cpTMVP disk shows the approximate locations of donor and acceptor chromophores. Double modification does not perturb the structure of disks as measured by TEM. (
b
) Overlay of the emission spectra of donor only and donor-acceptor systems shows the assembly-dependent FRET. Reprinted from a previous paper [
116
]. Copyright 2010 American Chemical Society.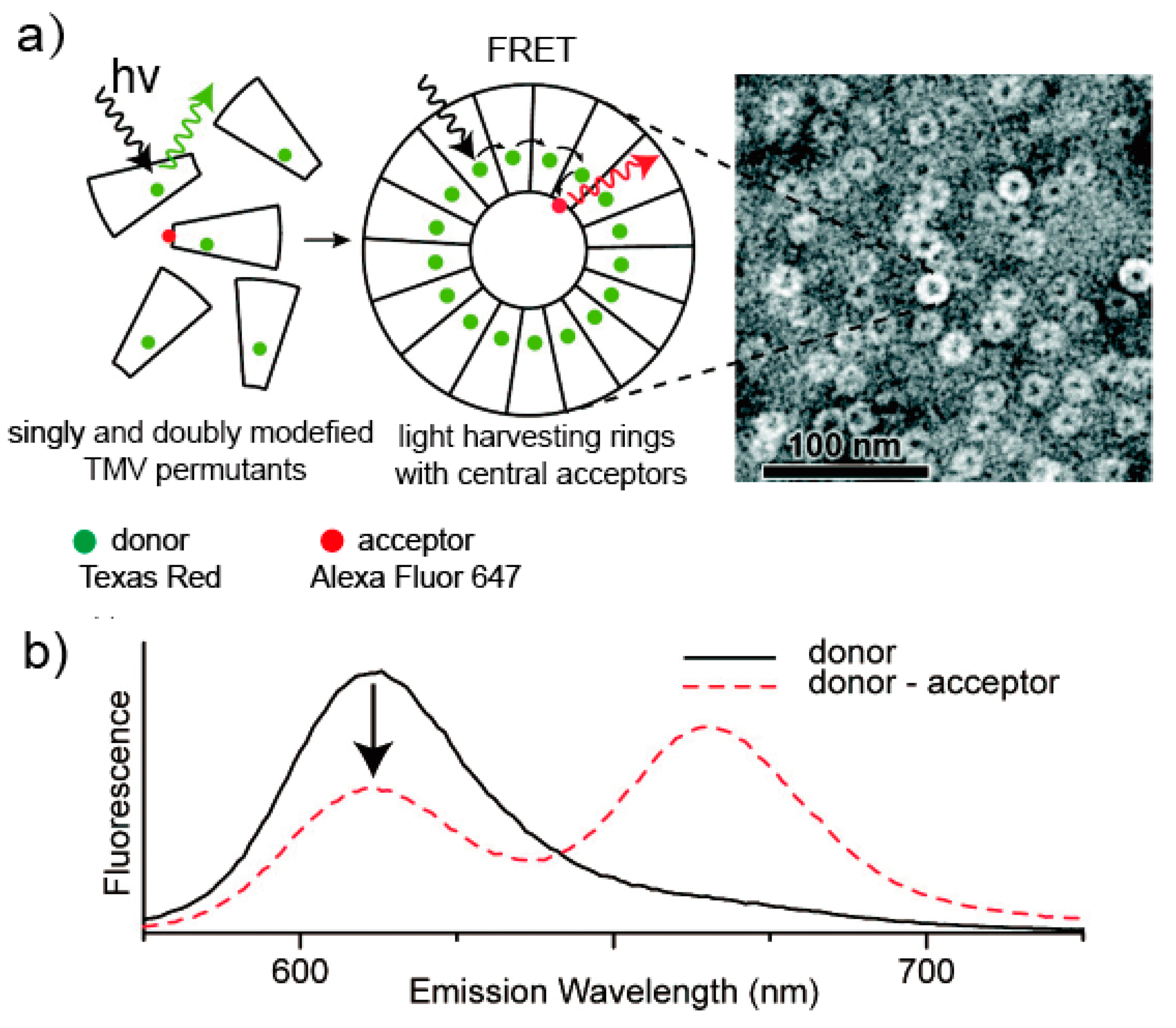 © 2018 by the authors. Licensee MDPI, Basel, Switzerland. This article is an open access article distributed under the terms and conditions of the Creative Commons Attribution (CC BY) license (http://creativecommons.org/licenses/by/4.0/).