(−)-Epigallocatechin-3-Gallate (EGCG) Enhances Osteogenic Differentiation of Human Bone Marrow Mesenchymal Stem Cells
1
Orthopaedic Research Center, Kaohsiung Medical University, Kaohsiung 80701, Taiwan
2
Department of Orthopedics, Kaohsiung Medical University Hospital, Kaohsiung Medical University, Kaohsiung 80701, Taiwan
3
Departments of Orthopedics, College of Medicine, Kaohsiung Medical University, Kaohsiung 80701, Taiwan
4
Department of Orthopedics, Kaohsiung Municipal Ta-Tung Hospital, Kaohsiung 80415, Taiwan
5
Graduate Institute of Medicine, Kaohsiung Medical University, Kaohsiung 80701, Taiwan
6
Department of Obstetrics and Gynecology, National Cheng Kung University Hospital, College of Medicine, National Cheng Kung University, Tainan 70403, Taiwan
7
Department of Physiology, College of Medicine, Kaohsiung Medical University, Kaohsiung 80701, Taiwan
8
Department of Medical Research, Kaohsiung Medical University Hospital, Kaohsiung 80701, Taiwan
9
Department of Veterinary Medicine, National Chiayi University, Chiayi 60054, Taiwan
10
Department of Bioscience Technology, Chang Jung Christian University, Tainan 71101, Taiwan
11
Innovative Research Center of Medicine, Chang Jung Christian University, Tainan 71101, Taiwan
12
Department of Marine Biotechnology and Resources, National Sun Yat-sen University, Kaohsiung 80424, Taiwan
*
Author to whom correspondence should be addressed.
†
These authors contribute equally to this work.
Academic Editor: Mamoru Isemura
Received: 29 July 2018 / Revised: 8 November 2018 / Accepted: 14 November 2018 / Published: 6 December 2018
Abstract
Osteoporosis is the second most-prevalent epidemiologic disease in the aging population worldwide. Cross-sectional and retrospective evidence indicates that tea consumption can mitigate bone loss and reduce risk of osteoporotic fractures. Tea polyphenols enhance osteoblastogenesis and suppress osteoclastogenesis in vitro. Previously, we showed that (−)-epigallocatechin-3-gallate (EGCG), one of the green tea polyphenols, increased osteogenic differentiation of murine bone marrow mesenchymal stem cells (BMSCs) by increasing the mRNA expression of osteogenesis-related genes, alkaline phosphatase activity and, eventually, mineralization. We also found that EGCG could mitigate bone loss and improve bone microarchitecture in ovariectomy-induced osteopenic rats, as well as enhancing bone defect healing partially via bone morphogenetic protein 2 (BMP2). The present study investigated the effects of EGCG in human BMSCs. We found that EGCG, at concentrations of both 1 and 10 µmol/L, can increase mRNA expression of BMP2, Runx2, alkaline phosphatase (ALP), osteonectin and osteocalcin 48 h after treatment. EGCG increased ALP activity both 7 and 14 days after treatment. Furthermore, EGCG can also enhance mineralization two weeks after treatment. EGCG without antioxidants also can enhance mineralization. In conclusion, EGCG can increase mRNA expression of BMP2 and subsequent osteogenic-related genes including Runx2, ALP, osteonectin and osteocalcin. EGCG further increased ALP activity and mineralization. Loss of antioxidant activity can still enhance mineralization of human BMSCs (hBMSCs).
View Full-Text
►

▼

Figures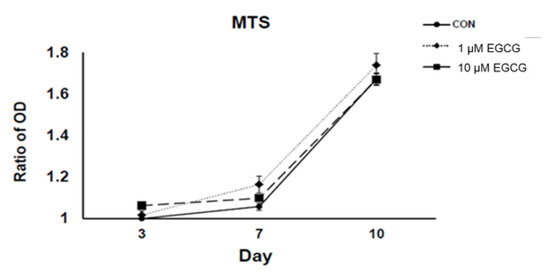 Figure 1
This is an open access article distributed under the
Creative Commons Attribution License
which permits unrestricted use, distribution, and reproduction in any medium, provided the original work is properly cited (CC BY 4.0).

Share & Cite This Article
MDPI and ACS Style
Lin, S.-Y.; Kang, L.; Wang, C.-Z.; Huang, H.H.; Cheng, T.-L.; Huang, H.-T.; Lee, M.-J.; Lin, Y.-S.; Ho, M.-L.; Wang, G.-J.; Chen, C.-H. (−)-Epigallocatechin-3-Gallate (EGCG) Enhances Osteogenic Differentiation of Human Bone Marrow Mesenchymal Stem Cells. Molecules 2018, 23, 3221.
Note that from the first issue of 2016, MDPI journals use article numbers instead of page numbers. See further details here.
Related Articles
Comments
[Return to top]