Synthesis of New Triarylpyrazole Derivatives Possessing Terminal Sulfonamide Moiety and Their Inhibitory Effects on PGE2 and Nitric Oxide Productions in Lipopolysaccharide-Induced RAW 264.7 Macrophages
1
Medicinal & Pharmaceutical Chemistry Department, Pharmaceutical and Drug Industries Research Division, National Research Centre (NRC), Dokki, Giza 12622, Egypt
2
Department of Medicinal Chemistry, College of Pharmacy, University of Sharjah, Sharjah 27272, UAE
3
Sharjah Institute for Medical Research, University of Sharjah, Sharjah 27272, UAE
4
Department of Medicinal Chemistry, Faculty of Pharmacy, University of Mansoura, Mansoura 35516, Egypt
5
Department of Chemistry, Hanseo University, Seosan 31962, Korea
6
Department of Pharmaceutical Biochemistry, College of Pharmacy, Kyung Hee University, Seoul 02792 Korea
7
Department of Life and Nanopharmaceutical Science, College of Pharmacy, Kyung Hee University, Seoul 130-650, Korea
8
Chemical Kinomics Research Center, Korea Institute of Science and Technology, Seoul 130-650, Korea
9
Center for Biomaterials, Korea Institute of Science and Technology, Cheongryang, Seoul 130-650, Korea
10
Department of Biomolecular Science, University of Science and Technology, Daejeon, Yuseong-gu 34113, Korea
*
Authors to whom correspondence should be addressed.
Received: 17 September 2018 / Revised: 29 September 2018 / Accepted: 2 October 2018 / Published: 7 October 2018
Abstract
This article describes the design, synthesis, and in vitro anti-inflammatory screening of new triarylpyrazole derivatives. A total of 34 new compounds were synthesized containing a terminal arylsulfonamide moiety and a different linker between the sulfonamide and pyridine ring at position 4 of the pyrazole ring. All the target compounds were tested for both cytotoxicity and nitric oxide (NO) production inhibition in lipopolysaccharide (LPS)-induced RAW 264.7 macrophages. Compounds
1b
,
1d
,
1g
,
2a
, and
2c
showed the highest NO inhibition percentages and the lowest cytotoxic effect. The most potent derivatives were tested for their ability to inhibit prostaglandin E
2
(PGE
2
) in LPS-induced RAW 264.7 macrophages. The IC
50
for nitric oxide inhibition, PGE
2
inhibition, and cell viability were determined. In addition,
1b
,
1d
,
1g
,
2a
, and
2c
were tested for their inhibitory effect on LPS-induced inducible nitric oxide synthase (iNOS) and Cyclooxygenase 2 (COX-2) protein expression as well as iNOS enzymatic activity.
View Full-Text
►

▼

Figures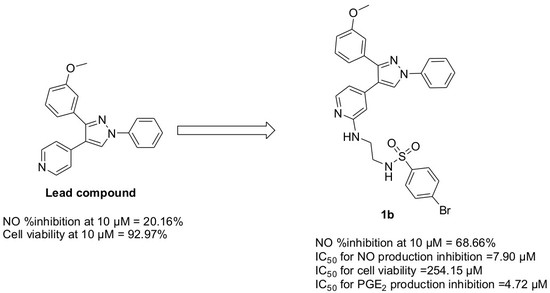 Graphical abstract
This is an open access article distributed under the
Creative Commons Attribution License
which permits unrestricted use, distribution, and reproduction in any medium, provided the original work is properly cited (CC BY 4.0).

Share & Cite This Article
MDPI and ACS Style
Abdel-Maksoud, M.S.; El-Gamal, M.I.; Gamal El-Din, M.M.; Choi, Y.; Choi, J.; Shin, J.-S.; Kang, S.-Y.; Yoo, K.H.; Lee, K.-T.; Baek, D.; Oh, C.-H. Synthesis of New Triarylpyrazole Derivatives Possessing Terminal Sulfonamide Moiety and Their Inhibitory Effects on PGE2 and Nitric Oxide Productions in Lipopolysaccharide-Induced RAW 264.7 Macrophages. Molecules 2018, 23, 2556.
Note that from the first issue of 2016, MDPI journals use article numbers instead of page numbers. See further details here.
Related Articles
Comments
[Return to top]