Synthesis, Physico-chemical Characterization, Crystal Structure and Influence on Microbial and Tumor Cells of Some Co(II) Complexes with 5,7-Dimethyl-1,2,4-triazolo[1,5-a]pyrimidine
1
Department of Microbiology, Faculty of Biology, University of Bucharest, 1–3 Aleea Portocalelor Str., 60101 Bucharest, Romania
2
Environment and Earth Sciences Department, Research Institute of the University of Bucharest—ICUB, Life, Spl. Independentei 91–95, 010271 Bucharest, Romania
3
Department of Inorganic Chemistry, Faculty of Chemistry, University of Bucharest, 90–92 Panduri Str., 050663 Bucharest, Romania
4
Stefan S Nicolau Institute of Virology, 285 Mihai Bravu Ave., 030304 Bucharest, Romania
5
Organisch-Chemisches Institut, Westfälische Wilhelms-Universität Münster, Corrensstrasse 40, 48149 Münster, Germany
*
Authors to whom correspondence should be addressed.
Received: 22 June 2017 / Revised: 19 July 2017 / Accepted: 19 July 2017 / Published: 22 July 2017
Abstract
Three complexes, namely [Co(dmtp)
2
(OH
2
)
4
][CoCl
4
] (
1
), [Co(dmtp)
2
Cl
2
] (
2
) and [Co(dmtp)
2
(OH
2
)
4
]Cl
2
∙2H
2
O (
3
) (dmtp: 5,7-dimethyl-1,2,4-triazolo[1,5-
a
]pyrimidine), were synthesized and characterized by spectral (IR, UV-Vis-NIR), and magnetic measurements at room temperature, as well as single crystal X-ray diffraction. Complex (
1
) crystallizes in monoclinic system (space group
C
2/c), complex (
2
) adopts an orthorhombic system (space group
P
bca), and complex (
3
) crystallizes in triclinic system (space group P1). Various types of extended hydrogen bonds and π–π interactions provide a supramolecular architecture for all complexes. All species were evaluated for antimicrobial activity towards planktonic and biofilm-embedded microbial cells and influence on HEp-2 cell viability, cellular cycle and gene expression.
View Full-Text
►

▼

Figures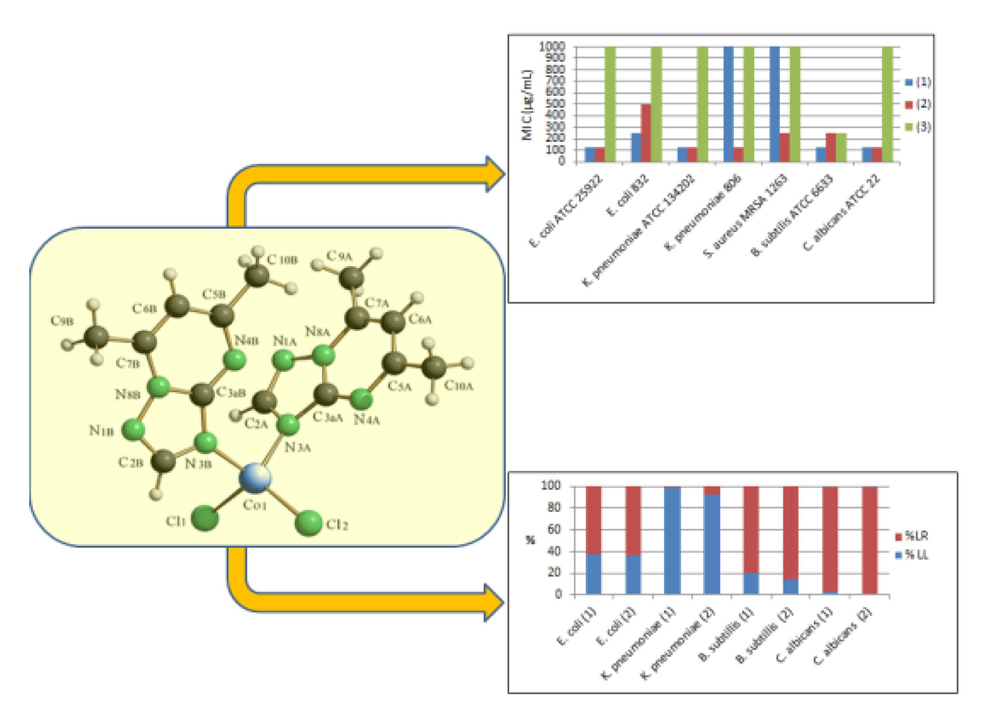 Graphical abstract
This is an open access article distributed under the
Creative Commons Attribution License
which permits unrestricted use, distribution, and reproduction in any medium, provided the original work is properly cited (CC BY 4.0).

Share & Cite This Article
MDPI and ACS Style
Măruţescu, L.; Calu, L.; Chifiriuc, M.C.; Bleotu, C.; Daniliuc, C.-G.; Fălcescu, D.; Kamerzan, C.M.; Badea, M.; Olar, R. Synthesis, Physico-chemical Characterization, Crystal Structure and Influence on Microbial and Tumor Cells of Some Co(II) Complexes with 5,7-Dimethyl-1,2,4-triazolo[1,5-a]pyrimidine. Molecules 2017, 22, 1233.
Note that from the first issue of 2016, MDPI journals use article numbers instead of page numbers. See further details here.
Related Articles
Comments
[Return to top]