Copper Ion Attenuated the Antiproliferative Activity of Di-2-pyridylhydrazone Dithiocarbamate Derivative; However, There Was a Lack of Correlation between ROS Generation and Antiproliferative Activity
1
Department of Molecular Biology & Biochemistry, Xinxiang Medical University, Xinxiang 453003, Henan, China
2
Henan Collaborative Innovation Center of Molecular Diagnostics and Laboratory Medicine, Xinxiang Medical University, Xinxiang 453003, Henan, China
3
Department of Surgery, The Third Affiliated Hospital of Xinxiang Medical University, Xinxiang 453003, Henan, China
*
Authors to whom correspondence should be addressed.
Academic Editor: Jean Jacques Vanden Eynde
Received: 14 July 2016 / Revised: 8 August 2016 / Accepted: 16 August 2016 / Published: 20 August 2016
Abstract
The use of chelators for cancer treatment has been an alternative option. Dithiocarbamates have recently attracted considerable attention owning to their diverse biological activities; thus, the preparation of new dithiocarbamate derivatives with improved antitumor activity and selectivity as well as probing the underlying molecular mechanism are required. In this study, di-2-pyridylhydrazone dithiocarbamate
S
-propionic acid (DpdtpA) and its copper complex were prepared and characterized, and its antiproliferative activity was evaluated. The proliferation inhibition assay showed that DpdtpA exhibited excellent antiproliferative effect in hepatocellular carcinoma (IC
50
= 1.3 ± 0.3 μM for HepG2, and 2.5 ± 0.6 μM for Bel-7402). However, in the presence of copper ion, the antiproliferative activity of DpdtpA was dramatically attenuated (20–30 fold) owing to the formation of copper chelate. A preliminarily mechanistic study revealed that reactive oxygen species (ROS) generation mediated the antiproliferative activity of DpdtpA, and accordingly induced apoptosis, DNA cleavage, and autophagy. Surprisingly, the cytotoxicity of DpdtpA copper complex (DpdtpA–Cu) was also involved in ROS generation; however, a paradoxical relation between cellular ROS level and cytotoxicity was observed. Further investigation indicated that DpdtpA could induce cell cycle arrest at the S phase; however, DpdtpA–Cu lacked this effect, which explained the difference in their antiproliferative activity.
View Full-Text
►

▼

Figures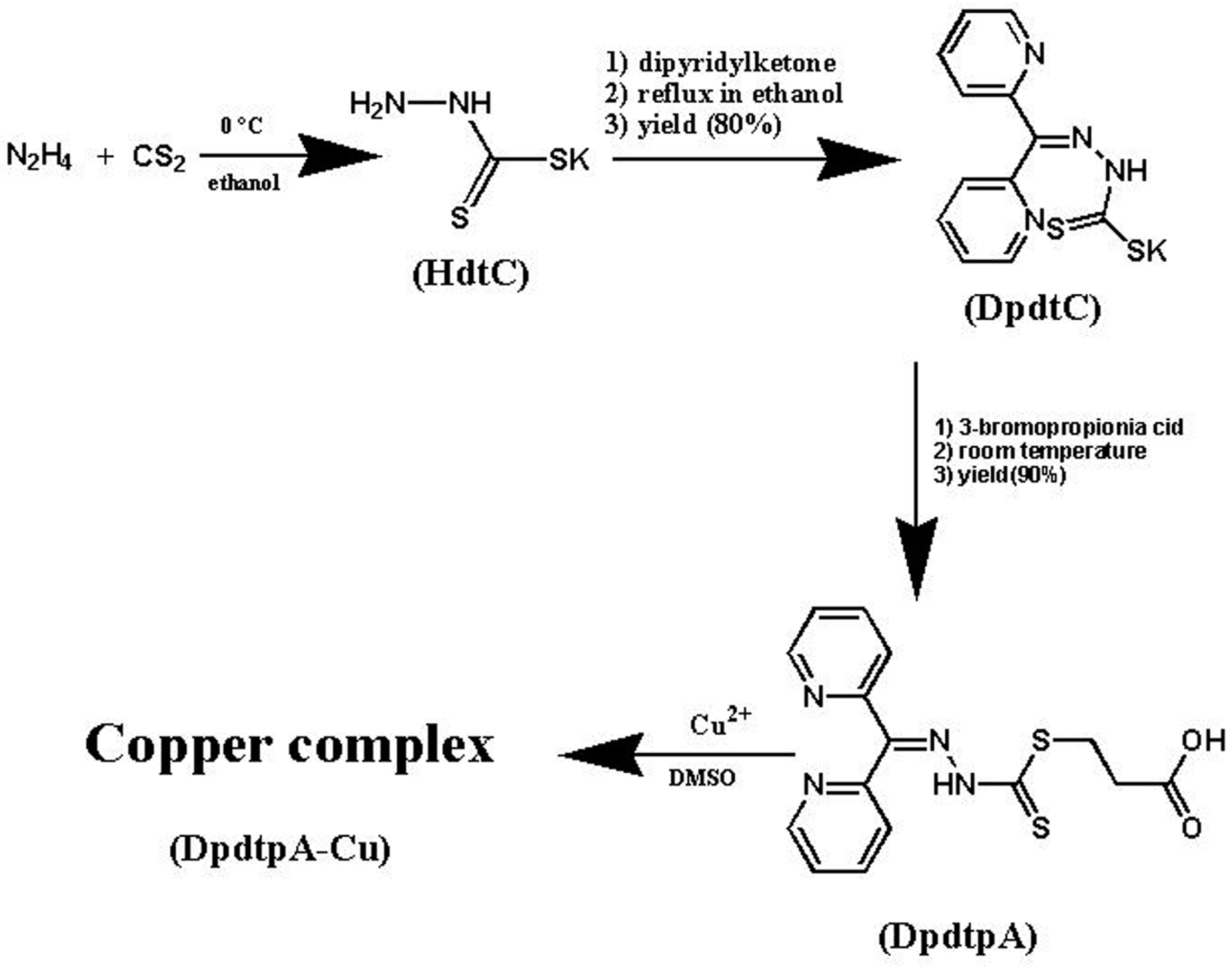 Figure 1
This is an open access article distributed under the
Creative Commons Attribution License
which permits unrestricted use, distribution, and reproduction in any medium, provided the original work is properly cited (CC BY 4.0).

Share & Cite This Article
MDPI and ACS Style
Wang, T.; Fu, Y.; Huang, T.; Liu, Y.; Wu, M.; Yuan, Y.; Li, S.; Li, C. Copper Ion Attenuated the Antiproliferative Activity of Di-2-pyridylhydrazone Dithiocarbamate Derivative; However, There Was a Lack of Correlation between ROS Generation and Antiproliferative Activity. Molecules 2016, 21, 1088.
Note that from the first issue of 2016, MDPI journals use article numbers instead of page numbers. See further details here.
Related Articles
Comments
[Return to top]