Anti-Cancer Effect of Quercetin in Xenograft Models with EBV-Associated Human Gastric Carcinoma
1
College of Pharmacy, Duksung Women's University, Seoul 132-714, Korea
2
Innovative Drug Center, Duksung Women's University, Seoul 132-714, Korea
3
Department of Medicinal Crop Research, National Institute of Horticultural and Herbal Science, Rural Development Administration, Eumseong 369-873, Korea
4
College of Pharmacy, Research Institute of Pharmaceutical Sciences and Institute for Microorganisms, Kyungpook National University, Daegu 702-701, Korea
*
Authors to whom correspondence should be addressed.
Academic Editor: Jean Jacques Vanden Eynde
Received: 13 July 2016 / Revised: 8 September 2016 / Accepted: 13 September 2016 / Published: 26 September 2016
Abstract
Licorice extracts have been widely used in herbal and folk medications.
Glycyrrhiza
contains diverse range of biological compounds including triterpenes (glycyrrhizin, glycyrrhizic acid) and flavonoids (quercetin, liquiritin, liquiritigenin, glabridin, licoricidin, isoliquiritigenin). The flavonoids in licorice are known to have strong anti-cancer activities. Quercetin, the most abundant flavonoid, has been shown to have anti-ulcer, anti-cancer, antioxidant, and anti-inflammatory properties. Latent Epstein-Barr virus (EBV) infection can lead to serious malignancies, such as, Burkitt's lymphoma, Hodgkin's disease and gastric carcinoma(GC), and (Epstein-Barr virus associated gastric carcinoma) EBVaGC is one of the most common EBV-associated cancers. In this study, the authors first examined the anti-cancer effects of quercetin and isoliquiritigenin in vivo xenograft animal models implanted with EBV(+) human gastric carcinoma (SNU719) or EBV(−) human gastric carcinoma (MKN74), and then explored the molecular mechanisms responsible for their anti-cancer activities. The results obtained showed that anti-cancer effect of quercetin was greater than isoliquiritigenin in mice injected with EBV(+) human gastric carcinoma (SNU719) cells. On the other hand, quercetin and isoliquiritigenin had similar anti-cancer effects in mice injected with EBV(−) human gastric carcinoma (MKN74) cells. Interestingly, quercetin inhibited EBV viral protein expressions, including EBNA-1 and LMP-2 proteins in tumor tissues from mice injected with EBV(+) human gastric carcinoma. Quercetin more effectively induced p53-dependent apoptosis than isoliquiritigenin in EBV(+) human gastric carcinoma, and this induction was correlated with increased expressions of the cleaved forms of caspase-3, -9, and Parp. In EBV(−)human gastric carcinoma (MKN74), both quercetin and isoliquiritigenin induced the expressions of p53, Bax, and Puma and the cleaved forms of caspase-3 and -9 and Parp at similar levels.
View Full-Text
►

▼

Figures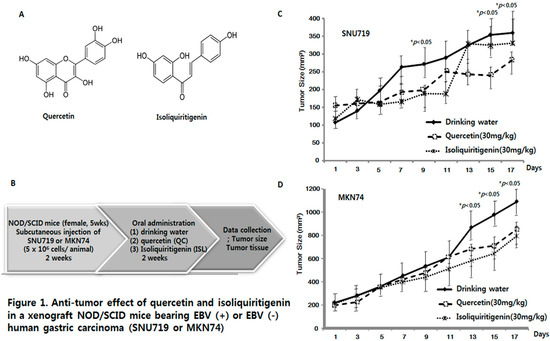 Figure 1
This is an open access article distributed under the
Creative Commons Attribution License
which permits unrestricted use, distribution, and reproduction in any medium, provided the original work is properly cited (CC BY 4.0).

Share & Cite This Article
MDPI and ACS Style
Lee, H.H.; Lee, S.; Shin, Y.S.; Cho, M.; Kang, H.; Cho, H. Anti-Cancer Effect of Quercetin in Xenograft Models with EBV-Associated Human Gastric Carcinoma. Molecules 2016, 21, 1286.
Note that from the first issue of 2016, MDPI journals use article numbers instead of page numbers. See further details here.
Related Articles
Comments
[Return to top]