Occurrence of Ordered and Disordered Structural Elements in Postsynaptic Proteins Supports Optimization for Interaction Diversity
1
Faculty of Information Technology and Bionics, Pázmány Péter Catholic University, Práter u. 50A, 1083 Budapest, Hungary
2
3in-PPCU Research Group, 2500 Esztergom, Hungary
*
Author to whom correspondence should be addressed.
Received: 10 July 2019 / Revised: 30 July 2019 / Accepted: 2 August 2019 / Published: 6 August 2019
The human postsynaptic density is an elaborate network comprising thousands of proteins, playing a vital role in the molecular events of learning and the formation of memory. Despite our growing knowledge of specific proteins and their interactions, atomic-level details of their full three-dimensional structure and their rearrangements are mostly elusive. Advancements in structural bioinformatics enabled us to depict the characteristic features of proteins involved in different processes aiding neurotransmission. We show that postsynaptic protein-protein interactions are mediated through the delicate balance of intrinsically disordered regions and folded domains, and this duality is also imprinted in the amino acid sequence. We introduce Diversity of Potential Interactions (DPI), a structure and regulation based descriptor to assess the diversity of interactions. Our approach reveals that the postsynaptic proteome has its own characteristic features and these properties reliably discriminate them from other proteins of the human proteome. Our results suggest that postsynaptic proteins are especially susceptible to forming diverse interactions with each other, which might be key in the reorganization of the postsynaptic density (PSD) in molecular processes related to learning and memory.
2. Materials and Methods
2.1. Datasets
The human proteome was downloaded from UniProt [
33
] (2018_June release). For synaptic proteins, the SynaptomeDB [
32
] database and its classification of protein localization were used, defining four sets: postsynaptic, presynaptic, presynaptic active zone and vesicle-associated proteins. An additional PSD-related set was defined based on a simple search on the UniProt website with the term 'postsynaptic scaffold human'. Proteins of the immunome were extracted from the Immunome Knowledge Base [
34
]. The list of nuclear proteins was taken from the supplementary material of Frege et al. [
35
], whereas the set of histone methylases were extracted from the accompanying data of Lazar et al. [
36
]. Lists of interacting protein pairs were taken from the BioPlex 2.0 database [
37
].
2.2. Annotation and Prediction of Protein Properties
2.3. Statistical Analysis
2.4. Machine Learning
As a first step, we preprocessed the data used for machine learning by removing homologous sequences and assigning labels. For redundancy filtering CD-HIT [
56
] was used in an incremental manner, filtering identical proteins to 90, 70, 50 and finally to 40% identity. The remaining sequences were used to train the predictor. Labels were assigned based on the SynaptomeDB annotation.
For machine learning, a feed forward neural network was developed, using one hidden layer with 40 neurons and stochastic gradient descent. Due to the non-proportional data for training and testing, bootstrap aggregating (BAGGING) was used. In each step, 10 down-sampled sets were created and used to calibrate the Artificial Neural Networks (ANNs). For the final prediction, the results of individual ANNs were aggregated and weighted based on their reliability (defined as the output neuron probability). Benchmarking was done using 10-fold cross-validation and independent datasets.
Two different predictors were built: the first uses all annotations presented in
Supplementary Table S1
. The second predictor only uses features that can be derived from the amino acid sequence and do not depend on the annotation of different databases (shown with a grey background in
Supplementary Table S1
). Training and testing data are available in
Supplementary Table S7
.
4. Discussion
Synaptic plasticity is facilitated by proteins of the PSD, most plausibly by using their functional repertoire provided by the ability to reorganize PPIs dynamically. Our results indicate that PSD and especially PSC proteins have an increased potential to form diverse interactions and their features can be used to discriminate PSD proteins from the rest of the proteome.
General sequence properties are often used to characterize particular protein subsets, as they open prospects to structural features. Grouping amino acids based on physicochemical properties highlights exciting trends. The increased number of charged residues would hint a higher extent of intrinsic disorder; however, the low amount of prolines seems to counterbalance this effect. PSC proteins have similar characteristics; however, with higher proline content that may promote intrinsic disorder.
Besides statistics presented in the results, detailed structure-function studies provide experimental evidence on how PPIs are formed and maintained in the PSD. Below, we discuss different aspects of PSD organization by using specific well-characterized proteins as demonstrative examples.
PPIs depend on structural elements providing binding sites; however, they are also intensively regulated through the spatiotemporal control in the cell, often using post-translational modifications to precisely modulate the properties of the protein.
Due to the high variance of presented features, they cannot be used alone to describe PSD proteins. However, we assumed that using their combination may reveal certain aspects of PSD proteins. For this purpose, we introduced descriptors to assess the presence and distribution of different elements in PSD proteins and their possible role in interactions. Since PPI formation may occur through many distinct structural elements, we included several of these to thoroughly catch many possible aspects of protein complex formation. Using Diversity of Potential Interactions (DPI), including structural and post-translational regulation members, the potential of a protein to form distinct interactions can be adequately defined. Verification with different control sets confirmed that it can be used directly on proteins sets to estimate their tendency to establish elaborate protein networks.
Our protein-level descriptions are all focused on PPIs, and thus it is not trivial whether they are discriminative features of PSD proteins, or they are only relevant in the context of specific protein complexes. Machine learning is a commonly used tool to discriminate protein subsets when the number of features and their variance is too high to overlook. Our results demonstrate the prediction power of the presented sequential, structural and regulation features. Considering the noise present in the datasets (as some proteins may be localized in the PSD and other locations too, moreover the possible false classification of source databases also adds a bias), the prediction is remarkably accurate. Applying structure based machine learning algorithm may enhance synaptome database development by expediting data collection and reducing manual effort.
In conclusion, we suggest that postsynaptic proteins, and in particular postsynaptic scaffold proteins, are capable of forming diverse kinds of interactions with their partners that we propose to play a key role in the functional organization of the postsynaptic density and its dynamic rearrangements upon stimuli. We also found this ability is imprinted in the amino acid sequence and can be used to discriminate proteins with propensity to form a high number of interactions, or using machine learning to distinguish the PSD proteome from other proteins.
Supplementary Materials
The following are available online at
https://www.mdpi.com/1099-4300/21/8/761/s1
. Includes Supplementary Discussion and Supplementary Figures. Figure S1: K-means evaluation of various numbers of clusters of AAIndex. Figure S2: Protein length distribution (blue: PSD, red: human proteome). Figure S3: Flexible linker length distribution compared to the human proteome (blue: synaptome, yellow: PSD, red: PSC). Figure S4: Transmembrane helix distribution (blue: PSD, red: human proteome). Figure S5: Distribution of the number of interacting partners (blue: PSD, red: human proteome). Figure S6: Distribution of protein lengths in all datasets. Figure S7: Distribution of intrinsically disordered residue content in all datasets. Figure S8: Distribution of coiled-coils residue content in all datasets. Figure S9: Distribution of transmembrane residue content in all datasets. Figure S10: Distribution of the number of globular domains in all datasets. Figure S11: Distribution of the number of phosphorylation sites in all datasets. Figure S12: Distribution of the number of ubiquitination sites in all datasets. Figure S13: Distribution of the DPI values in all datasets. Figure S14: A: Correlation of amino acid content between interaction classes based on the structural state of participating partners and postsynaptic proteins. Columns: Autonomous folding and independent binding (i.e., the binding of two or more ordered proteins), coupled folding and binding (where an ordered protein stabilize an IDP partner) and mutual synergistic folding (interactions formed exclusively by disordered proteins), No folding, no binding (i.e., the "classical" disordered definition). Rows: Postsynaptic Scaffold proteins, and proteins from the postsynaptic density. Color scales from red (negative correlation) to green (positive correlation). B: Change of amino acid content of the group mutual synergistic folding (blue) and PSD proteins (red) compared to the proteome. C: Change of amino acid content of the group coupled binding and folding (blue) and PSC proteins (red) compared to the proteome. Figure S15: Overlap of coiled coils, IDRs and PPIs in PSD proteins. Table S1: Calculated properties and labels of all proteins used in the study. Table S2: Mean and standard deviation of calculated properties in different groups. Top: sets derived from other sources (i.e., SynaptomeDB, Uniprot etc.). Middle: Exclusive human proteome datasets. Bottom: Values calculated by downsampling and bootstrapping default sets 1000 times. Table S3:
P
-values of Kolmogorov Smirnov tests calculated between the proteome and different sets on all features. Table S4: Contingency tables and calculated
p
-values of chi-square tests. The independent observations are: (I) PSD/nonPSD (II) feature is above/below of the mean calculated on the proteome. Table S5: Co-occurence of structral formations in PSD/nonPSD proteins. Means and standard deviations were calculated for selected combinations. Table S6: Co-occurence of PPI promoting features in the PSD and proteome proteins. Means and standard deviations were calculated for all combinations. Table S7: List of proteins used to train and test the Artificial Neural Network.
Author Contributions
Conceptualization, Z.G. and L.D.; Methodology, Z.G. and L.D.; Formal Analysis, A.K.-T., A.F.Á., L.D. and B.P.; Investigation, A.K.-T., L.D., G.L. and B.L.; Data Curation, A.F.Á. and L.D.; Writing—Original Draft Preparation, Z.G. and L.D.; Writing—Review & Editing, all authors.; Visualization, L.D. and A.K.-T.; Supervision, Z.G.; Project Administration, Z.G.; Funding Acquisition, Z.G.
Funding
The authors acknowledge the support of the National Research, Development, and Innovation Office—NKFIH—through grant no. NN124363 (to Z.G.) and the 'János Bolyai Research Scholarship' Program of the Hungarian Academy of Sciences (to Z.G.). The research has been carried out within the project Thematic Research Cooperation Establishing Innovative Informatic and Info-communication Solutions, which has been supported by the European Union and co-financed by the European Social Fund under grant number EFOP-3.6.2-16-2017-00013.
Acknowledgments
The constructive remarks of Bálint Mészáros and the technical assistance of Zsófia Kálmán are gratefully acknowledged.
Conflicts of Interest
The authors declare no conflict of interest.
Figure 1. Difference sequence (blue), structure (yellow) and function (red) related properties in postsynaptic density (darker shade) and postsynaptic scaffold proteins (lighter shade) compared to the human proteome. Amino acids were grouped as hydrophobic (A, I, L, M, V), aromatic (F, W, Y), polar (N, Q, S, T), positively charged (H, K, R), negatively charged (D, E), rigid (P), flexible (G) and covalently interacting (C).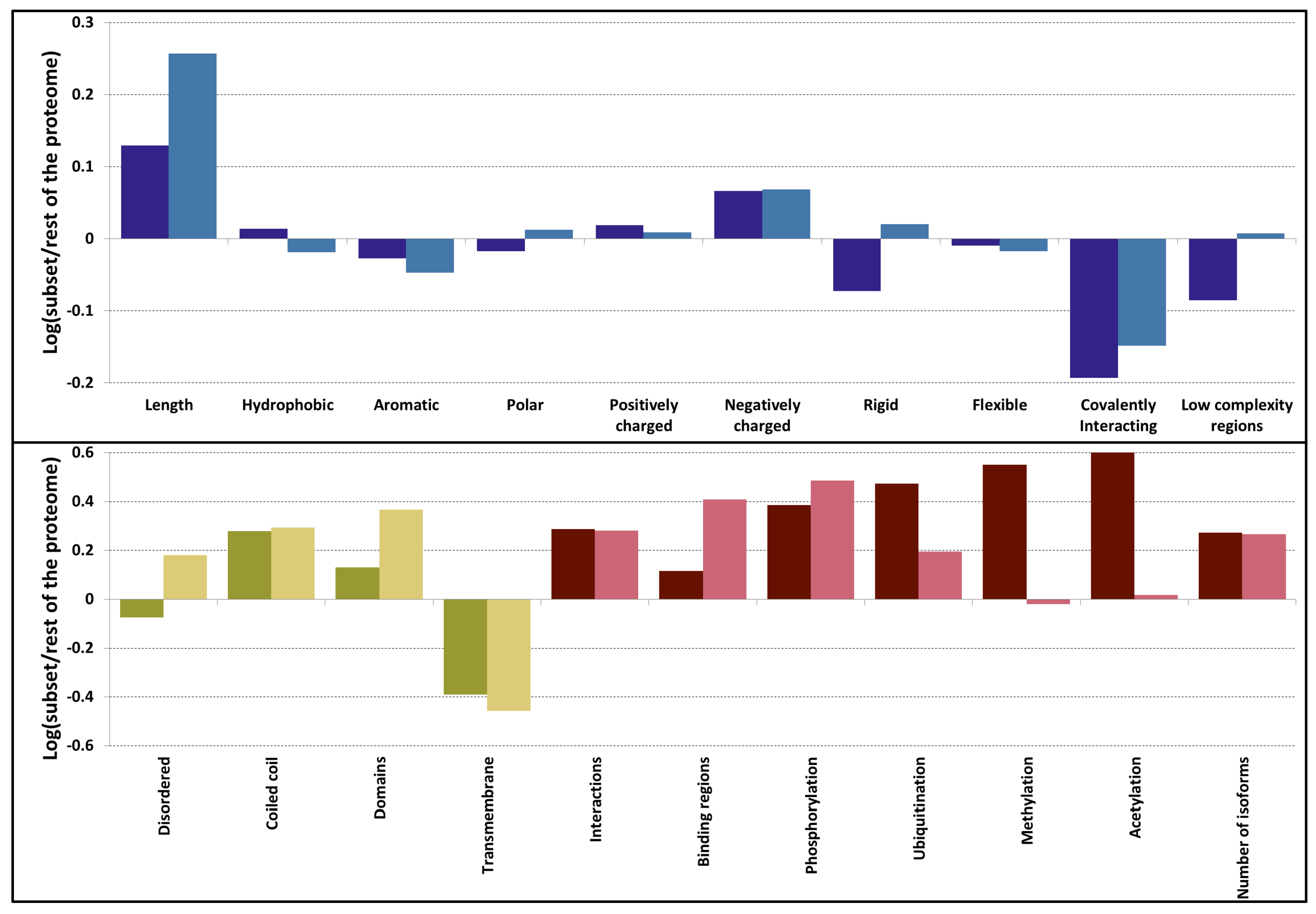 Figure 2.
Venn diagram of proteins utilizing intrinsically disordered regions and post-translational modifications to establish protein-protein interactions. (
A
) postsynaptic density; (
B
) human proteome. All the differences are significant with
p
< 0.05.
Figure 3. Average Diversity of Potential Interactions (DPI) (red) and number protein interaction values (yellow) in different protein sets.

Table 1.
Occurrence of structural elements in proteins (* marks significant co-occurrences, see
Supplementary Table S5
). IDR: Intrinsically Disordered Region; CC: Coiled-coil, TM: Transmembrane; DOM: Domain).
Number of Proteins
Proportion
Proteome
PSD
Proteome
PSD
IDR *
2851
128
0.14
0.07
CC *
1187
231
0.06
0.13
TM *
3460
154
0.17
0.08
DOMAIN *
2614
187
0.13
0.11
IDR + CC *
1194
132
0.06
0.07
IDR + TM
1224
92
0.06
0.05
IDR + DOMAIN *
2288
221
0.11
0.13
IDR + CC + DOMAIN *
1088
229
0.05
0.13
ALL *
125
21
0.01
0.01
All other combination of ordered domains * (CC, TM and Domain)
3884
366
0.19
0.21

Table 2. Prediction accuracy of the Neural Network. (MCC: Matthew Correlation Coefficient, BAC: Balanced Accuracy, AUC: Area Under Curve).
Cross-Validation
Independent Dataset
MCC
BAC
AUC
MCC
BAC
AUC
All features
0.54 ± 0.09
0.77 ± 0.04
0.85 ± 0.03
0.52
0.76
0.84
Intrinsic features
0.32 ± 0.08
0.66 ± 0.04
0.75 ± 0.03
0.38
0.68
0.76

© 2019 by the authors. Licensee MDPI, Basel, Switzerland. This article is an open access article distributed under the terms and conditions of the Creative Commons Attribution (CC BY) license (http://creativecommons.org/licenses/by/4.0/).