Entropy and Information within Intrinsically Disordered Protein Regions
1
Program in Molecular Medicine, The Hospital for Sick Children, Toronto, ON M5G 0A4, Canada
2
Department of Cell & Systems Biology, University of Toronto, Toronto, ON M5S 3B2, Canada
3
Department of Computer Science, University of Toronto, Toronto, ON M5T 3A1, Canada
4
Centre for the Analysis of Genome Evolution and Function, University of Toronto, Toronto, ON M5S 3B2, Canada
5
Department of Biochemistry, University of Toronto, Toronto, ON M5S 1A8, Canada
*
Authors to whom correspondence should be addressed.
Received: 31 May 2019 / Revised: 27 June 2019 / Accepted: 1 July 2019 / Published: 6 July 2019
Abstract
Bioinformatics and biophysical studies of intrinsically disordered proteins and regions (IDRs) note the high entropy at individual sequence positions and in conformations sampled in solution. This prevents application of the canonical sequence-structure-function paradigm to IDRs and motivates the development of new methods to extract information from IDR sequences. We argue that the information in IDR sequences cannot be fully revealed through positional conservation, which largely measures stable structural contacts and interaction motifs. Instead, considerations of evolutionary conservation of molecular features can reveal the full extent of information in IDRs. Experimental quantification of the large conformational entropy of IDRs is challenging but can be approximated through the extent of conformational sampling measured by a combination of NMR spectroscopy and lower-resolution structural biology techniques, which can be further interpreted with simulations. Conformational entropy and other biophysical features can be modulated by post-translational modifications that provide functional advantages to IDRs by tuning their energy landscapes and enabling a variety of functional interactions and modes of regulation. The diverse mosaic of functional states of IDRs and their conformational features within complexes demands novel metrics of information, which will reflect the complicated sequence-conformational ensemble-function relationship of IDRs.
View Full-Text
►

▼

Figures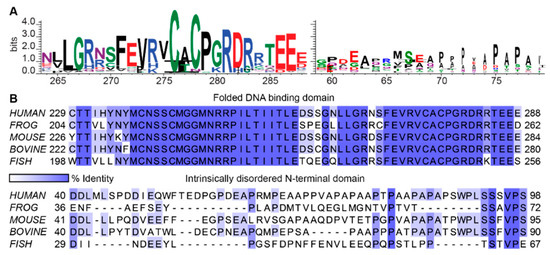 Figure 1
This is an open access article distributed under the
Creative Commons Attribution License
which permits unrestricted use, distribution, and reproduction in any medium, provided the original work is properly cited (CC BY 4.0).

Share & Cite This Article
MDPI and ACS Style
Pritišanac, I.; Vernon, R.M.; Moses, A.M.; Forman Kay, J.D. Entropy and Information within Intrinsically Disordered Protein Regions. Entropy 2019, 21, 662.
Note that from the first issue of 2016, MDPI journals use article numbers instead of page numbers. See further details here.
Related Articles
Comments
[Return to top]