Learning Using Concave and Convex Kernels: Applications in Predicting Quality of Sleep and Level of Fatigue in Fibromyalgia
1
Department of Computational Medicine and Bioinformatics, University of Michigan, 2800 Plymouth Rd, NCRC, Ann Arbor, MI 48109-2800, USA
2
Michigan Center for Integrative Research in Critical Care (MCIRCC), University of Michigan, 2800 Plymouth Rd, NCRC, Ann Arbor, MI 48109-2800, USA
3
Department of Mathematics, University of Michigan, 2800 Plymouth Rd, Bldg. 18-163, Ann Arbor, MI 48109-2800, USA
4
Digidence, LLC 7315 Wisconsin Ave., Bethesda, MD 20814-3202, USA
5
Department of Physical Medicine & Rehabilitation, University of Michigan, 2800 Plymouth Rd, NCRC B14 #D034, Ann Arbor, MI 48109-2800, USA
6
Department of Emergency Medicine, University of Michigan, 1500 E Medical Center Dr, Ann Arbor, MI 48109, USA
7
Department of Electrical Engineering and Computer Science, University of Michigan, 1301 Beal Ave, Ann Arbor, MI 48109, USA
*
Author to whom correspondence should be addressed.
Received: 8 February 2019 / Revised: 23 April 2019 / Accepted: 24 April 2019 / Published: 28 April 2019
Abstract
Fibromyalgia is a medical condition characterized by widespread muscle pain and tenderness and is often accompanied by fatigue and alteration in sleep, mood, and memory. Poor sleep quality and fatigue, as prominent characteristics of fibromyalgia, have a direct impact on patient behavior and quality of life. As such, the detection of extreme cases of sleep quality and fatigue level is a prerequisite for any intervention that can improve sleep quality and reduce fatigue level for people with fibromyalgia and enhance their daytime functionality. In this study, we propose a new supervised machine learning method called Learning Using Concave and Convex Kernels (LUCCK). This method employs similarity functions whose convexity or concavity can be configured so as to determine a model for each feature separately, and then uses this information to reweight the importance of each feature proportionally during classification. The data used for this study was collected from patients with fibromyalgia and consisted of blood volume pulse (BVP), 3-axis accelerometer, temperature, and electrodermal activity (EDA), recorded by an Empatica E4 wristband over the courses of several days, as well as a self-reported survey. Experiments on this dataset demonstrate that the proposed machine learning method outperforms conventional machine learning approaches in detecting extreme cases of poor sleep and fatigue in people with fibromyalgia.
View Full-Text
►

▼

Figures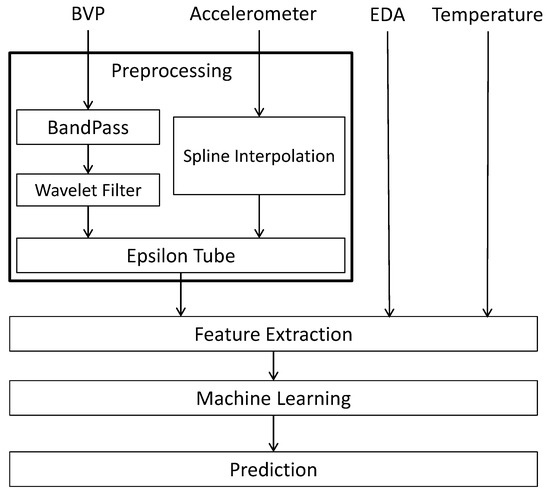 Figure 1
This is an open access article distributed under the
Creative Commons Attribution License
which permits unrestricted use, distribution, and reproduction in any medium, provided the original work is properly cited (CC BY 4.0).

Share & Cite This Article
MDPI and ACS Style
Sabeti, E.; Gryak, J.; Derksen, H.; Biwer, C.; Ansari, S.; Isenstein, H.; Kratz, A.; Najarian, K. Learning Using Concave and Convex Kernels: Applications in Predicting Quality of Sleep and Level of Fatigue in Fibromyalgia. Entropy 2019, 21, 442.
Note that from the first issue of 2016, MDPI journals use article numbers instead of page numbers. See further details here.
Related Articles
Comments
[Return to top]