Conferences
Upcoming MDPI Conferences (1)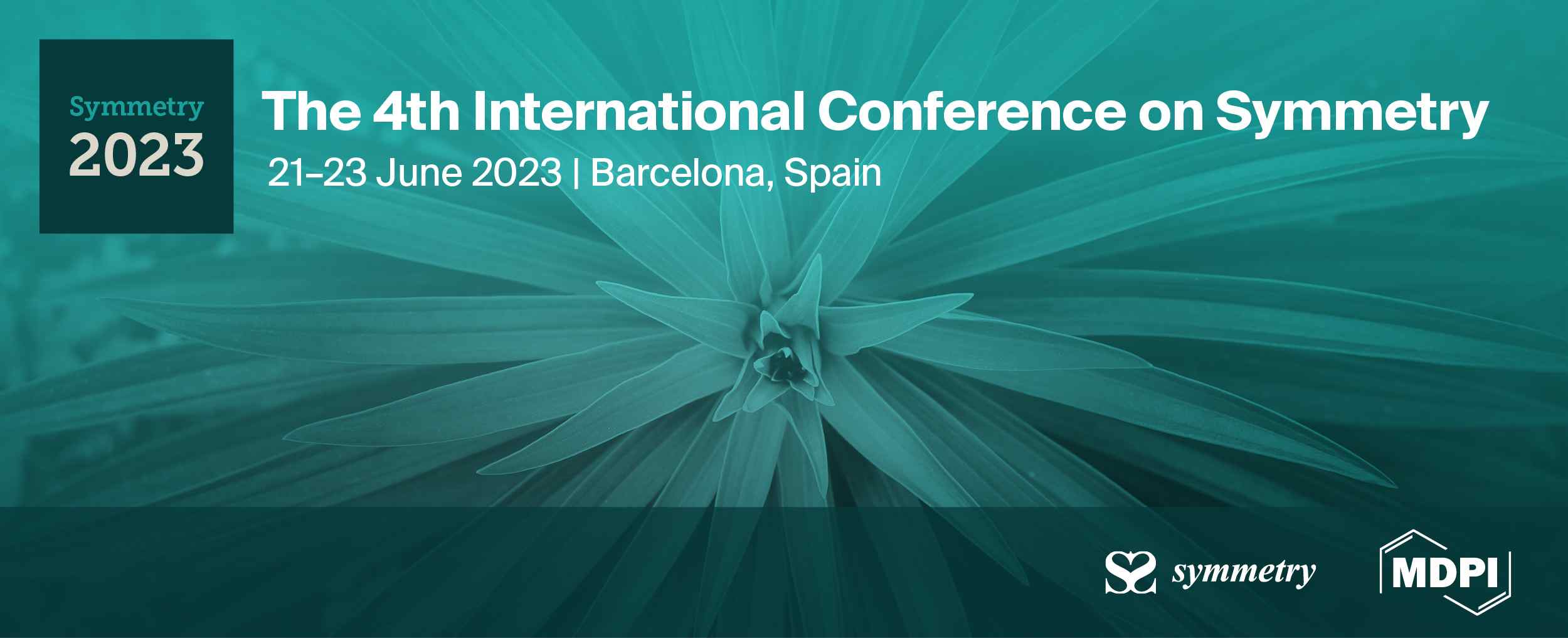 21–23 June 2023
Symmetry 2023—The 4th International Conference on Symmetry
Barcelona, Spain
Dear Colleagues,
We are delighted to announce that "Symmetry 2023—The 4th International Conference on Symmetry" will be back in person in 2023. The event is supported by MDPI's open access journal Symmetry and will be held on 21–23 June 2023 in Barcelona, Spain.
As expressed by Hermann Weyl, who was responsible for important progress in the field of symmetry in math and physics: "Symmetry is a fundamental phenomenon in nature and all sciences". Additionally, paraphrasing Frank Wilczek, "powerful symmetry principles have guided physicists in their quest for nature's fundamental laws". Although one should add, at the same time, that many of the most interesting situations happen to occur when some fundamental symmetry principle is broken. It thus seems as if nature abhors perfect symmetry.
It is this interplay between symmetry and its breakdown, in the many different domains and situations where they appear, which we want to address in the 4th Symmetry Conference in Barcelona. Specifically, we will foster interaction between scholars working in different fields of science.
We welcome scholars, engineers, students, and non-academic colleagues to join Symmetry 2023, and we kindly ask you to save the date. We aim to make this event a forum for discussion, knowledge exchange, and fruitful interactions among stakeholders working in various symmetry-related fields: Computer Science, Mathematics, Physics, Chemistry, Biology, and Engineering Science. Both oral and poster contributions are welcome.
We are pleased to announce the availability of awards for postdocs, PhD students, and researchers conducting research in the field of symmetry and who plan to attend Symmetry 2023.
Best Oral Presentation (EUR 500)
Selected by the Scientific Committee after evaluation of all selected talks presented during the conference.
Best Poster (EUR 300)
Selected by the Scientific Committee after evaluation of all posters presented during the conference.
Both awards are sponsored by MDPI's open access journal Symmetry.
We are very enthusiastic about this 4th Symmetry Conference and are relying on you to make it a successful event.
We look forward to meeting you in Barcelona!
Universe announces selected third-party conferences. In case you would like to announce your own event on the Universe website, please fill out the following form to apply for the announcement of a conference or other academic event (seminar, workshop).
Upcoming Partner Conferences (2)

21–26 August 2023
The 52nd International Symposium on Multiparticle Dynamics (ISMD 2023)
Gyöngyös, Hungary
The 52nd edition of the International Symposium on Multiparticle Dynamics will take place at the Károly Róbert Campus of MATE in Gyöngyös, Hungary. This conference continues the tradition of bringing together experimentalists and theorists working predominantly on multiparticle production in high-energy elementary particle and heavy-ion physics as well as in related areas.
In 2023, some particularly interesting new topics will be related to second-generation experiments aiming at the observation of X17, a BSM particle candidate from ATOMKI, Debrecen, Hungary. We also expect important new results on the properties of the recently observed odderon exchange as well as new and fundamental experimental results in high-energy heavy-ion physics at RHIC and LHC energies.
The topics will include the followings:
Collectivity in high energy collisions: jets and flows;
Cosmic ray and astroparticle physics;
Femtoscopy;
Forward physics: Diffraction, Odderon and Pomeron;
Hadronic final states in high pT interactions;
Multiparticle correlations and fluctuations;
Proton structure, small-x and large-x physics;
Physics of X17 and other beyond standard model states;
Other important new developments in HEP (open to suggestions);
Science outreach (in Tokaj on August 26, Saturday).
Website:

12–15 September 2023
V Meeting on A&M DATA - Astronomy & Earth Observations
Palić, Serbia
The Organizing Committee is pleased to inform you that the V Meeting on A&M DATA - Astronomy & Earth Observations will be held in the period September 12-15, 2023, at "Hotel Prezident – Palić". The meeting covers a wide range of topics from fundamental studies to applications.
Scientific rationale
Efficiency of theoretical analysis, synthesis and modeling of various environments, depends on atomic data and their sources. In particular, for the modeling of stellar atmospheres and opacity calculations a large number of atomic data is needed, since we do not know a priori the chemical composition of a stellar atmosphere. The same holds for Earth observations. Consequently, the development of databases with atomic data as well as astro-geoinformatics is important. This meeting will bring together physicists, astro & geophysicists from Serbia and elsewhere to review the present stage of research in this field. The meeting is planned as an opportunity to consider the above-mentioned aspects of spectroscopic research on plenary sessions and then to work on the special mini-projects, which will result in common papers to be published in international scientific journals.