Conferences
Upcoming MDPI Conferences (3)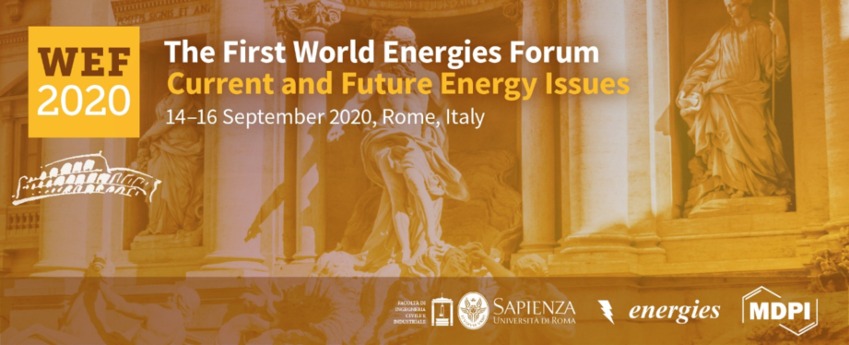 14–16 September 2020
The First World Energies Forum (Rome, September 2020)— Submission Deadline 28 February
Rome, Italy
Energies is organizing the first "World Energies Forum—Current and Future Energy Issues" (WEF-1) to be held in Rome, Italy, 14−16 September 2020. This conference is organized by the MDPI open access journal Energies and Sapienza University of Roma and will be chaired by Prof. Enrico Sciubba, Prof. Roberto Melli, and Prof. Roberto Capata from Sapienza University of Roma.
The WEF-1 aims to provide a forum for direct communication between scholars, including both younger and experienced researchers, regarding advances in mechanical engineering research, with specific focus on energy issues and thermal sciences in both fundamental and applied engineering sciences. Confirmed speakers sharing their current state-of-the-art research include: Prof. Özer Arnas, Prof. George Tsatsaronis and Dr. Frank A. Caro.
The final deadline for abstract submission is 28 February 2020, so do not miss this chance to submit your work! Furthermore, young researchers will be eligible for a chance to win one of our Best Oral Presentation Awards (500€) or the Best Paper Award (free publication in Energies, after the normal peer-review procedure).
Please note that early-bird registration is still open. You can check the registration fees at https://wef.sciforum.net/#registration.
Date: 14–16 September 2020
Location: Rome, Italy
Website: https://wef.sciforum.net/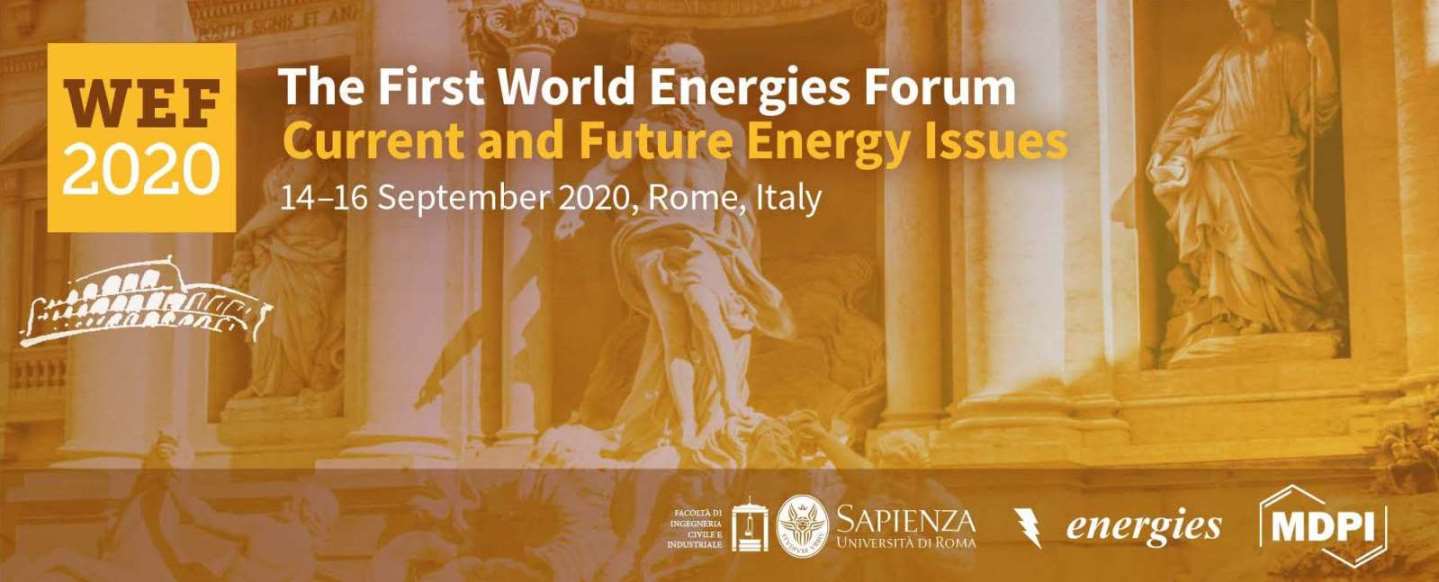 14–16 September 2020
The First World Energies Forum
Rome, Italy
It is our sincere pleasure and great honor to announce The First World Energies Forum—Current and future Energy Issues, organized by the MDPI open-access journal Energies and Sapienza University of Roma.
The WEF-1 aims to provide a forum for direct communication between scholars, favored also by personal contacts between younger and experienced researchers, regarding advanced research and technical content spanning the area of mechanical engineering, with specific focus on energy issues and Thermal Sciences in both fundamental and applied engineering sciences. The main topics and sessions of the conference cover:
Energy Fundamentals, Primary Energy Sources
Secondary Energy Sources, Intermediate and Final Energy Use
Energy Conversion Systems
Energy Policy, Energy Research
Exergy
We are very enthusiastic about the conference of The First World Energies Forum and are relying on you to make it a successful event.
We very much look forward to seeing you at this exciting forum in Roma.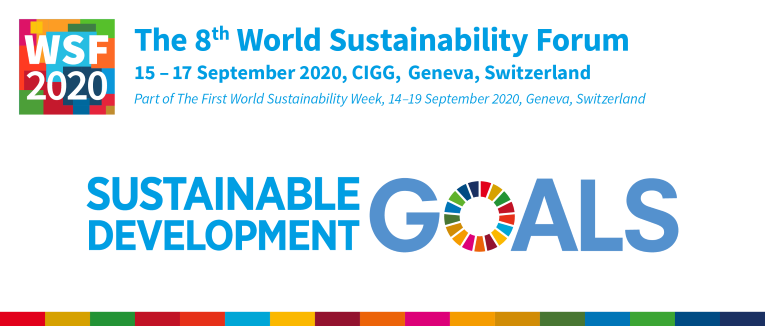 15–17 September 2020
The 8th World Sustainability Forum
Geneva
September 2020 marks the 5th birthday of the 2030 Agenda for Sustainable Development and the UN Sustainable Development Goals. If it were a child and given the right circumstances, it would now have developed fine motor skills, be able to stand on one foot for 10 seconds, have long conversations, and start to develop independence and responsibility. With The 8th World Sustainability Forum, we are not only celebrating a birthday, but are also taking stock of where we are in relation to a more sustainable world, what has worked, what has not yet worked, and where we need to go next. Sustainability has gained considerable traction: Many countries have integrated sustainability and environmental protection as part of their national development agenda, many businesses have realized the considerable long-term potential in sustainable development, and many research agendas have aligned with sustainability goals. It is now time for the research, policy, and business communities to enter into enduring dialog and to embrace greater global responsibilities. With this event, we hope to contribute to building a platform and network for a sustainability agenda that fosters partnerships among stakeholders beyond the boundaries of academic disciplines, narrow national agendas, and quarterly spreadsheets. The quest is to conceive of ways to assure long-term sustainable development for our people, our planet, as well as societal and corporate profit. In light of the importance of developing institutional partnerships and networks, this forum will be coordinated by MDPI, the UN Global Compact, the Global Footprint Network, and the Sustainable Development Solutions Network.
JMSE announces selected third-party conferences. In case you would like to announce your own event on the JMSE website, please fill out the following form to apply for the announcement of a conference or other academic event (seminar, workshop).
Upcoming Partner Conferences (3)

6–9 April 2020
1st Asia-Pacific Sustainable Development of Energy Water and Environment Systems
Gold Coast, Australia
The 1st AP SDEWES Conference will be held in Gold Coast, Australia in April 2020 and it will be dedicated to the improvement and dissemination of knowledge on methods, policies and technologies for increasing the sustainability of development by de-coupling growth from natural resources and replacing them with knowledge-based economy, taking into account its economic, environmental and social pillars. One of the main issues of the coming decades is to improve efficiencies by integrating various life-supporting systems, using excess from one, as resource in other, and in exact moment when it is beneficial to all, integrating electricity, heating, cooling, transport, water, buildings, waste, wastewater, industry, forestry and agriculture systems. Sustainability being also a perfect field for interdisciplinary and multi-cultural evaluation of complex system, the SDEWES Conference has become a significant venue for researchers in those areas to meet, and originate, discuss, share, and disseminate new ideas, continuing to successfully cover the following areas (examples in parentheses, but not confined to them), with particular focus on AP region wherever possible:
Sustainability comparisons and measurements (metrics and indices; multi-criteria analysis; external costs; exergy analysis; footprint methods; emergy; life cycle analysis)
Green economy and better governance (circular economy; low carbon development/economy; resource efficiency; water reuse; jobs and regional development; financial and regulatory mechanisms; models and tools; rebound effect; energy economics; environmental economics; development economics; sustainability economics; blue economy)
Smart energy systems (demand response; power-to-X; integration of power, heating/cooling, transport, water and waste sectors; smart grids; markets; dynamic electricity pricing, microgrids; prosumers; digitalisation; blockchain)
Energy policy (security of supply; climate change mitigation; energy transition; renewable energy support schemes; energy efficiency policy; employment creation; carbon pricing; markets; fossil fuel subsidies)
Smart transport systems policy and management (transport system analysis; fuel/carbon economy; transport electrification; congestion and road pricing; multimodal management; alternative fuels; social aspects; autonomous mobility; railways; shipping; aviation)
Water-energy nexus (water management; water system analysis; water pricing; water desalination; hydro energy; water-renewables integration, water resources; river basin management; arid areas)
Environmental policy and management (waste management; wastewater management; climate change mitigation; climate change adaptation; air pollution policy; water pollution policy; haze pollution and avoidance; particulates pollution and avoidance; land management; biomass management; reclamation and rewilding; social aspects; strategic environmental impact assessment; environment and corporate social responsibility; quality management systems; environment management systems; eco-management and audit schemes; integrated management systems)
Agricultural policy (energy and water use in agriculture and food processing; food vs. biofuels; sustainability of biofuels production)
Social acceptance (reform; NIMBY; nuclear; wind; biofuels; hydrogen; cost-based pricing; inclusion; fossil fuel subsidy; green economy and employment; gender issues; energy poverty; energy affordability)
Sustainable resilience of systems (resilience of energy systems; resilience of water systems; resilience of environmental systems; resilience of agricultural systems; resilience of social systems; resilience of engineering systems )
Sustainable tourism (green hotels; certification)
Urbanism (smart cities; urban planning; zoning; transport; zero energy buildings/districts; sustainable energy action plans; district heating/cooling; sustainable waste management)
Regional planning and cooperation (sustainable islands; regions and cities; 100% renewable regions)
Research, innovation and development (industry-academia partnership; quadruple helix; knowledge-based society; knowledge management; learning curve; technology foresight; science diplomacy; clusters and incubators)
Education in sustainable development (governance; environmental awareness; higher education; engineering education)
Energy system analysis (energy planning; power system planning; smart energy systems; smart energy networks; natural gas system greening; 100% renewable energy systems; island energy systems; development of energy planning tools; internalizing environmental externalities; electrification of transport; long term demand planning; integration of power and district heating systems; integration of power and water systems; integration of power and transport systems; power to gas; power-to-X)
Renewable energy resources (biomass; hydro; wind; solar; geothermal; wave and ocean; technical and economic potentials; barriers; cost and benefits; integration)
Primary energy resources (oil peaking; gas as transition fuel; coal phase-out; nuclear fuels)
Renewable electricity generation systems (biomass; hydro; wind; photovoltaic; concentrated solar power; geothermal; blue energy; offshore wind; wave; tide; ocean thermal)
Thermal power plants (advanced cycles; flexible operation and cycling; carbon capture and utilisation; nuclear)
District heating and/or cooling in smart energy systems (integration of renewable heat; cogeneration; industrial waste/excess heat; waste to energy and CHP; power to heat; electric boilers; heat pumps; integration of CHP with district heating and electricity markets; heat maps; distribution; absorption; adsorption)
Nano and micro technologies and science for sustainable development of energy, water, and environment systems
Advanced sustainable energy conversion systems (fuel cells; thermoelectric; thermionic; organic; ORC; waste/excess heat recycling; thermoacoustic; piezoelectric; high altitude wind)
Low temperature renewable heat systems (waste/excess heat; solar thermal; geothermal; heat pumps)
Biofuels and biorefineries (biodiesel; bioethanol; biogas; second and third-generation biofuels; waste to biofuels; algae; anaerobic digestion; pyrolysis; torrefaction; coproduction; BTL; biorefining; use for transportation; infrastructure; sustainability assessment)
Alternative fuels (hydrogen; electro-fuels; power to gas; synthetic fuels;DME; resources; production; vehicles; infrastructure)
Electric and hybrid vehicles (electric; plug-in hybrid; hybrid; charging; batteries; infrastructure)
Water treatment for drinking water
Water desalination (distillation; reverse and forward osmosis; electrodialysis; energy recovery; discharge management; flexible desalination with variable renewables)
Waste and wastewater treatment and reuse (avoiding waste; composting; recycling; waste to energy; anaerobic digestion; gasification; mechanical biological treatment; mechanical heat treatment; plasma arc waste disposal; pyrolysis; RDF/SRF)
Modelling for pollution avoidance and energy efficiency (CFD models; air pollution spreading; water pollution spreading; heat and mass transfer modelling; combustion modelling)
Cogeneration, trigeneration, polygeneration (heat/cold and power; water and power; biofuels and power; transport and energy; food and energy; applications and operation strategies; photovoltaic-thermal)
Storage (heat/cold storage; hydrogen storage; hydropower as storage; pump storage; compressed air storage; batteries; water storage; biofuels storage; storage optimisation modelling; financial support mechanisms; power market arbitrage)
Electricity transmission and distribution (grid extension and robustness; long-distance transmission; power quality)
Gas security of supply (diversification; shale gas; pipelines extension; LNG; Southern Corridor; renewable gas)
Energy and water efficiency in industry and mining (cement and lime; construction materials; glass; pulp and paper; food industry; metallurgy; chemical industry; process optimisation; kilns; boilers; heat exchange networks; pinch analysis; exergy and exergoeconomic analysis; energy audits; water use and waste minimisation; eco-innovation; total site integration; life cycle assessment; eco-design and eco-labelling; product cycle assessment; cleaner production; environmental impact assessment)
Energy efficient appliances (smart appliances; labelling and standards; user behaviour; eco-design)
Buildings (nearly zero energy buildings; passive buildings; smart buildings; smart metering; ICT; load and demand-side management; green buildings; building codes and standards; buildings certification; HVAC; insulation; renewables integration; heat pumps; storage; sustainable architecture)
Energy markets (market/price coupling; liberalisation/deregulation; modelling; demand response; role of district heating; desalination and water pumping; storage; retail markets; grid parity; net metering; fuel switch)
Emission markets (emission trading system; cap and trade; transport participation)
Political aspects of sustainable development (energy democracy; long term planning; sustainable development goals; the role of political leaders and of voters; international conflict vs. sustainable development; security and sustainability; resource and political security; community and citizen participation in the energy transition)

23–25 April 2020
2020 5th International Conference on Advances on Clean Energy Research (ICACER 2020)
Barcelona, Spain
After ICACER 2016 held in Bangkok (Thailand), ICACER 2017 in Berlin (Germany), ICACER 2018 in Barcelona (Spain), and ICACER 2019 in Coimbra (Portugal) successfully, 2020 5th International Conference on Advances on Clean Energy Research (ICACER 2020) will be held in Barcelona, Spain on April 23-25, 2020 once again, with support of Universitat Politècnica de Catalunia, BarcelonaTECH, Spain(UPC).
The objectives of ICACER 2020 are to provide a forum to bring together researchers, scientists, engineers, academics and graduate students in the fields of advances on clean energy research, energy economics and energy policy to share up-to-date research results. We are confident that the participants benefited from the theoretical insights, practical knowledge and personal contacts that will help them to build a long-term, profitable and sustainable communication among researchers and practitioners in the related scientific areas. It is one of the leading international conferences for presenting novel and fundamental advances in the fields of clean energy research.
Topic Areas
Wind, solar, biomass and geothermal energies
Ocean energy harvesting
Energy efficiency in buildings and appliances
Smart grids and microgrids for green electricity
CO2 capture and storage
Fossil-fuel power-stations with CO2 sequestration
Underground and gas-network storages
Future high-capacity energy-storages
Future battery technologies
Power-to-gas/gas-to-power-solutions
Green fuel/energy for mobility
Efficient long-distance transmission in supergrids
Efficient AC/DC/AC energy conversion
Sector coupling for energy creation and storage
Sector coupling at the consumer side
Coupling conventional with green power stations
Measuring and filtering harmonic oscillations in smart grids
Network stability before/after energy transition
Critical smart-grid states and counter measures
More details are available on the conference website:

28 June–2 July 2020
39th International Conference on Ocean, Offshore & Arctic Engineering
Fort Lauderdale, FL, USA
OMAE 2020 is the ideal forum for researchers, engineers, managers, technicians and students from the scientific and industrial communities from around the world to:
Meet and present advances in technology and its scientific support;
Exchange ideas and experiences whilst promoting technological progress and its application in industry, and
Promote international cooperation in ocean, offshore and arctic engineering
More details are available on the conference website: