Open Access This article is
freely available
re-usable
Article
Fe2O3 Blocking Layer Produced by Cyclic Voltammetry Leads to Improved Photoelectrochemical Performance of Hematite Nanorods
1
Department of Materials Science and Engineering, University of Erlangen-Nuremberg, Martensstrasse 7, 91058 Erlangen, Germany
2
Regional Center of Advanced Technologies and Materials, Šlechtitelů 27, 779 00 Olomouc, Czech Republic
3
Schweizerische Gesellschaft für Korrosionsschutz (SGK) Swiss Society for Corrosion Protection, Technoparkstrasse.1, CH-8005 Zürich, Switzerland
4
Department of Chemistry, King Abdulaziz University, 80203 Jeddah, Saudi Arabia
*
Author to whom correspondence should be addressed.
Received: 31 December 2018 / Accepted: 8 February 2019 / Published: 19 February 2019
Abstract
:
Hematite is a low band gap, earth abundant semiconductor and it is considered to be a promising choice for photoelectrochemical water splitting. However, as a bulk material its efficiency is low because of excessive bulk, surface, and interface recombination. In the present work, we propose a strategy to prepare a hematite (α-Fe2O3) photoanode consisting of hematite nanorods grown onto an iron oxide blocking layer. This blocking layer is formed from a sputter deposited thin metallic iron film on fluorine doped tin oxide (FTO) by using cyclic voltammetry to fully convert the film into an anodic oxide. In a second step, hematite nanorods (NR) are grown onto the layer using a hydrothermal approach. In this geometry, the hematite sub-layer works as a barrier for electron back diffusion (a blocking layer). This suppresses recombination, and the maximum of the incident photon to current efficiency is increased from 12% to 17%. Under AM 1.5 conditions, the photocurrent density reaches approximately 1.2 mA/cm2 at 1.5 V vs. RHE and the onset potential changes to 0.8 V vs. RHE (using a Zn-Co co-catalyst).
Keywords:
hematite; cyclic voltammetry; photoelectrochemical performance; oxygen evolution reaction (OER) catalyst; nanorods
2. Materials and Methods
2.1. Materials Fabrication
The fabrication process of the hematite photoanodes is schematically illustrated in
Figure 2
. First, a layer of metallic Fe was sputter-deposited on FTO. Iron films with various thicknesses were deposited by DC pulsed magnetron sputtering. A 3″ iron target (purity 99%, Lesker) and argon atmosphere were used as the source of iron and working gas, respectively. The films were deposited on FTO coated glass substrates (Solaronix). Before the deposition, the samples were cleaned by rinsing the bare FTO substrates in an ultrasound bath in a sequence of acetone, ethanol and distilled water for 10 min for each step. The substrates were then dried by a nitrogen flow. The samples were placed in an ultra-high vacuum chamber on a rotating substrate holder. A combination of rotary and turbomolecular pumps evacuated the chamber to the base pressure of 10 × e
−5
Pa. The working pressure during the deposition was set to 0.9 Pa by the flow rate of Ar = 30 sccm. The deposition of iron was carried out with the applied DC power of 650 W using a pulsed mode with the pulse frequency of 100 Hz and duty cycle of 1 %. The deposition typically lasted 30 min.
The metallic layer was converted to FeOOH by cyclic voltammetry (see details below) and subsequently further oxidized to hematite by annealing at 400 °C for 1 h in air. Onto this surface, hematite nanorods were grown by a hydrothermal procedure described below. Subsequently the entire structure was annealed at 800 °C for 15 min to convert the as-synthesized material consisting of iron oxy-hydroxide into hematite.
Conversion of the metallic sputter-deposited thin layer into an oxide was carried out in 0.1 M NaOH (reagent grade) with pH 13 at the room temperature. The electrolyte was continuously deaerated by nitrogen bubbling. The solution was stirred using a magnet stirrer to remove the dissolution products from the vicinity of the electrode. The potential was measured against a Ag/AgCl reference electrode and a platinum wire was used as a counter electrode. Cyclic voltammetry was carried out using a Zahner IM6 system (Zahner Elektrik, Kronach, Germany) in a potential window from −1.256 V vs. Ag/AgCl to +0.6 V vs. Ag/AgCl with a sweep rate of 5 mV/s. After the CV treatment, the samples were annealed at 400 °C in air for 1 h to convert the FeOOH layer formed during polarization to α-Fe2O3 (the blocking layer). For the hydrothermal synthesis procedure, iron chloride hexahydrate (FeCl3·6H2O) and titanium chloride (TiCl3) were used as reagents. FTO which was coated with the hematite blocking layer as well as bare cleaned pieces of FTO glass substrate were put into a cap sealed glass bottle which was filled with 0.02 mL of 150 M FeCl3·6H2O aqueous solution mixed with 8 µL of TiCl3 and placed into the oven at 100 °C for 1, 3 and 9 h. Subsequently, a yellowish layer of iron oxyhydroxide (ß-FeOOH) film was grown on the substrate. The samples were washed with DI water to remove all residuals, dried in nitrogen stream, and annealed at 800 °C for 15 min.
2.2. Zn-Co LDH Treated Samples
Zn-Co layered double hydroxides were prepared as described in an earlier work [
35
]. First, 0.3 mmol cobalt nitrate hexahydrate and 0.15 mmol zinc nitrate hexahydrate were added to 2.4 mmol urea and instantly dissolved in 10 mL DI water. Then, the solution was mixed with 40 mL ethylene glycol. Subsequently, the above solution was placed into a microwave (750 W) to be irradiated for 10 min with 30 s on and off interval, and then cooled naturally. After washing and drying, the product was dispersed in deionized water and sonicated for 10 min. Finally, the FTO samples without and with the blocking hematite layer which were covered by nanorod structure were immersed in the solution for 10 min, washed with DI water, and dried by nitrogen.
2.3. Morphological and Structural Characterization
A field emission scanning electron microscope (FE-SEM, Hitachi S4800, Tokyo, Japan) was used to investigate the morphology of the as-synthesized materials. The film thicknesses were measured using cross sectional imaging by SEM. X-ray diffraction patterns (XRD) were measured using X'pert Philips MPD diffractometer with a Panalytical X'celerator detector, Malvern Panalytical (Almelo, The Netherlands) to examine the structural properties of the materials. The measurements were carried out using graphite-monochromized CuKα radiation (wavelength 1.54056 Å). X-Ray photoelectron spectroscopy (XPS, PHI 5600, Eden Prairie, MN, USA) was used for analysis of the chemical states and elemental composition of the samples. Additional compositional evaluation was carried out by time-of-flight secondary-ion mass spectrometer TOF-SIMS (ToF.SIMS 5 instrument), Ion-ToF GmbH, Münster, Germany. Positive SIMS spectra were taken.
2.4. Photoelectrochemical (PEC) Measurements
Photoelectrochemical measurements were carried out in 1 M KOH (pH 13.5) solution as an electrolyte using a solar simulator source (300 W Xe with optical filter) providing AM 1.5 (100 mW/cm
2
) illumination. A three-electrode cell was used with the FTO/hematite sample as a photoanode (working electrode), Ag/AgCl (3 M KCl) as a reference electrode and a platinum foil as a counter electrode. Photocurrent versus voltage (I-V) curves were recorded by scanning the potential from −0.4 to 0.7 V (vs. Ag/AgCl) at a scan rate of 2 mV/s using a Jaissle IMP 88 PC potentiostat. The light was chopped off and on every 20 mV. The recorded potentials versus Ag/AgCl were converted to the reversible hydrogen electrode (RHE) scale using the following equation:
ERHE = EAg/AgCl + 0.059 pH + EAg/AgCl,
where E
Ag/AgCl
is the measured potential, and E
Ag/AgCl
= 0.209 V at 25 °C for an Ag/AgCl electrode in 3 M KCl.
Incident photocurrent conversion efficiencies (IPCE) were measured at 0.5 V vs. Ag/AgCl in 1 M KOH recorded in 5 nm steps from 700 to 300 nm. Electrochemical impedance spectroscopy (EIS) measurements were performed from 100 KHz to 0.01 Hz at 1.23 V vs. RHE with amplitude of 10 mV using 369 nm LED light source at the 3-electrode set-up. Intensity-modulated photocurrent spectroscopy (IMPS) measurements were performed with 369 nm LED light in 1 M KOH.
3. Results and Discussion
4. Conclusions
The work demonstrates a new approach to fabricate a nanostructured hematite photoelectrode with a blocking layer on FTO, where holes can recombine with back injected electrons before reaching the semiconductor- electrolyte interface. The layer of hematite that covers the FTO acts as a blocking layer to reduce the back injection of electrons from the FTO. Therefore, holes can reach the surface more efficiently and participate in oxygen evolution reaction [
36
,
42
,
64
,
65
]. Here we use a thin film of metallic iron coated on FTO that can be fully converted into an iron oxide/hydroxide layer by cyclic voltammetry. This oxide/hydroxide can be further converted to a plain hematite layer. This layer acts as a blocking layer in the hematite-anostructure-photoanode. We have demonstrated that FTO with a blocking layer still serves as an efficient substrate for growing hematite nanorods. After such an electrode is additionally modified wit Zn-Co as oxygen evolution reaction catalyst, an onset potential of 0.8 V vs. RHE is found and the photoanode showed a photocurrent of 1.2 mA/cm
2
at 1.5 V vs. RHE under AM 1.5 illumination.
Supplementary Materials
The following are available online at
https://www.mdpi.com/2571-9637/2/1/11/s1
, Figure S1: Cross sectional SEM images of 1 h (a) and 9 h (b) prepared hematite nanorods on blocking layer. Corresponding hematite nanorod layers grown on bare FTO for 1 h (c) and 3 h (d).; Figure S2. XPS survey spectra of hematite nanorods grown on bare FTO (red line, H) and hematite nanorods grown on the blocking layer covered FTO (black line, BH).; Figure S3. (a) XPS Zn 2p3/2 spectrum and (b) Co 2p spectrum of ZnCo-LDH. Figure S4. TOF-SIMS analysis of hematite nanorods (grown for 3 h) without blocking layer (a) with Zn-Co (H, Zn-Co), (b) without Zn-Co (H, Zn-Co). Figure S5. J-V curves with chopped light illumination for hematite nanorods grown for 1, 3 and 9 h on bare FTO measured at 0.6 to 1.7 V vs. RHE.
Author Contributions
All authors contributed to conceptualization, experimental and interpretation as well as drafting the manuscript.
Funding
We would like to acknowledge the ERC, the DFG, the Erlangen DFG cluster of excellence EAM, project EXC 315 (Bridge), the DFG funCOS and the Operational Programme Research, Development and Education-European Regional Development Fund, project no. CZ.02.1.01/0.0/0.0/15_003/0000416 of the Ministry of Education, Youth and Sports of the Czech Republic for financial support.
Acknowledgments
We would like to acknowledge Helga Hildebrand for her assistance in the ToF-SIMS and XPS measurements.
Conflicts of Interest
The authors declare no conflict of interest.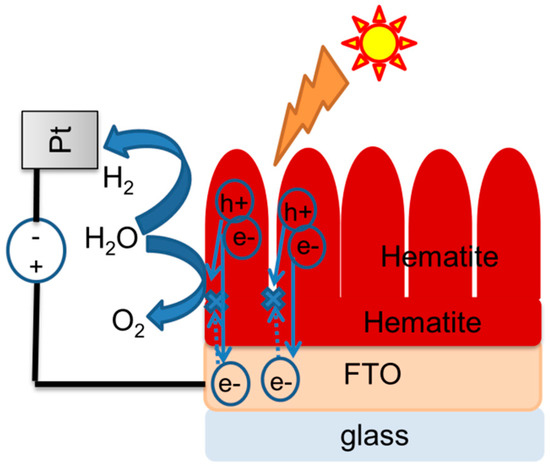 Figure 1. Schematic of the electron back transfer pathway and the effect of blocking layer on suppressing electron back transfer and recombination.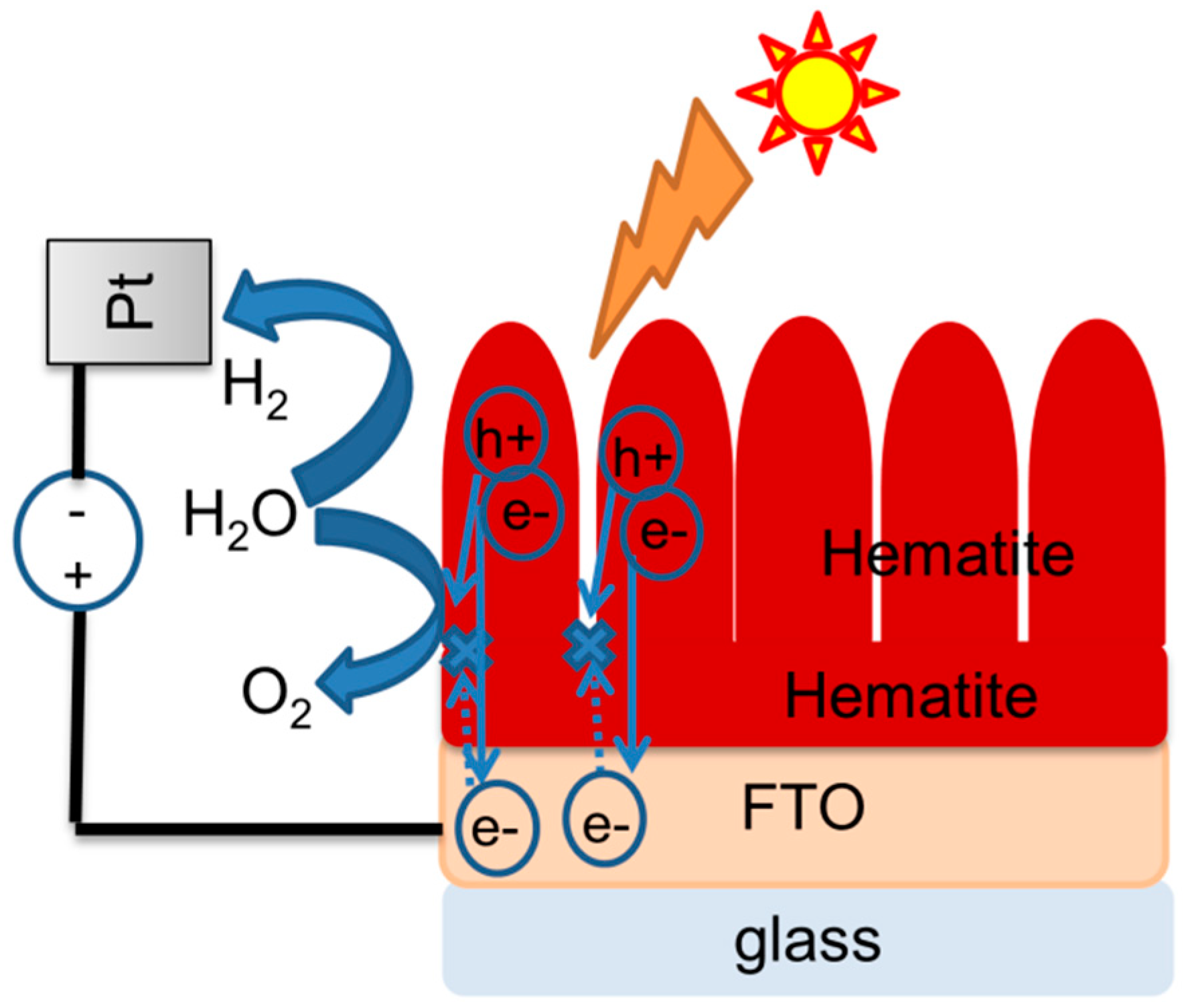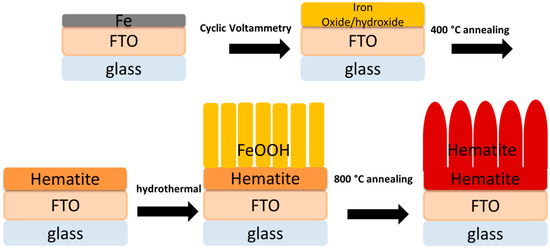 Figure 2. Schematic of the fabrication of the photoanodes with a hematite nanorod layer on hematite coated FTO substrate.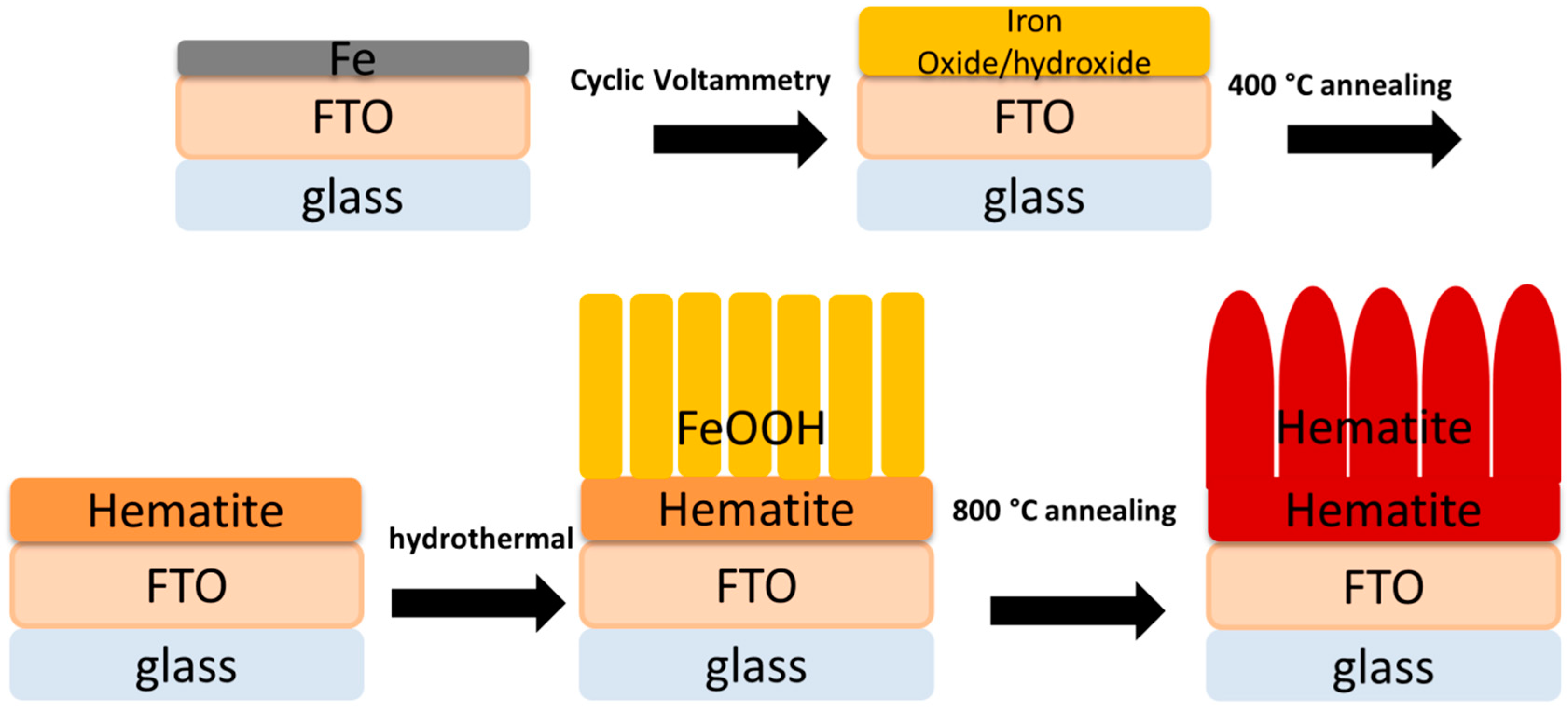 Figure 3. (a) Cyclic voltammograms of Fe sputtered layer in 0.1 M NaOH (sweep rate 5 mV/s), (b) J-V curves with chopped light illumination for hematite thin oxide film prepared with 10, 20 and 30 CV cycles.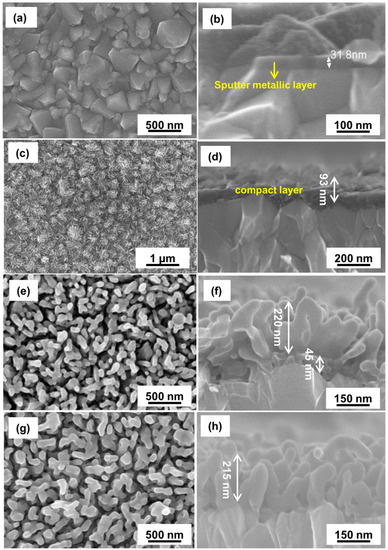 Figure 4. Top-view and cross sectional SEM images of (a,b) sputtered Fe layer, (c,d) hematite blocking layer, (e,f) hematite nanorods grown for 3 h with blocking layer, and (g,h) hematite nanorods grown for 3 h without blocking layer.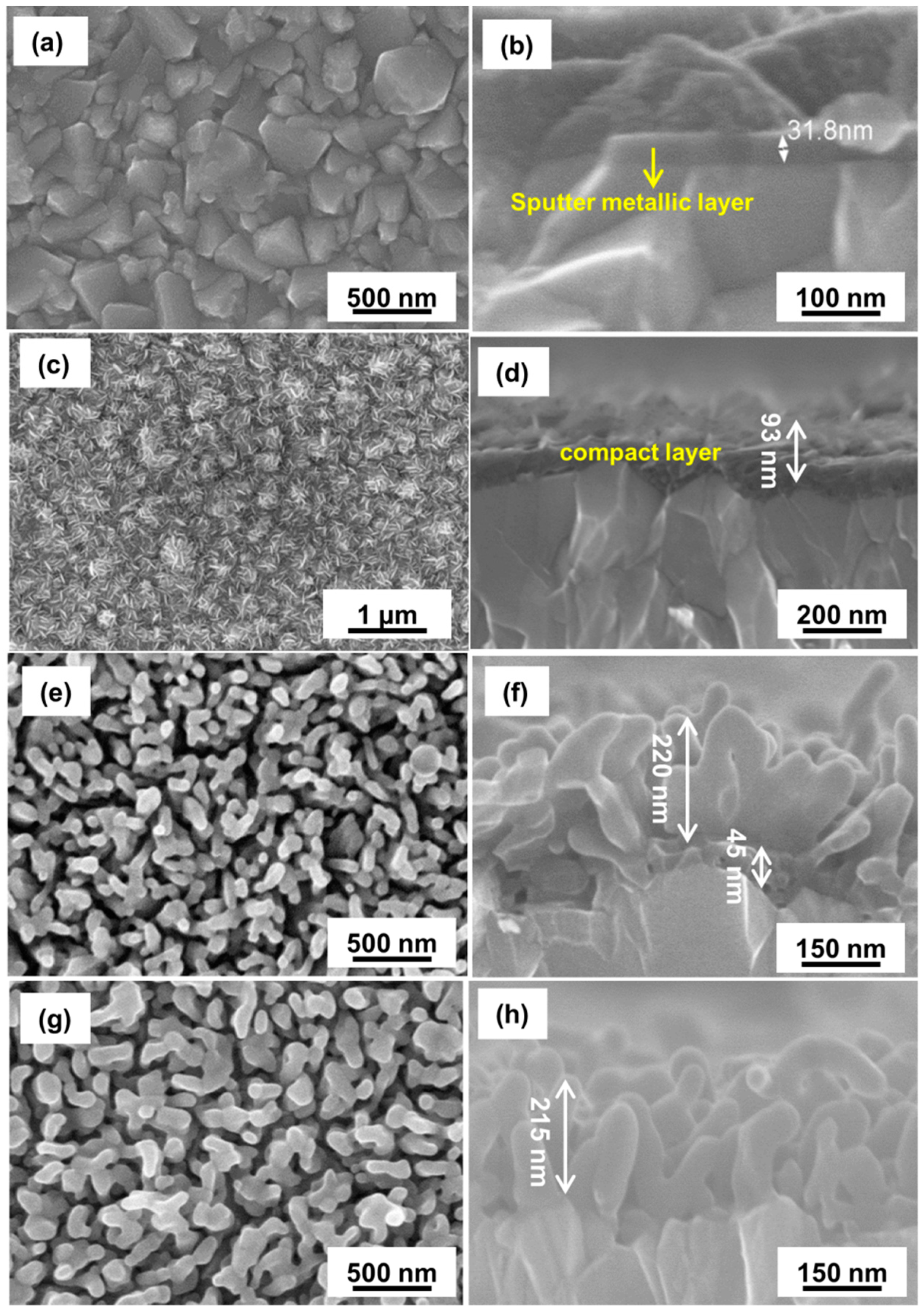 Figure 5. (a) XRD patterns for blocking layer (B) before and after annealing, nanorods without (H) and with blocking layer (BH). (b) XPS Fe 2p spectra of nanorods without (H) and with blocking layer (BH) (c) XPS O 1s spectra of nanorods without (H) and with blocking layer (BH).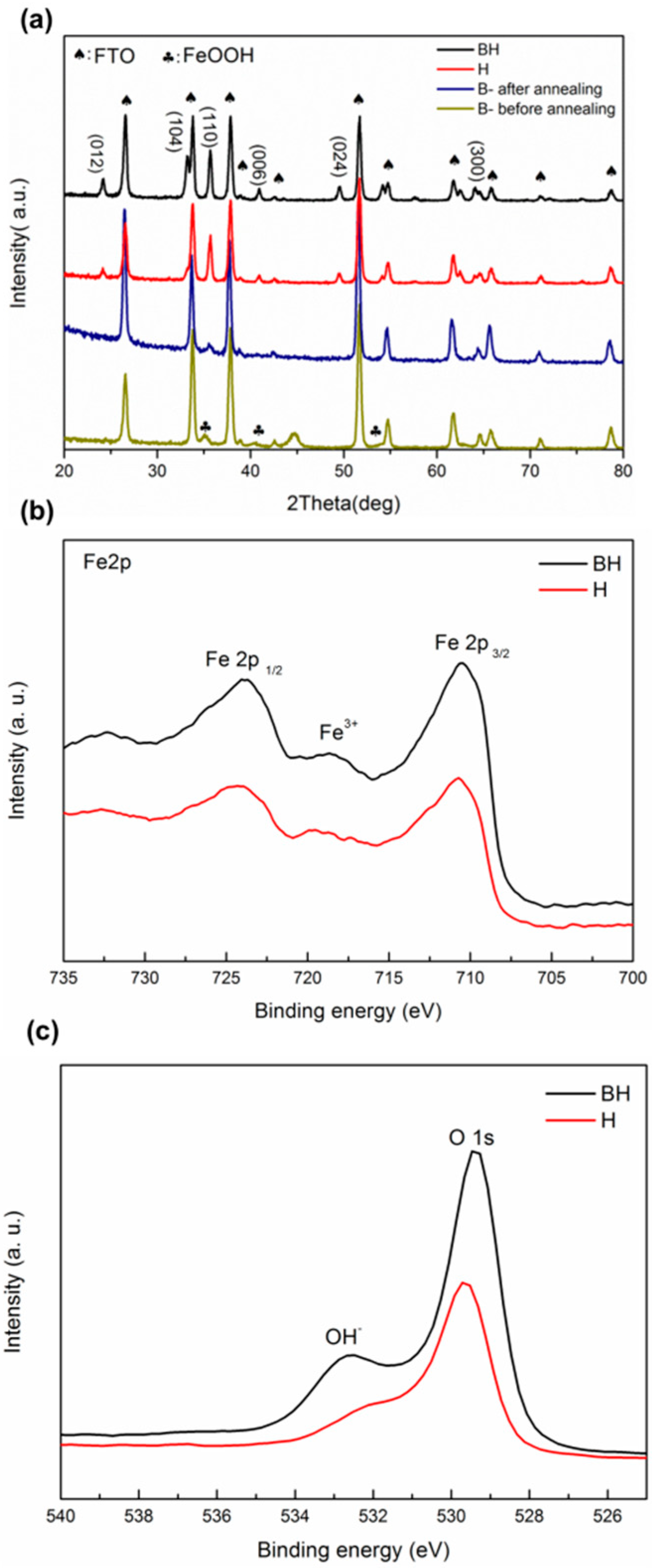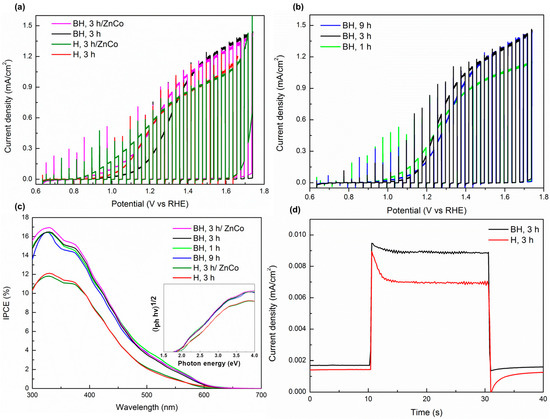 Figure 6. J-V curves with chopped light illumination measured at 0.6 to 1.7 V vs. RHE for: (a) reference sample, hematite nanorods (grown for 3 h) without blocking layer without (H) and with Zn-Co (H, ZnCo) and hematite nanorods (grown for 3 h) with blocking layer without (BH) and with Zn-Co (BH, ZnCo). (b) hematite nanorods with blocking layer grown for 1 h, 3 h and 9 h. (c) IPCE spectra for hematite nanorods grown for 1, 3 and 9 h and with Zn-Co decoration measured at 1.5 V vs. RHE, band gap determination from a (iphhv)1/2vs. photon energy (hv) plot (inset). (d) transient photocurrent density of hematite with (BH) and without (H) blocking layer as a function of time at an applied bias of 1.5 V vs. RHE at 330 nm wavelength.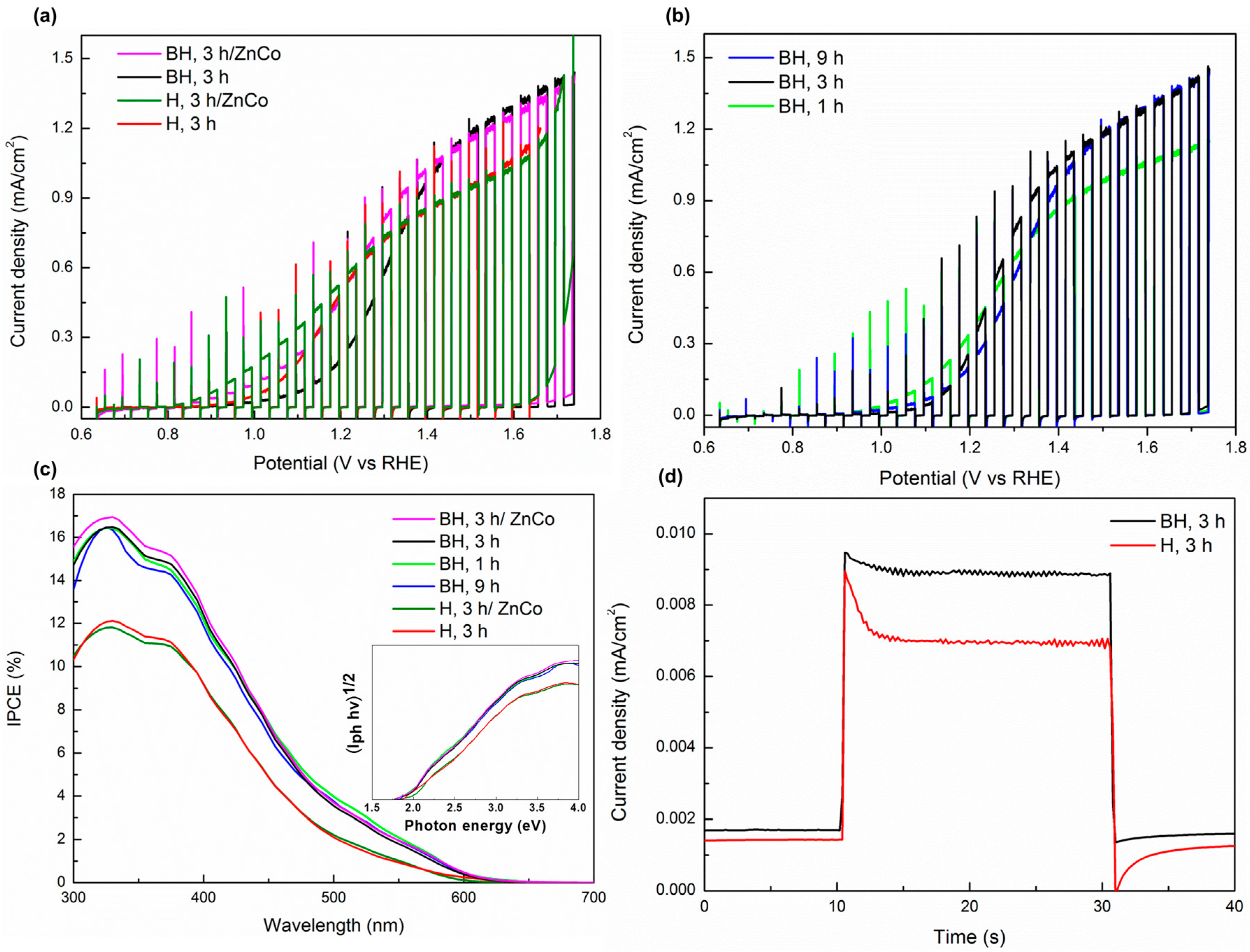 Figure 7. (a) EIS analysis (nyquist plots) of hematite nanorods grown for 3 h on plain FTO (H) and hematite nanorods with blocking layer and Zn-Co (BH, ZnCo) under 369 nm LED source at 1.2 V vs. RHE. (b) Intensity modulated photocurrent spectra (IMPS) of the samples.

© 2019 by the authors. Licensee MDPI, Basel, Switzerland. This article is an open access article distributed under the terms and conditions of the Creative Commons Attribution (CC BY) license (http://creativecommons.org/licenses/by/4.0/).