Fe2O3 Blocking Layer Produced by Cyclic Voltammetry Leads to Improved Photoelectrochemical Performance of Hematite Nanorods
1
Department of Materials Science and Engineering, University of Erlangen-Nuremberg, Martensstrasse 7, 91058 Erlangen, Germany
2
Regional Center of Advanced Technologies and Materials, Šlechtitelů 27, 779 00 Olomouc, Czech Republic
3
Schweizerische Gesellschaft für Korrosionsschutz (SGK) Swiss Society for Corrosion Protection, Technoparkstrasse.1, CH-8005 Zürich, Switzerland
4
Department of Chemistry, King Abdulaziz University, 80203 Jeddah, Saudi Arabia
*
Author to whom correspondence should be addressed.
Received: 31 December 2018 / Revised: 4 February 2019 / Accepted: 8 February 2019 / Published: 19 February 2019
Abstract
Hematite is a low band gap, earth abundant semiconductor and it is considered to be a promising choice for photoelectrochemical water splitting. However, as a bulk material its efficiency is low because of excessive bulk, surface, and interface recombination. In the present work, we propose a strategy to prepare a hematite (α-Fe
2
O
3
) photoanode consisting of hematite nanorods grown onto an iron oxide blocking layer. This blocking layer is formed from a sputter deposited thin metallic iron film on fluorine doped tin oxide (FTO) by using cyclic voltammetry to fully convert the film into an anodic oxide. In a second step, hematite nanorods (NR) are grown onto the layer using a hydrothermal approach. In this geometry, the hematite sub-layer works as a barrier for electron back diffusion (a blocking layer). This suppresses recombination, and the maximum of the incident photon to current efficiency is increased from 12% to 17%. Under AM 1.5 conditions, the photocurrent density reaches approximately 1.2 mA/cm
2
at 1.5 V vs. RHE and the onset potential changes to 0.8 V vs. RHE (using a Zn-Co co-catalyst).
View Full-Text
►

▼

Figures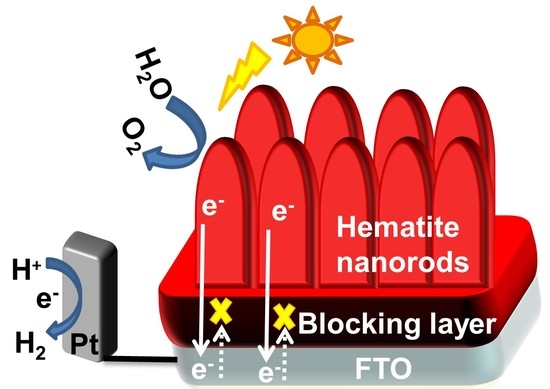 Graphical abstract
This is an open access article distributed under the
Creative Commons Attribution License
which permits unrestricted use, distribution, and reproduction in any medium, provided the original work is properly cited (CC BY 4.0).

Share & Cite This Article
MDPI and ACS Style
Poornajar, M.; Nguyen, N.T.; Ahn, H.-J.; Büchler, M.; Liu, N.; Kment, S.; Zboril, R.; Yoo, J.E.; Schmuki, P. Fe2O3 Blocking Layer Produced by Cyclic Voltammetry Leads to Improved Photoelectrochemical Performance of Hematite Nanorods. Surfaces 2019, 2, 131-144.
Comments
[Return to top]