Using Negative Muons as a Probe for Depth Profiling Silver Roman Coinage
1
Department of Physics, University of Warwick, Coventry CV4 7AL, UK
2
ISIS Neutron and Muon Facility, STFC Rutherford Appleton Laboratory, Didcot OX11 0QX, UK
3
Department of Classics and Ancient History, University of Warwick, Coventry CV4 7AL, UK
4
RIKEN Nishina Center, RIKEN, Wako, Saitama 351-0198, Japan
5
Ashmolean Museum, Beaumont Street, Oxford OX1 2PH, UK
*
Authors to whom correspondence should be addressed.
†
These authors contributed equally to this work.
Received: 14 December 2018 / Revised: 21 January 2019 / Accepted: 23 January 2019 / Published: 29 January 2019
Abstract
Debasement of silver Roman coins is a well-known phenomenon and understanding the quality of ancient silver coinages can provide an idea about the underlying fiscal condition of the issuing states. These coins are made from a silver-copper alloy, the surfaces of which were deliberately enhanced at the mints by a process of surface-enrichment to give them the appearance of being made of pure silver. Therefore, any surface analysis would provide a composition of the silver-copper alloy that would not be representative of the original alloy from which the coin blank was made; the result would be too high in silver. However, the bulk of the sample, the interior, should provide a composition that is true to the original alloy. Elemental analysis using negative muons has been used to provide a depth dependent compositional, completely non-destructive analysis of a silver-copper alloy
denarius
of the empress Julia Domna datable to 211–217 CE. The composition of the coin, beyond the surface enrichment layer, is 51 ± 1.8 % copper and 49 ± 1.9% silver, taken at a muon depth of 402 ± 61 µm. The surface enrichment layer is approximately 190 µm thick.
View Full-Text
►

▼

Figures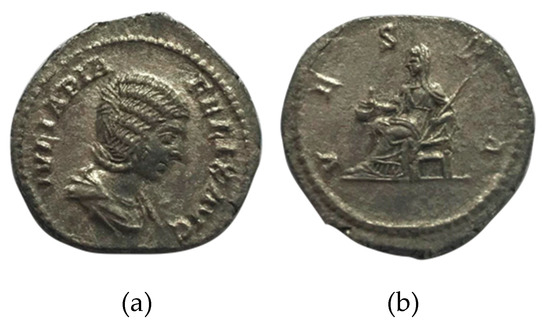 Figure 1
This is an open access article distributed under the
Creative Commons Attribution License
which permits unrestricted use, distribution, and reproduction in any medium, provided the original work is properly cited (CC BY 4.0).

Share & Cite This Article
MDPI and ACS Style
Hampshire, B.V.; Butcher, K.; Ishida, K.; Green, G.; Paul, D.M.; Hillier, A.D. Using Negative Muons as a Probe for Depth Profiling Silver Roman Coinage. Heritage 2019, 2, 400-407.
Comments
[Return to top]