European Silver Sources from the 15th to the 17th Century: The Influx of "New World" Silver in Portuguese Currency
1
i3N/CENIMAT, Department of Materials Science, Faculty of Science and Technology, Universidade NOVA de Lisboa, Campus de Caparica, 2829-516 Caparica, Portugal
2
Centro de Ciências e Tecnologias Nucleares (C2TN), Instituto Superior Técnico, Universidade de Lisboa, Campus Tecnológico e Nuclear, Estrada Nacional 10 (km 139,7), 2695-066 Bobadela LRS, Portugal
3
Laboratório HERCULES, Universidade de Évora, Palácio do Vimioso, Largo Marquês de Marialva 8, 7000-809 Évora, Portugal
4
Instituto de Plasmas e Fusão Nuclear (IPFN), Instituto Superior Técnico, Universidade de Lisboa, Campus Tecnológico e Nuclear, Estrada Nacional 10 (km 139,7), 2695-066 Bobadela LRS, Portugal
5
Banco de Portugal, Museu do Dinheiro, Largo de São Julião, 1100-150 Lisboa, Portugal
6
Faculdade de Letras da Universidade de Lisboa, Centro de História da Universidade de Lisboa, Alameda da Universidade, 1600-214 Lisboa, Portugal
*
Author to whom correspondence should be addressed.
Received: 5 November 2018 / Revised: 3 December 2018 / Accepted: 3 December 2018 / Published: 7 December 2018
Abstract
The circulation trading routes and the characterization of the silver metal used in the European continent in the 15–17th centuries are historical issues that are still open. This study aimed to bring an insight into the silver processed within a chronological framework in the Portuguese territory, relating the analytical data with the known historical information. This investigation developed on 230 high silver coins from two important Portuguese coin collections was based mainly on surface particle-induced X-ray emission (PIXE) analysis, complemented with a few energy-dispersive X-ray fluorescence (EDXRF) analyses. The silver processed in different timelines was discriminated based on the variation of the impurity contents, namely Au and Bi. European silver with high Au and Hg and low Pb and Bi contents supplied the 15th century chronologies, being replaced at the dawn of the 16th century by a new metal entering the Portuguese capital. This new metal, with low Au and high Bi contents, was probably derived from European argentiferous copper ores. By the end of the 1500s, the Philippine chronologies reveal the newly discovered Potosí silver, identified for the first time based on PIXE minor and trace element surface contents, distinguishable from the European silver in use until 1578 in the Portuguese territory, by Au contents <100 ppm and very low Bi contents.
View Full-Text
►

▼

Figures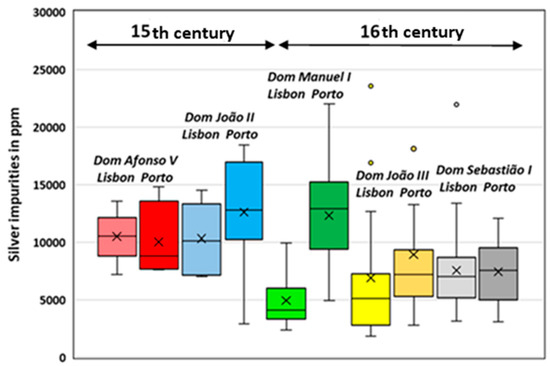 Figure 1
This is an open access article distributed under the
Creative Commons Attribution License
which permits unrestricted use, distribution, and reproduction in any medium, provided the original work is properly cited (CC BY 4.0).

Share & Cite This Article
MDPI and ACS Style
Borges, R.; Silva, R.J.C.; Alves, L.C.; Araújo, M.F.; Candeias, A.; Corregidor, V.; Vieira, J. European Silver Sources from the 15th to the 17th Century: The Influx of "New World" Silver in Portuguese Currency. Heritage 2018, 1, 453-467.
Comments
[Return to top]