Equimolar Yttria-Stabilized Zirconia and Samaria-Doped Ceria Solid Solutions
1
Energy and Nuclear Research Institute, São Paulo 05508-900, Brazil
2
Center of Engineering, Modeling and Applied Social Sciences, Federal University of ABC, Santo André 09210-580, Brazil
*
Author to whom correspondence should be addressed.
Received: 18 October 2018 / Revised: 15 November 2018 / Accepted: 20 November 2018 / Published: 22 November 2018
Abstract
Compositions of (ZrO
2
)
0.92
(Y
2
O
3
)
0.08
(zirconia: 8 mol % yttria—8YSZ) and (CeO
2
)
0.8
(Sm
2
O
3
)
0.2
(ceria: 20 mol % samaria—SDC20) ceramic powders were prepared by attrition milling to form an equimolar powder mixture, followed by uniaxial and isostatic pressing. The pellets were quenched to room temperature from 1200 °C, 1300 °C, 1400 °C and 1500 °C to freeze the defects configuration attained at those temperatures. X-ray diffraction analyses, performed in all quenched pellets, show the evolution of the two (8YSZ and SDC20) cubic fluorite structural phases to a single phase at 1500 °C, identified by Rietveld analysis as a tetragonal phase. Impedance spectroscopy analyses were carried out in pellets either quenched or slowly cooled from 1500 °C. Heating the quenched pellets to 1000 °C decreases the electrical resistivity while it increases in the slowly cooled pellets; the decrease is ascribed to annealing of defects created by lattice micro-tensions during quenching while the increase to partial destabilization of the tetragonal phase.
View Full-Text
►

▼

Figures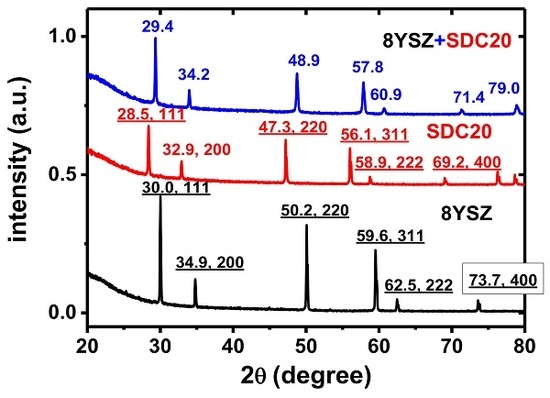 Graphical abstract
This is an open access article distributed under the
Creative Commons Attribution License
which permits unrestricted use, distribution, and reproduction in any medium, provided the original work is properly cited (CC BY 4.0).

Share & Cite This Article
MDPI and ACS Style
Muccillo, R.; De Florio, D.Z.; Muccillo, E.N.S. Equimolar Yttria-Stabilized Zirconia and Samaria-Doped Ceria Solid Solutions. Ceramics 2018, 1, 343-352.
Comments
[Return to top]