Open Access This article is
freely available
re-usable
Article
Insights into Australian Bat Lyssavirus in Insectivorous Bats of Western Australia
1
School of Veterinary Medicine, Murdoch University, Perth, WA 6150, Australia
2
Australian Animal Health Laboratory, CSIRO, Geelong, VIC 3220, Australia
†
These authors contributed equally.

Received: 21 February 2019 / Accepted: 7 March 2019 / Published: 11 March 2019
Abstract
:
Australian bat lyssavirus (ABLV) is a known causative agent of neurological disease in bats, humans and horses. It has been isolated from four species of pteropid bats and a single microbat species (
Saccolaimus flaviventris
). To date, ABLV surveillance has primarily been passive, with active surveillance concentrating on eastern and northern Australian bat populations. As a result, there is scant regional ABLV information for large areas of the country. To better inform the local public health risks associated with human-bat interactions, this study describes the lyssavirus prevalence in microbat communities in the South West Botanical Province of Western Australia. We used targeted real-time PCR assays to detect viral RNA shedding in 839 oral swabs representing 12 species of microbats, which were sampled over two consecutive summers spanning 2016–2018. Additionally, we tested 649 serum samples via Luminex
®
assay for reactivity to lyssavirus antigens. Active lyssavirus infection was not detected in any of the samples. Lyssavirus antibodies were detected in 19 individuals across six species, with a crude prevalence of 2.9% (95% CI: 1.8–4.5%) over the two years. In addition, we present the first records of lyssavirus exposure in two
Nyctophilus
species, and
Falsistrellus
mackenziei
.
Keywords:
Australian bat lyssavirus; microbats; Western Australia; serology; Luminex; real-time PCR
Author Contributions
M.O., B.J. and D.P. designed the study and collected the data; V.B. and M.B. carried out all the serology laboratory work; D.P. performed all the molecular laboratory work and analysed the data from the molecular and serology datasets; D.P. drafted the manuscript; M.O. and B.J. reviewed and edited the manuscript; M.O. and B.J. supervised the research.
Funding
This research was funded by the Murdoch University Small Grants Scheme, Gunduwa Regional Conservation Association, the Holsworth Wildlife Research Endowment, The Australian Wildlife Society University Grants (2016) and the Alistair Bursary (2017).
Acknowledgments
We would like to acknowledge all the volunteers involved in the data collection. This project would not have been possible without their help and good disposition in the field. We would also like to thank Robert Bullen, Nicholas Dunlop, Terry Reardon, Andrew Grigg and Cameron Richardson from Alcoa, and members of the Department of Biodiversity, Conservation and Attractions in particular Sarah Comber, Janine Liddelow, and Peter Lacey for their assistance in identifying adequate bat trapping sites, which was fundamental to this project. We also thank the private landowners who provided access to their properties, as well as John and Lisa Lawson from the Lions Dryandra Village for facilitating our stay there. We would also like to thank the Australian Wildlife Conservancy and Bush Heritage Australia for supporting this project.
Conflicts of Interest
The authors declare no conflict of interest. The funders had no role in the design of the study; in the collection, analyses, or interpretation of data; in the writing of the manuscript, or in the decision to publish the results.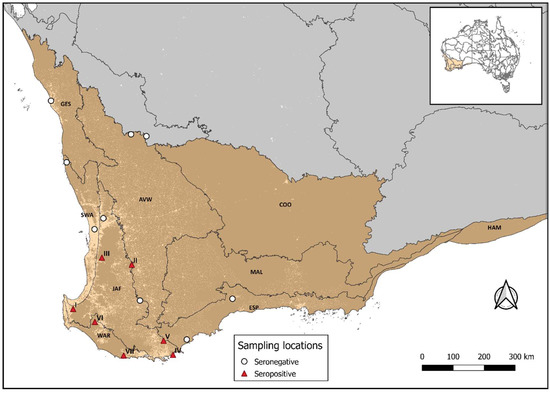 Figure 1. The South West Botanical province (SWBP) highlighted in brown. Sampling sites are shown and sites where seropositive individuals were identified are labelled I-VII. Presence (light areas) and absence (dark areas) of human populations are shown. The SWBP encompasses nine bioregions, Avon Wheatbelt (AVW), Coolgardie (COO), Esperance Plains (ESP), Geraldton Sandplains (GES), Hampton (HAM), Jarrah Forest (JAF), Mallee (MAL), Swan Coastal Plain (SWA), and Warren (WAR).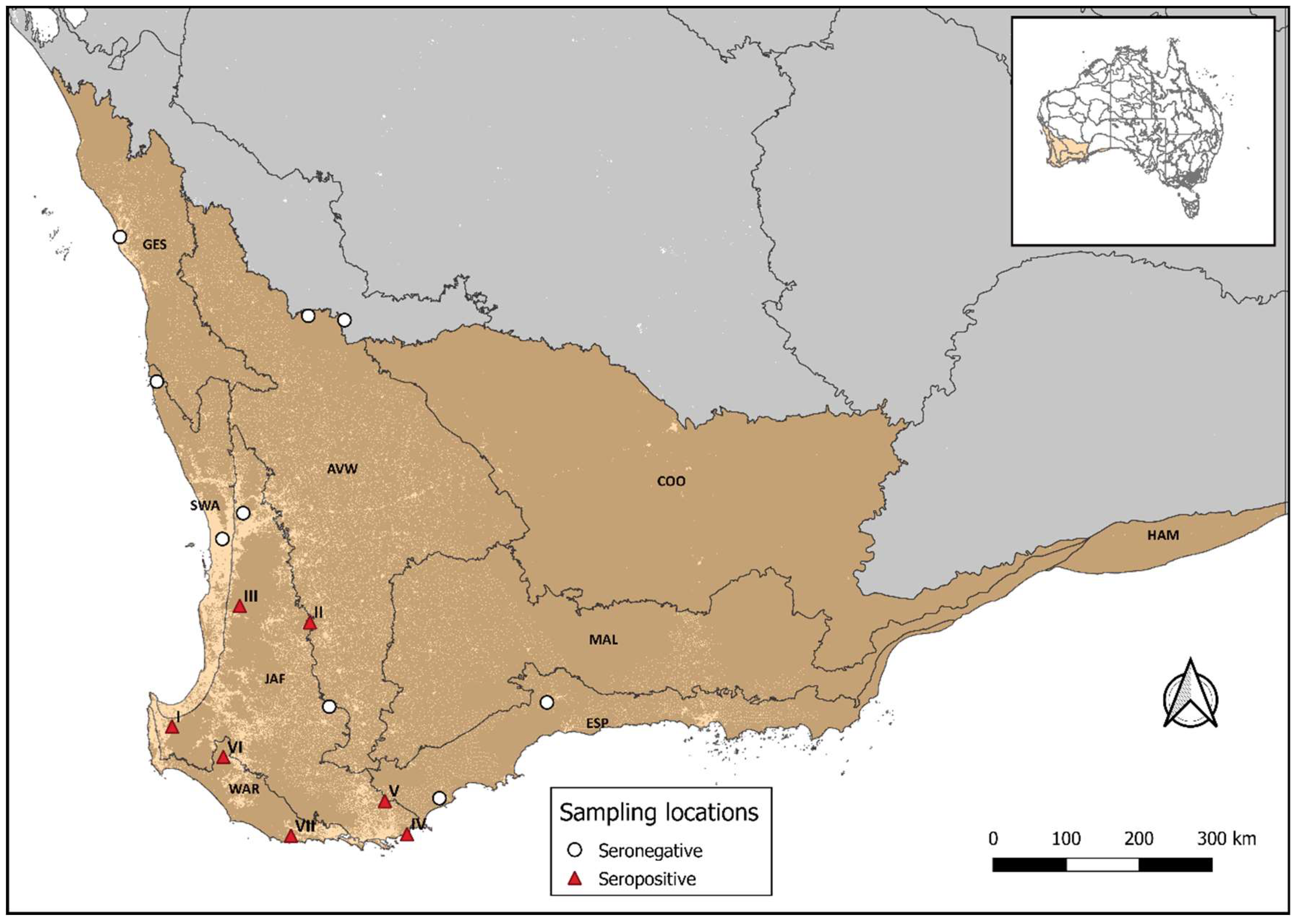 Figure 2. Number of blood samples taken by genera and bioregion. Note, no blood samples were obtained from bats in the Geraldton Sandplains bioregion.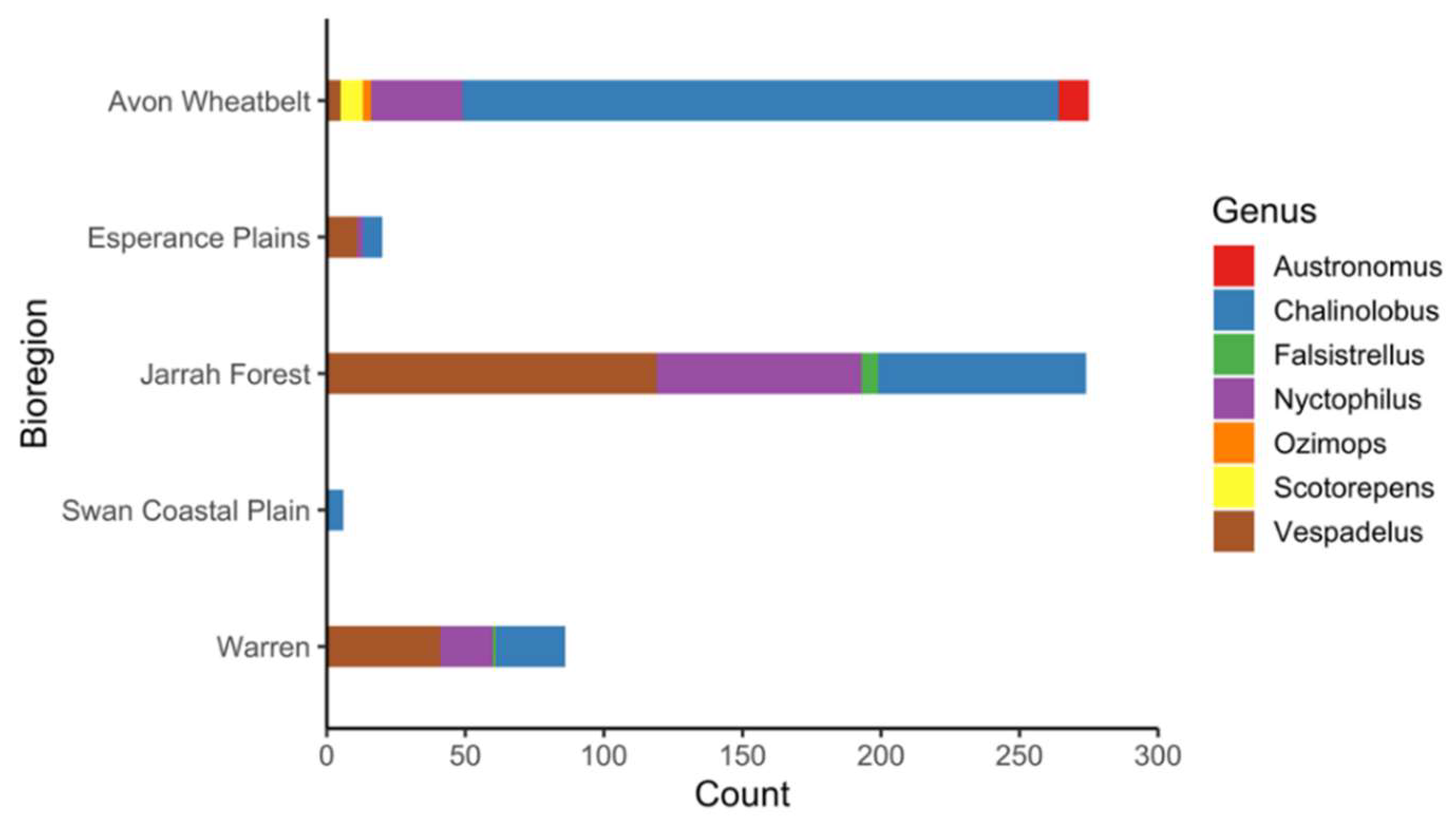 Table 1. Seroprevalence of Australian Bat Lyssavirus in 12 species of microbats of the South West Botanical Province of Western Australia. The total number of samples tested and positives () are shown.
Family
Species
Swabs
Sera
Seroprevalence 1
Vespertilionidae

Chalinolobus gouldii

287(0)
262(2)
0.7 (0.2–2.7)

Chalinolobus morio

105(0)
64(3)
4.6 (1.6–12.8)

Falsistrellus mackenziei

14(0)
7(1)
NC 2

Nyctophilus geoffroyi

69(0)
48(0)

Nyctophilus gouldi

78(0)
66(3)
4.5 (1.5–12.5)

Nyctophilus major

12(0)
5(1)
NC 2

Nyctophilus sp

3
6(0)
5(0)

Scotorepens balstoni

13(0)
8(0)

Vespadelus baverstocki

6(0)
5(0)

Vespadelus finlaysoni

1(0)
0

Vespadelus regulus

227(0)
164(9)
5.5 (2.9–10.1)

Vespadelus sp

3
2(0)
1(0)
Molossidae

Austronomus australis

13(0)
11(0)

Ozimops sp

6(0)
3(0)
1 Prevalence (%) and 95% confidence intervals (CI). 2 Prevalence estimates not calculated (NC) due to small sample size. 3 These individuals were not confidently identified to species level, however will belong to either of the listed

Nyctophilus

or

Vespadelus

species, and therefore do not count towards the total number of species sampled.

Table 2. Distribution of seropositive individuals per bioregion and trapping location. Number of positives () per species.
Bioregion
Location
Species
Jarrah Forest
I

Vespadelus regulus

(1)
II

Chalinolobus gouldii

(2)
III

Vespadelus regulus

(2)

Nyctophilus major

(1)

Falsistrellus mackenziei

(1)
IV

Nyctophilus gouldi

(1)
V

Vespadelus regulus

(1)
Warren
VI

Chalinolobus morio

(2)

Nyctophilus gouldi

(1)

Vespadelus regulus

(1)
VII

Chalinolobus morio

(1)

Nyctophilus gouldi

(1)

Vespadelus regulus

(4)

© 2019 by the authors. Licensee MDPI, Basel, Switzerland. This article is an open access article distributed under the terms and conditions of the Creative Commons Attribution (CC BY) license (http://creativecommons.org/licenses/by/4.0/).