Open Access This article is
freely available
re-usable
Article
Real-Time Performance Optimization and Diagnostics during Long-Term Operation of a Solid Anolyte Microbial Fuel Cell Biobattery
1
Bioresource Engineering Department, McGill University, 21111 Lakeshore Rd., Ste-Anne-de-Bellevue, QC H9X 3V9, Canada
2
National Research Council of Canada, 6100 Royalmount Ave, Montreal, QC H4P 2R2, Canada
*
Author to whom correspondence should be addressed.
Received: 15 August 2018 / Accepted: 25 December 2018 / Published: 15 January 2019
Abstract
:
This study describes a novel approach for real-time energy harvesting and performance diagnostics of a solid anolyte microbial fuel cell (SA-MFC) representing a prototype smart biobattery. The biobattery power output was maximized in real time by combining intermittent power generation with a Perturbation-and-Observation algorithm for maximum power point tracking. The proposed approach was validated by operating the biobattery under a broad range of environmental conditions affecting power production, such as temperature (4–25 °C), NaCl concentration (up to 2 g L−1), and carbon source concentration. Real-time biobattery performance diagnostics was achieved by estimating key internal parameters (resistance, capacitance, open circuit voltage) using an equivalent electrical circuit model. The real time optimization approach ensured maximum power production during 388 days of biobattery operation under varying environmental conditions, thus confirming the feasibility of biobattery application for powering small electronic devices in field applications.
Keywords:
MFC; solid anolyte; long-term; optimization; diagnostics; real time; biobattery
1. Introduction
Direct production of electricity from renewable biomass in microbial fuel cells (MFCs) has been extensively studied over the last two decades. In an MFC electricity production is driven by electron transfer reactions catalyzed by electrochemically active (anodophilic) bacteria, which utilize anode as a terminal electron acceptor. Detailed description of the working principle and electron transfer mechanisms can be found in literature [
1
,
2
]. Most MFC studies are concerned with electricity production from a continuously supplied carbon source, such as wastewater [
3
,
4
,
5
]. MFC operation on a solid source of carbon recently emerged as an approach aimed at developing a long-lasting MFC (biobattery) for powering small electronic devices [
6
,
7
,
8
]. This approach capitalizes on the slow release of soluble organic carbon from solid biodegradable organic materials, which can be placed in the anode compartment to provide constant organic carbon supply to anodophilic bacteria without the need for energy-intensive feed pumps or periodic manual replenishment of the anolyte solution. Carbon sources that have been used in solid anolyte MFCs (SA-MFCs) include soil, marine and freshwater sediments, manure, compost, and synthetic substrates such as agar [
6
,
9
,
10
,
11
,
12
]. However, unlike the well-known sediment MFC applications [
6
,
10
,
13
], SA-MFCs have a potential for applications beyond marine or freshwater environments.
Considering long-term autonomous operation as an end-goal, the most feasible biobattery application might be for powering devices with low power requirements, such as environmental sensors for temperature, humidity, and other measurements. MFC application for powering IoT (Internet of Things)—enabled sensors have been recently proposed by Ivars-Barceló, et al. [
14
]. However, this type of application exposes the biobattery to significant fluctuations in operating conditions (temperature, anolyte salinity, carbon source composition, and availability, etc.), necessitating the optimization of energy harvesting in real time. In addition, changes in electrochemical parameters such as internal resistance, capacitance, and open circuit voltage need to be followed in real time in order to achieve timely diagnosis and troubleshooting of the biobattery performance. Notably, traditional electrochemical characterization methods, such as impedance spectroscopy, cyclic voltammetry, and polarization tests are laborious and require the MFC to be brought off-line, i.e., disconnected from the electrical load for a considerable period of time. A recently proposed approach for real-time MFC performance diagnostics uses a simple equivalent electrical circuit (EEC) model and an on-line parameter estimation procedure [
15
]. In general, model based approaches offer a reliable and convenient method for MFC electrochemical characterization [
15
,
16
], since they are non-disruptive (no need for electrical load disconnection) and may not require specialized equipment such as a potentiostat. The applicability of an EEC model based approach for biobattery performance monitoring and diagnostics has not yet been proven.
This study describes a novel approach for real-time energy harvesting and performance diagnostics of a solid anolyte microbial fuel cell (SA-MFC) representing a prototype smart biobattery. A cuboid-shaped (3D) design of the biobattery is adapted. Such design was used in several previous MFC studies [
17
,
18
] to increase electrode (e.g., carbon brush anode) volume. Since performance of a SA-MFC is limited by the slow release of biodegradable organic materials [
9
], the 3D design can be used to increase the solid anolyte volume. In our study, a 3D biobattery filled with a mix of humus and sawdust is used. After the startup of the biobattery, the impact of environmental factors on the power extraction is investigated. Changes in electrochemical parameters of the biobattery are estimated in real-time during biobattery exposure to changes in temperature, salinity, and organic matter availability. Finally, the biobattery's long-term performance during 388 days and 123 days tests is evaluated.
3. Results and Discussion
This chapter describes biobattery start-up and results of real-time power output optimization during biobattery exposure to changes in temperature, salinity and carbon source availability. Also, changes in the biobattery electrochemical parameters are discussed. Finally, results obtained during the long-term biobattery operation are described.
3.2. The Impact of Environmental Conditions on Power Production
Practical applications of 3D biobattery for powering environmental sensors could lead to biobattery exposure to various environmental conditions that might affect electricity generation, such as changes in temperature, salt content (salinity) of water in the anode compartment, and organic matter availability. Accordingly, performance of the biobattery equipped with real-time power-output optimizing algorithm was evaluated in a broad range of these environmental conditions. In particular, conductivity and organic matter availability was changed by adding either NaCl or carbon source solutions to the water holding reservoir of the 3D biobattery. Also, temperature was varied by placing the biobattery in a temperature-controlled chamber or freezing a smaller (2D) biobattery, as described in the Materials and Methods section.
Higher conductivity could enhance MFC performance due to reduced ohmic resistance. At the same time, an increase in salt concentration can negatively affect Coulombic efficiency due to the sensitivity of freshwater anodophilic microorganisms to NaCl [
30
]. Organic matter availability is another important limitation in SA-MFCs, therefore the presence of even relatively low dissolved organic carbon in water is expected to boost power production therefore affecting the optimal operating point. Performance testing under differing environmental conditions was initiated with an increase in anolyte conductivity by adding NaCl to water reservoir of the 3D biobattery. Once NaCl was added, the anolyte conductivity started to increase due to a combination of water percolation and evaporation through cathode walls. Anolyte liquid conductivity measurements obtained by withdrawing liquid sample from the middle section of the biobattery showed an increase from 0.03 mS cm
−1
to 0.8 mS cm
−1
. The increase in conductivity was accompanied by initial increase of power output, followed by a power output decrease to 0.36 mW (
Figure 4
A). The initial increase in the power output from 0.46 mW to 0.61 mW can be attributed to a decrease in ohmic resistance of the amended anolyte solution. Indeed, laboratory MFCs are typically operated at a conductivity much greater than 1 mS cm
−1
[
31
], therefore at a conductivity of 0.03 mS cm
−1
, high ohmic losses are expected. As mentioned above, addition of NaCl increases anolyte conductivity, but also could inhibit several microbial trophic groups responsible for organic matter hydrolysis [
30
]. NaCl toxicity towards hydrolyzing microorganisms could explain the observed decrease in power production in spite of the increased anolyte conductivity during biobattery operation at the highest NaCl concentration. Overall, it is concluded that the biobattery performance can be improved by adding salts and nutrients to dilution water, but the composition of nutrients should be optimized to avoid NaCl-related toxicity.
Temperature is another important factor affecting biobattery performance by influencing microbial growth and metabolic activity as well as the oxygen reduction reaction (ORR) rate of the cathode. Biological activity is often positively correlated with temperature as long as the temperature does not exceed the optimal point [
32
]. In the experiment aimed at studying the sensitivity of the 3D biobattery to temperature variations, the temperature was decreased from 25 °C to 4 °C in two steps. Accordingly, the biobattery power output decreased from 0.3 mW to 0.01 mW (
Figure 4
B). Interestingly, a spike in power production (0.59 mW) was noticeable upon return to biobattery operation at 25 °C. Apparently, carbon source hydrolysis continued at low temperatures, while the consumption rate was reduced, thus leading to a power output surge once the temperature was increased. The surplus carbon source was quickly consumed, and power returned to approximately the same value of 0.37 mW.
A biobattery can be deployed in a region with below zero temperatures during winter months. Although biofilms can be adapted to low temperatures, biological activity stops once the biofilm is frozen. The resumption of bioelectrochemical activity once temperature increases (i.e., in the spring) and the effects of solid anolyte freezing on biobattery performance were investigated using a smaller 2D (single electrode pair) biobattery placed in a −30 °C chamber for 5 days and then removed and thawed at room temperature for 24 h. Polarization curves acquired before the test and after thawing were used to evaluate the impact of the freeze-thaw cycle on the biobattery performance.
Figure 4
C compares polarization curves before freezing and after thawing. The OCV remained nearly unchanged at approximately 352 mV and the maximum power densities were also similar at 1.1 mW L
−1
. The estimated internal resistance of 294 Ω before freezing increased slightly to 315 Ω after thawing. Overall, the ability of the biobattery (SA-MFC) to resume performance within short time after freezing shows its resilience and suitability for field applications in temperate regions.
Another important factor in determining MFC performance is organic matter availability. Power production in an MFC was observed to follow a Monod-type dependence on carbon source concentration [
33
]. In a solid anolyte MFC dissolved organic matter is produced through hydrolysis of solids, which is a rate-limiting step. A substantial increase in power when there is an influx of organic matter is therefore expected. To test the impact of carbon source availability on the biobattery performance, the water reservoir was filled with diluted brewery wastewater. As the carbon source percolation from the reservoir (with subsequent concentrations of 0.2 g L
−1
, 1 g L
−1
and 5 g L
−1
of brewery wastewater) began to increase organic matter availability in the biobattery, the power output increased from an average of 0.23 mW to 0.90 mW. (
Figure 4
D). This test proved carbon source availability as one of the most limiting factors determining MFC power output.
Overall, the tests showed that power production in the 3D biobattery is strongly influenced by the environmental conditions and is expected to significantly vary over time. To maximize power output, the biobattery was operated with periodic connection of the electrical load with real time optimization of
V
high
(MFC OCV voltage at which the electrical load is reconnected). This approach proved to provide stable biobattery performance at all tested conditions, including biobattery exposure to low temperatures and carbon source availability fluctuations.
3.3. Real Time Biobattery Performance Diagnostics
3.4. Long-Term Biobattery Operation
After the completion of experiments aimed at studying the 3D biobattery response to various external perturbations, the biobattery operation was continued for a total of 388 days (run 1) as shown in
Figure 6
. Data points corresponding to biobattery operation at different temperatures, NaCl concentration, and carbon source addition were excluded in this graph. As can be seen from this plot, the power output decreased with time, and was around 0.1 mW after 388 days of operation. Thereafter, the solid anolyte was replaced and the biobattery was operated for another 123 days (run 2). The power output profiles in both runs were similar, reflecting progressive depletion of the solid carbon source (fuel) in the biobattery.
As suggested by Westrich et al. [
38
], solid anolyte organic matter can be considered to include a high-reactive fraction and a less-reactive fraction. Power production can thus be expected to be high in the first few months of operation due to a relatively fast hydrolysis of the high-reactive fraction. Once the less-reactive fraction is dominant, power production is expected to decrease. It can be suggested that it is the slow hydrolysis of the less-reactive fraction of organic matter that enables the biobattery to generate power for an extended period of time. Eventually, the less-reactive fraction will also be depleted, at which point the biobattery needs to be "recharged" by replenishing the solid anolyte.
Analytical determination of the reactive fractions of the solid anolyte in the first run showed that it contained 0.37 g g
−1
of high-reactive fraction and 0.25 g g
−1
of the less-reactive fraction. During the long-term operation of the biobattery shown in
Figure 6
, power production exponentially decreases in the first 1–2 months of operation and it can be hypothesized that the high-reactive fraction of the solid anolyte was degraded in this period. The initial high power output (up to 1.6 mW) can thus be attributed to readily degradable dissolved organic matter, such as volatile fatty acids, from the high-reactive fraction. Thereafter, power production decreased at a slower rate, apparently corresponding to the much slower degradation of the less-reactive fraction. Once the biobattery was "recharged" and Run #2 started, the power output profile was reproduced (
Figure 6
). Notably, the slightly higher power during Run #2 was due to the addition of 20 g of gellan gum (a polysaccharide) to the solid anolyte mix.
4. Conclusions
This study demonstrated continuous electricity production in a biobattery (solid anolyte MFC) operated for over a year on a mix of humus and sawdust. Throughout the experiment, the biobattery was exposed to significant external perturbations, including changes in anolyte salinity, dissolved organic carbon concentration, and temperature. Stable power output was provided by the real-time optimization algorithm with on/off mode of operation and optimal estimation of Vmax (reconnection voltage). It can be hypothesized that real time performance optimization facilitated the proliferation of electroactive microorganisms at the anode, thus increasing the fraction of organic materials consumed by the electroactive microorganisms and decreasing carbon source consumption by other anaerobic populations, such as the methanogens. Furthermore, the software developed for biobattery operation included real time performance diagnostics based on a simple EEC model. The proposed "smart biobattery" approach for non-invasive real-time estimation of key electrochemical parameters successfully detected all changes in environmental conditions. Laboratory tests confirmed stable long-term power production and demonstrated the resilience of the biobattery to harsh environmental conditions, including freeze-thaw cycles.
It should be noted that the power management system used in this study needs to be improved, considering that a personal computer and a Matlab-based software result in high energy consumption. Therefore, an important future work being planned is the development of a high efficiency power management system based on a microcontroller with ultra-low energy consumption. Overall, this study is a step forward in the practical deployment of microbial fuel cell technology as an electricity source for powering environmental sensors and other electronic devices in remote locations.
Author Contributions
The authors equally contributed to this study.
Funding
This research received no external funding.
Conflicts of Interest
The authors declare no conflict of interest.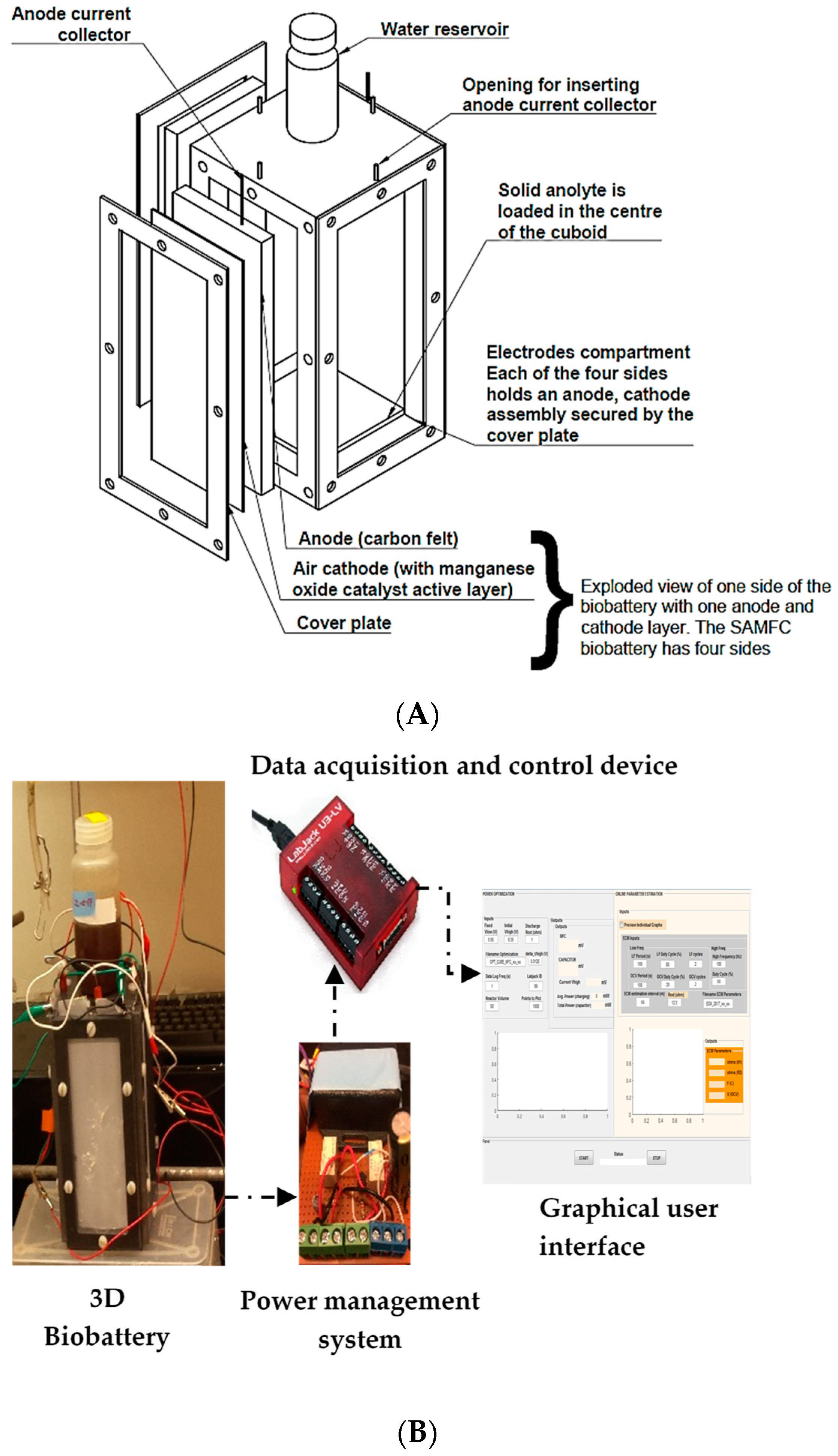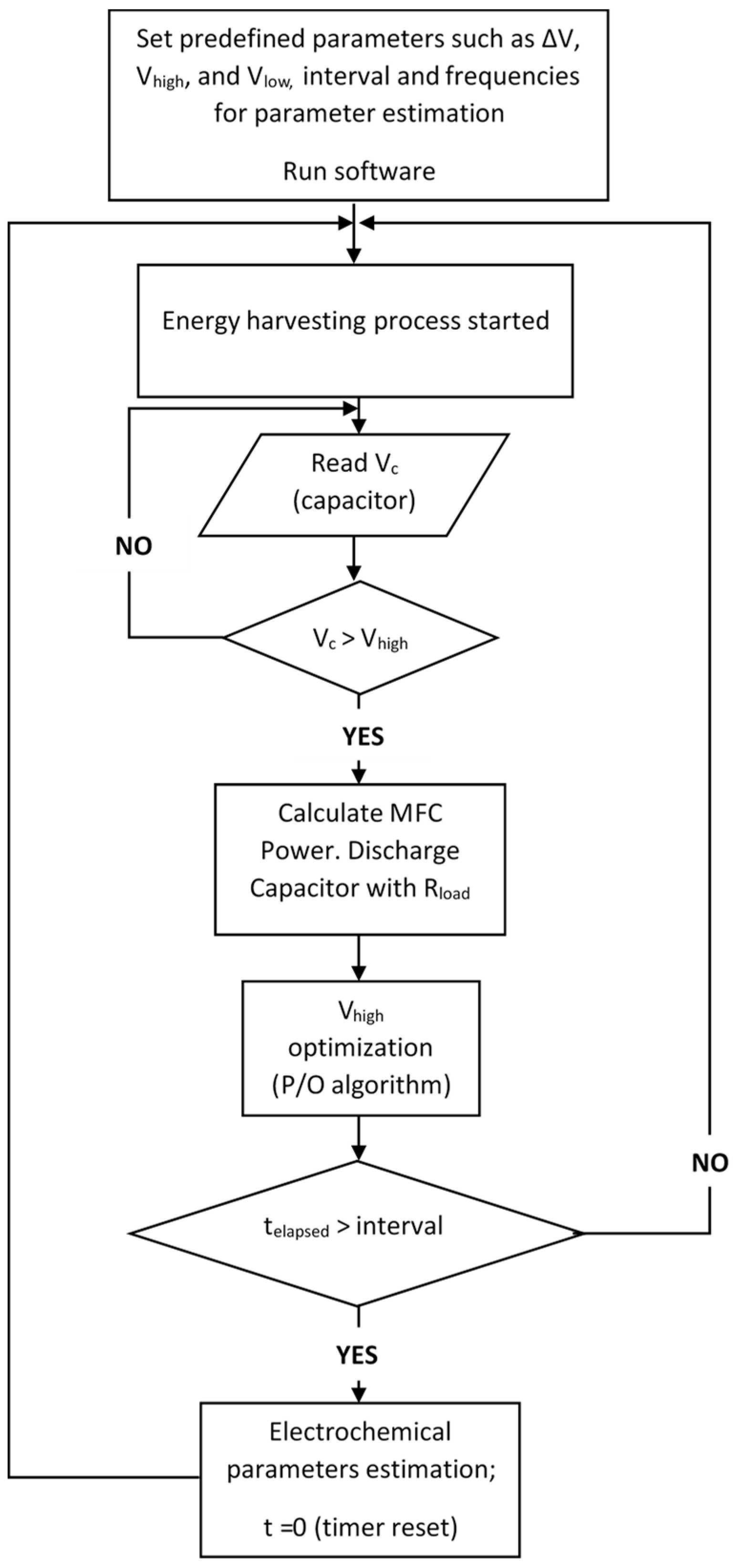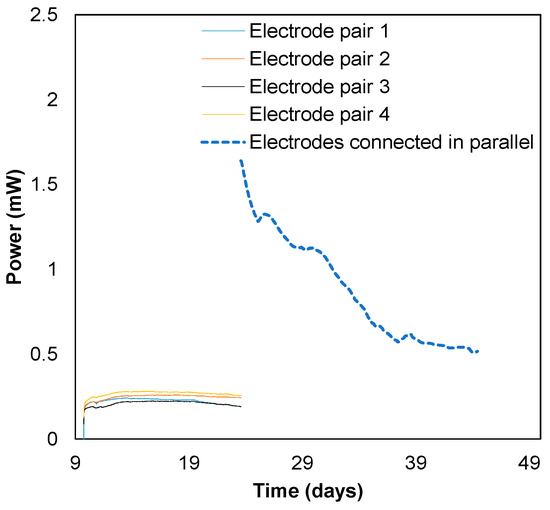 Figure 3. Power production by the biobattery. Between days 9–24 each anode-cathode pair was connected to a 1000 Ohm external resistance. From day 24 onward all anode-cathode pairs were connected in parallel and power production was optimized with the P/O algorithm.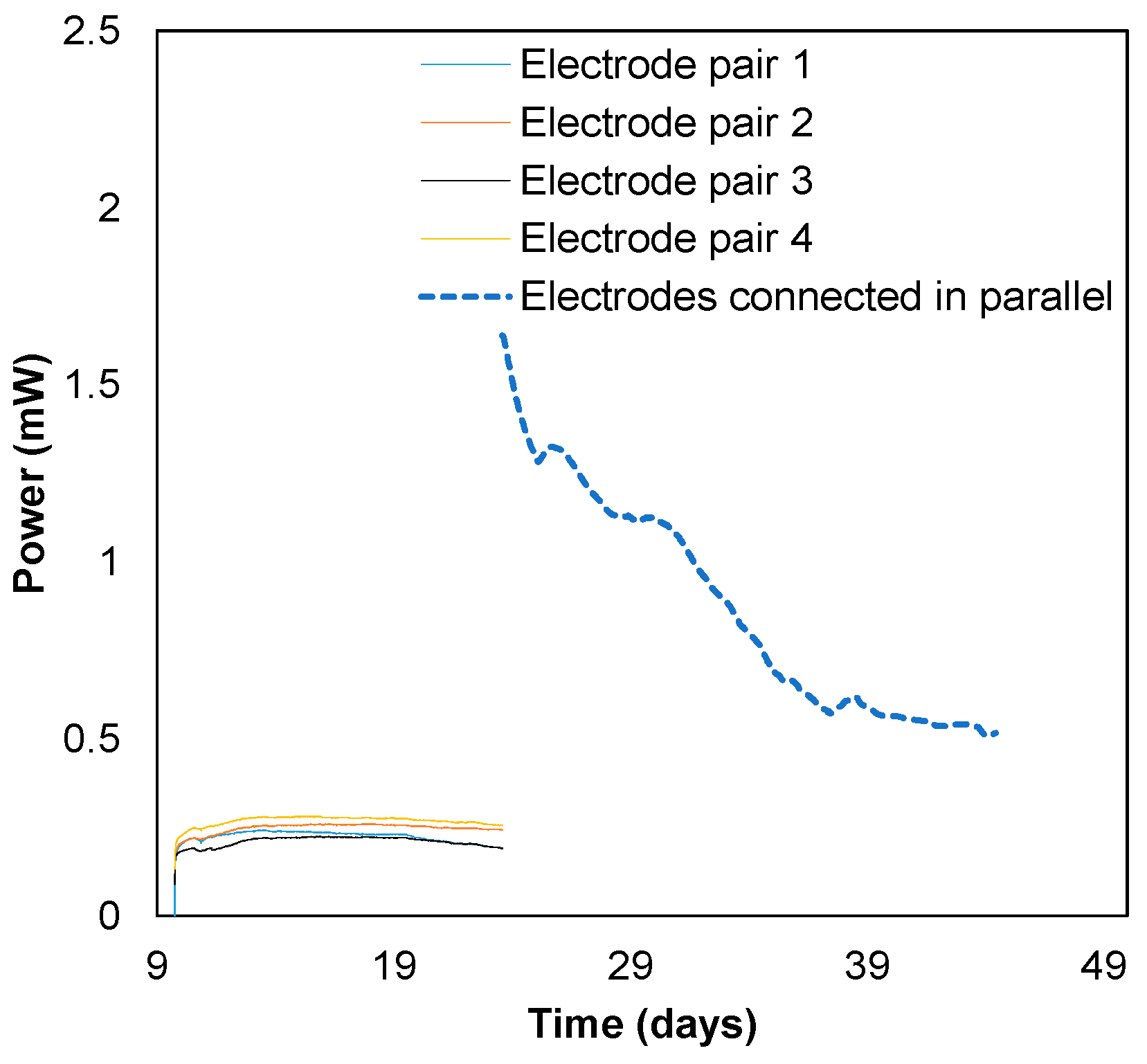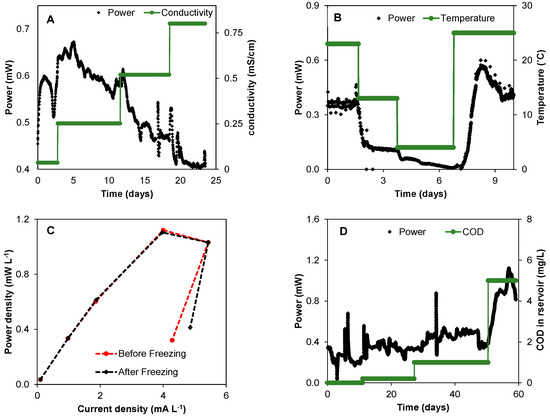 Figure 4. Effect of operational conditions on biobattery performance. (A) Increase in anodic liquid salt concentration (3D biobattery), (B) Temperature variations (3D biobattery), (C) Polarization curves of a 2D biobattery before a freeze test (−30 °C) and after thawing. (D) Variations in soluble carbon source concentration in the water storage reservoir (3D biobattery).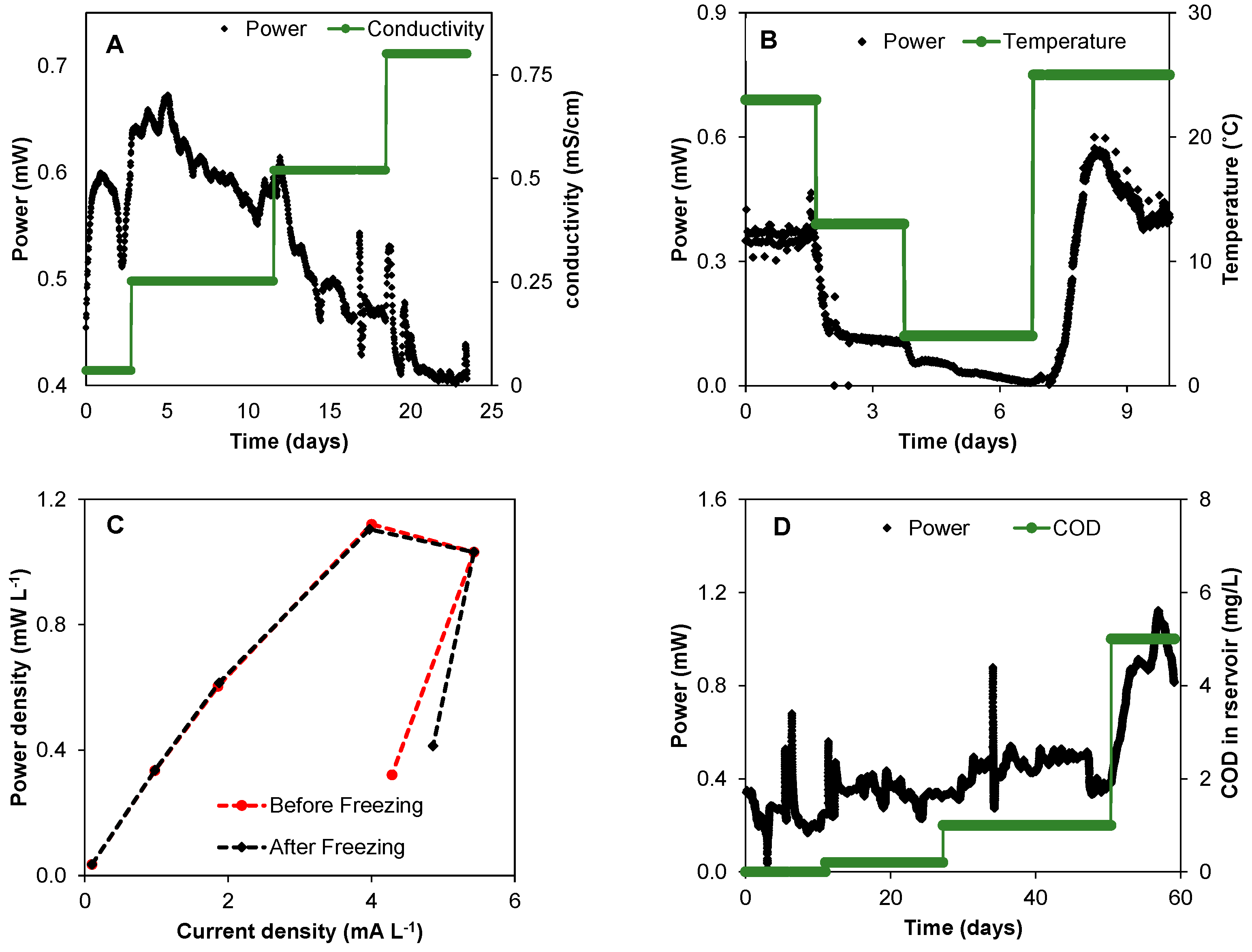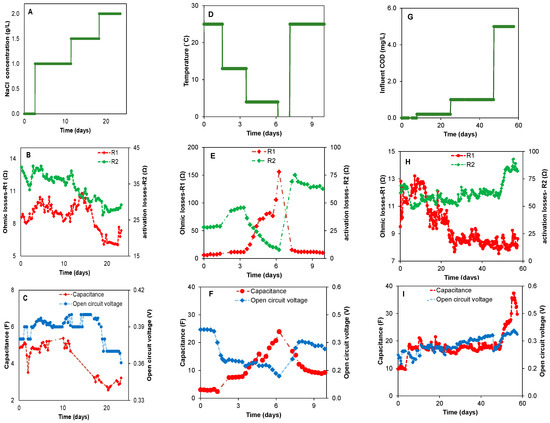 Figure 5. Results of real-time monitoring of 3D biobattery internal parameters. (A) Changes in salt content of anodic liquid and (B,C) resulting changes in internal resistance, capacitance, and OCV; (D) Temperature changes and (E,F) resulting changes in internal resistance, capacitance, and OCV; (G) Changes of soluble COD concentration and (H,I) resulting changes in internal resistance, capacitance, and OCV. Between days 6.2–7.3 of the temperature test the biobattery was accidentally frozen (no measurements).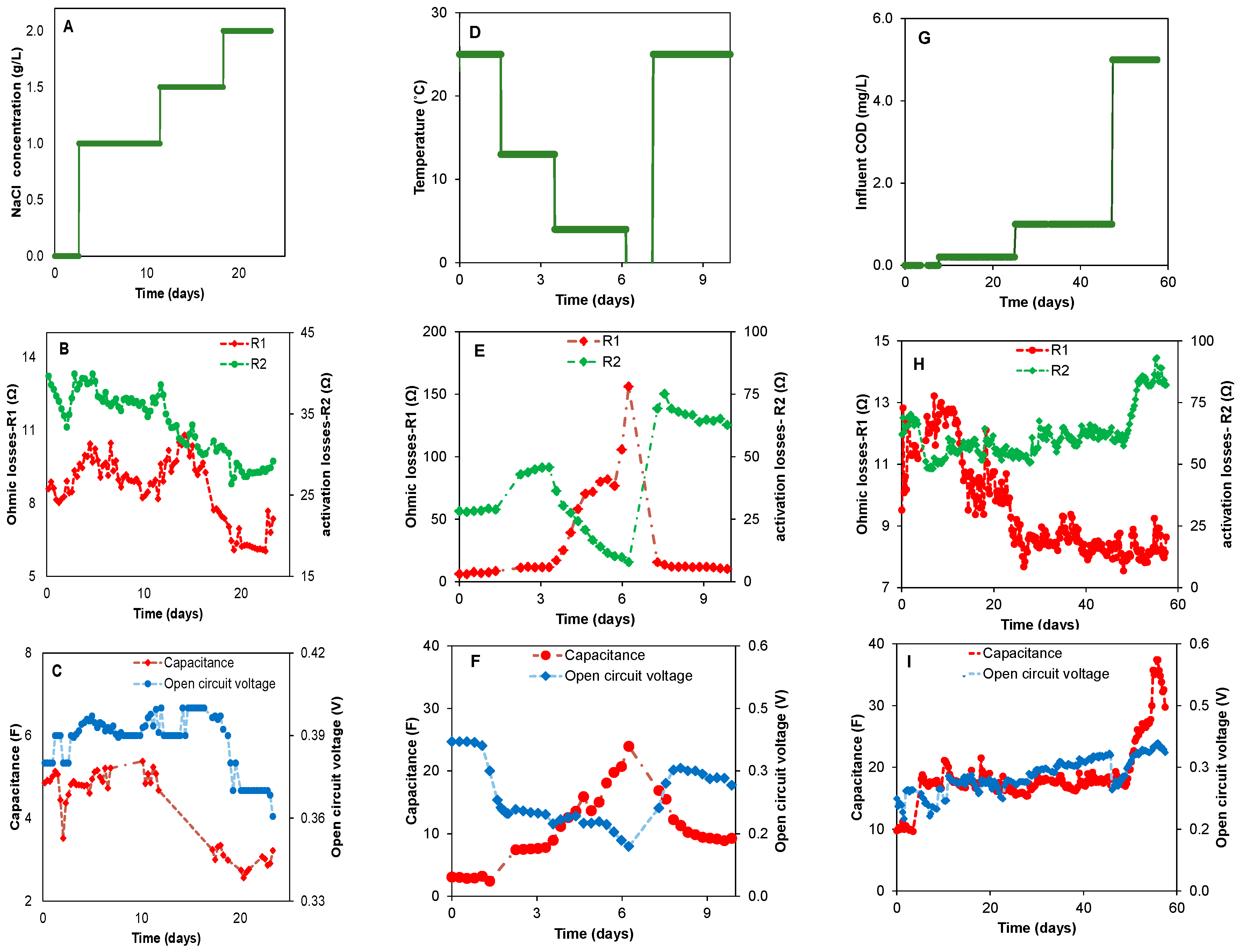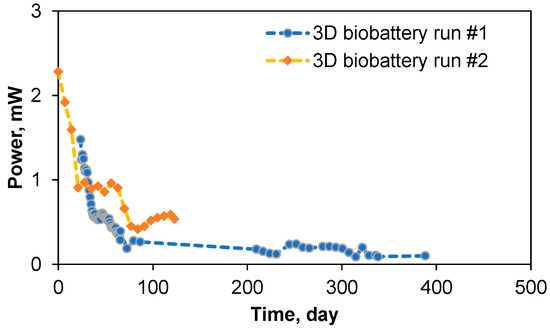 Figure 6. Experimentally measured power outputs of the biobattery for 388 days (run #1) and 123 days (run #2). Power outputs during temperature, salinity, and carbon source tests (day 100–210) are excluded for run #1.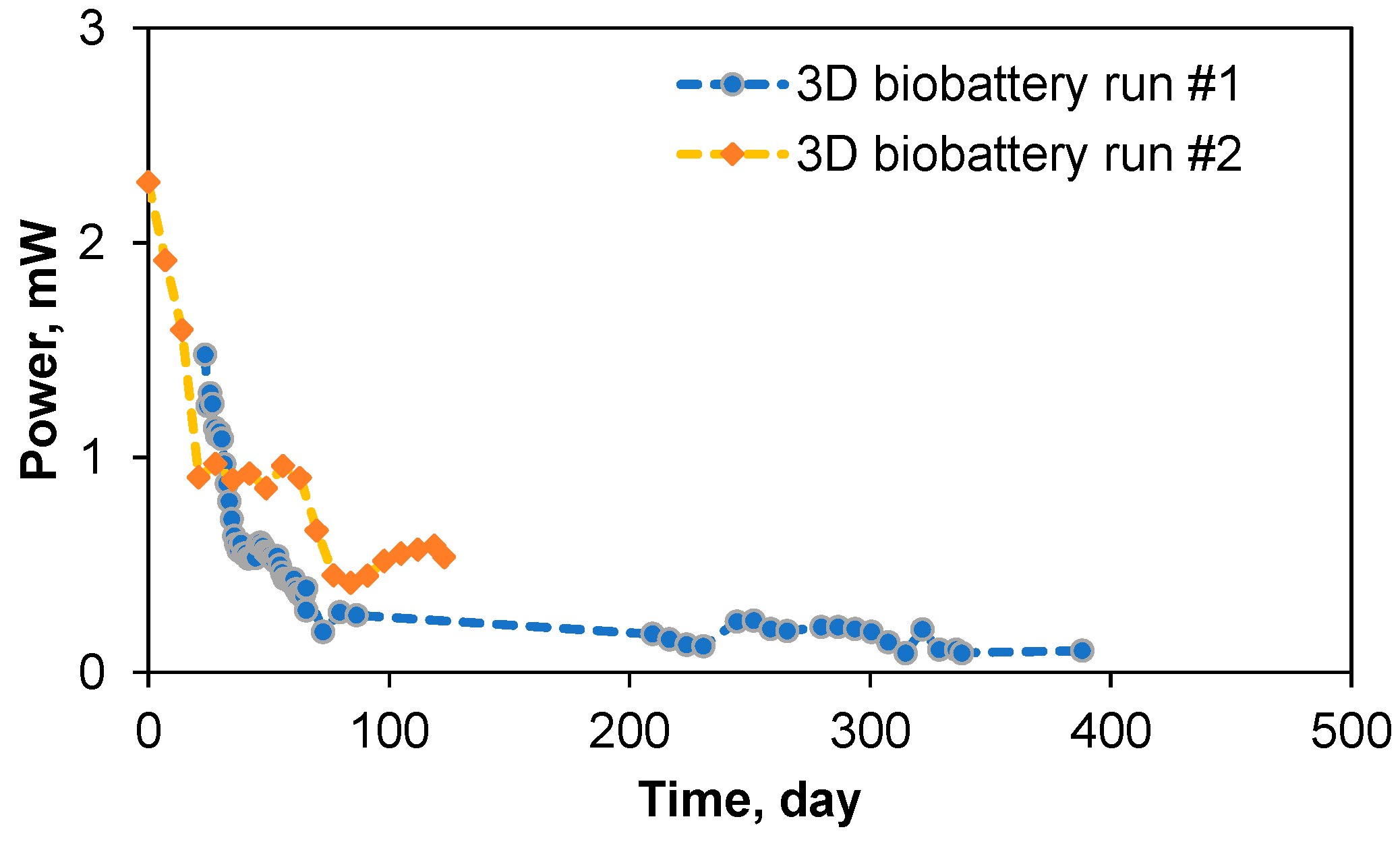 © 2019 by the authors. Licensee MDPI, Basel, Switzerland. This article is an open access article distributed under the terms and conditions of the Creative Commons Attribution (CC BY) license (http://creativecommons.org/licenses/by/4.0/).