Tetranuclear Hetro-Metal [MnIII2NiII2] Complexes Involving Defective Double-Cubane Structure: Synthesis, Crystal Structures, and Magnetic Properties
1
Department of Chemistry and Applied Chemistry, Faculty of Science and Engineering, Saga University, Honjo 1, Saga 840-8502, Japan
2
Department of Applied Chemistry for Environment, School of Science and Technology, Kwansei Gakuin University, Gakuen 2-1, Sanda 669-1337, Japan
*
Author to whom correspondence should be addressed.
Received: 29 December 2018 / Revised: 4 February 2019 / Accepted: 8 February 2019 / Published: 14 February 2019
Abstract
Tetranuclear hetero-metal Mn
III
2
Ni
II
2
complexes, [Mn
2
Ni
2
(L)
4
(OAc)
2
] (
1
) and [Mn
2
Ni
2
(L)
4
(NO
3
)
2
] (
2
) [H
2
L =
N
-(2-hydroxymethylphenyl)-5,6-benzosalicylideneimine], have been synthesized and characterized by X-ray crystal structure analyses, infrared spectra, and elemental analyses. The structure analyses revealed that the complexes have a defective double-cubane metal core connected by μ
3
-alkoxo bridges. Complexes consist of two bis-μ-alkoxo bridged Mn
III
Ni
II
heteronuclear units making a dimer-of-dimers structure. The double-cubane cores are significantly distorted due to an effect of
syn–syn
mode acetato or nitrato bridges. Magnetic measurements indicate that weak antiferromagnetic interactions (Mn-Ni = −0.66 ~ −4.19 cm
–1
) are dominant in the hetero-metal core.
View Full-Text
►

▼

Figures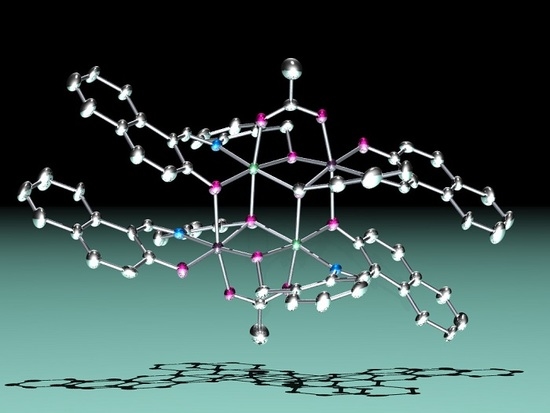 Graphical abstract
This is an open access article distributed under the
Creative Commons Attribution License
which permits unrestricted use, distribution, and reproduction in any medium, provided the original work is properly cited (CC BY 4.0).

Share & Cite This Article
MDPI and ACS Style
Suemitsu, Y.; Matsunaga, R.; Toyofuku, T.; Yamada, Y.; Mikuriya, M.; Tokii, T.; Koikawa, M. Tetranuclear Hetro-Metal [MnIII2NiII2] Complexes Involving Defective Double-Cubane Structure: Synthesis, Crystal Structures, and Magnetic Properties. Magnetochemistry 2019, 5, 14.
Note that from the first issue of 2016, MDPI journals use article numbers instead of page numbers. See further details here.
Related Articles
Comments
[Return to top]