Evaluation of Compatibility, Growth Characteristics, and Yield of Tomato Grafted on Potato ('Pomato')
1
Department of Genetics and Plant Breeding, Sher-e-Bangla Agricultural University, Dhaka 1207, Bangladesh
2
Department of Horticulture, Sher-e-Bangla Agricultural University, Dhaka 1207, Bangladesh
3
Department of Biosystems and Technology, Swedish University of Agricultural Sciences, Box 103, 23053 Alnarp, Sweden
4
Department of Bio-Health Technology, College of Biomedical Science, Kangwon National University, Chuncheon 24341, Korea
5
Head of Research and Technology, Rentia Plant Factory, Chuncheon 24341, Korea
6
Department of Plant Science, University of Manitoba, Winnipeg, Manitoba, R3T 2N2, Canada
*
Author to whom correspondence should be addressed.
Received: 9 March 2019 / Revised: 15 April 2019 / Accepted: 24 April 2019 / Published: 15 May 2019
Abstract
The aim of this study was to evaluate the grafting compatibility of different varieties of tomato (
Solanum lycopersicum
L.) scions on potato (
Solanum tuberosum
L.) rootstocks to develop a 'pomato' plant. In this study three potato varieties; Diamant (P1), Cardinal (P2) and Asterix (P3), and two tomato varieties; Bangladesh Agricultural Research Institute (BARI) tomato-2 (T1) and BARI tomato-11 (T2) were used to make the grafted combinations T1P1, T1P2, T1P3, T2P1, T2P2 and T2P3, designated G1, G2, G3, G4, G5, and G6, respectively. Tomato seedlings aged 25 (S1) and 35 days (S2) were selected as scions. Graft compatibility was analyzed based on the growth and yield of the pomato plants. The results revealed that varieties and scion age had a significant effect on the pomato fruit and tuber yield. The initiation of flowering was not affected by the various graft combinations; however, plant height, leaf number, branch number, number of clusters per plant, number of fruit per cluster, number of fruit per plant, fruit length, fruit diameter, single fruit weight and total fruit yield per plant were higher in G5S1 among the combinations. On the other hand, the number of tubers per plant, single tuber weight, and tuber yield per plant were highest for a few combinations. Overall, it was concluded that Cardinal (P2) and Asterix (P3) potato were the most compatible for grafting with BARI tomato-11 (T2) at the scion age of 25 days (S1), based on vegetative growth and fruit and tuber yield of pomato plants.
View Full-Text
►

▼

Figures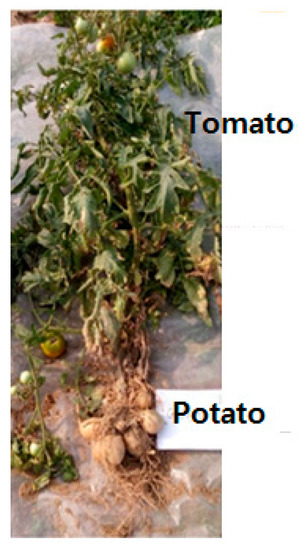 Figure 1
This is an open access article distributed under the
Creative Commons Attribution License
which permits unrestricted use, distribution, and reproduction in any medium, provided the original work is properly cited (CC BY 4.0).

Share & Cite This Article
MDPI and ACS Style
Arefin, S.M.A.; Zeba, N.; Solaiman, A.H.; Naznin, M.T.; Azad, M.O.K.; Tabassum, M.; Park, C.H. Evaluation of Compatibility, Growth Characteristics, and Yield of Tomato Grafted on Potato ('Pomato'). Horticulturae 2019, 5, 37.
Note that from the first issue of 2016, MDPI journals use article numbers instead of page numbers. See further details here.
Related Articles
Comments
[Return to top]