Propagation from Basal Epicormic Meristems Remediates an Aging-Related Disorder in Almond Clones
1
Department of Plant sciences, University of California, Davis, CA 95616, USA
2
USDA/ARS Germplasm Repository, Davis, CA 95616, USA
*
Author to whom correspondence should be addressed.
Received: 5 February 2019 / Revised: 4 April 2019 / Accepted: 7 April 2019 / Published: 11 April 2019
Abstract
The asexual propagation of clonal crops has allowed cultivation of superior selections for thousands of years. With time, some clones deteriorate from genetic and epigenetic changes. Non-infectious bud-failure (NBF) in cultivated almond (
Prunus dulcis
) is a commercially important age-related disorder that results in the failure of new vegetative buds to grow in the spring, with dieback of terminal shoots, witches-brooming of surviving buds, and deformed bark (roughbark). The incidence of NBF increases with clone age, including within individual long-lived trees as well as nursery propagation lineages. It is not associated with any infectious disease agents. Consequently, nursery practices emphasize the establishment of foundation-mother blocks utilizing propagation-wood selected from proven and well-monitored propagation-lineages. Commercial propagation utilizes axillary shoot buds through traditional budding or grafting. This study examines NBF development using basal epicormic buds from individual trees of advanced age as an alternative source of foundation stock. Results show the age-related progression of NBF is suppressed in these epicormic meristems, possibly owing to their unique origins and ontogeny. NBF development in commercial orchards propagated from foundation blocks established from these sources was similarly dramatically suppressed even over the 10- to 20-year expected commercial orchard-life. Foundation-stock stability can be further maintained through appropriate management of propagation source-trees, which requires accurate knowledge of meristem origin and development.
View Full-Text
►

▼

Figures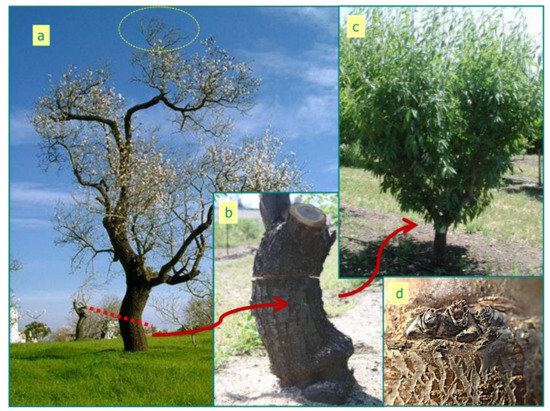 Figure 1
This is an open access article distributed under the
Creative Commons Attribution License
which permits unrestricted use, distribution, and reproduction in any medium, provided the original work is properly cited (CC BY 4.0).

Share & Cite This Article
MDPI and ACS Style
Gradziel, T.; Lampinen, B.; Preece, J.E. Propagation from Basal Epicormic Meristems Remediates an Aging-Related Disorder in Almond Clones. Horticulturae 2019, 5, 28.
Note that from the first issue of 2016, MDPI journals use article numbers instead of page numbers. See further details here.
Related Articles
Comments
[Return to top]